New Rupert journal issue T̶h̶i̶n̶g̶s̶ ̶t̶h̶a̶t̶ ̶w̶e̶ ̶w̶e̶r̶e̶ ̶t̶h̶i̶n̶k̶i̶n̶g̶ ̶w̶i̶t̶h̶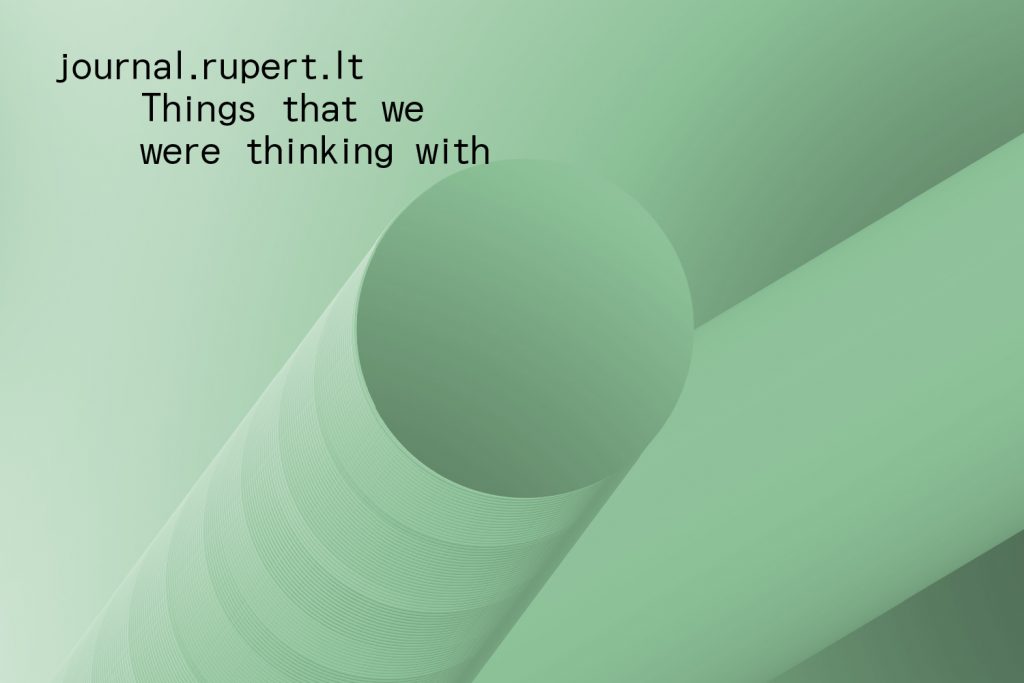 At the end of 2020, Things that we were thinking with seemed a timely but uncanny name for the final event of Rupert's Alternative Education Programme's 8th edition. Not only did it refer to a timeless quote by Donna Harraway but it also touched upon the condition that was slowly encroaching huge swaths of the world. Exacerbated by the pandemic, this condition required or, maybe it is better to say, demanded us to rethink thinking itself. Thinking, embraced by theoreticians' and artists' endless attempts to dethrone cogito and accelerated by the rise of machine learning and neural networks, firmly established itself as a whole-body exercise. But the body gradually grew out of its material shell and became a slimy, networked abode of thinking itself.
No doubt this is a sweeping statement and nobody expects you to suddenly get it. As we try to grasp this condition (for which we do not have a name yet), it is clear that the tricksterish paradox lies at the core of both: the condition and the effort to get it. In a haphazard attempt to bring more clarity into this argument, we might say that the condition is things. The condition, like things, is very material because we grant things almost unlimited access to our bodies, as we drape ourselves with their thingness. Simultaneously, these things remain alien to us, the Other. For example, we can try as much as we want to sync the rhythms of rustling leaves, humming crypto mines and the beating of our Xanax-slowed hearts but something remains dissonant as if we were continuously short-circuiting with the thingness of our condition. However, if we were able to completely sync everything, reality would probably collapse back into a tiny speck of infinite energy floating in the omnipresent pool of contingency. Not an ideal scenario.
If you are not yet frowning and impatiently wondering what this whole deal about thinking and thingness is, buckle up because things are about to get messier. Or maybe it is better to say meshier. So the things that we are thinking with are not simply material objects; they are networks and meshes and other various fluid processes. Thinking is not only the capacity for cognition, it is also a body. And this body is not a regular body, it is more like a glitching attempt to connect and sync with the world we inhabit. However, we never actually manage to sync and instead, just glitch our way into the (some would say cancelled) future. It is quite an amalgamation, is it not? A tempting question to ask is: do you get it now? Not in the old, linear, masculine way but in this embodied process of connecting, failing and being-in-the-world (thanks phenomenology—the favourite pastime of bummed out white men from the early 20th century—for that last one). Do not worry if you are feeling quite lost; remember, nobody really expects you to suddenly get it. At this point, we are just trying to outline some of the possibilities of thinking with things.
For five months in the strange year of 2020, thirteen selected artists, curators, thinkers, researchers and hackers have thought together, with things, trying sometimes to get it as well. But as we learned, getting it is not a straightforward process or an ultimate goal, it is rather a wavering state of becoming or an intimate process of untangling or maybe, a chill moment of immersion. In this issue of Rupert's Journal, you will find the works that in different ways touch upon these processes and modalities of things that we were thinking with. In addition to the works by Aistė Ambrazevičiūtė, Dalia Maini, Artūras Čertovas, Céline Mathieu, Jo Kalinowska & Georgie Sinclair (plot twist), Jurgis Bernatonis, Sholto Dobie, Anna Karanevskaya and Valentin Duduk (CONTAMINATED NAILS), Guoda Šulskytė, NKO, Vilius Vaitiekūnas, texts by Susanne M. Winterling, Eglė Ambrasaitė and Viktorija Rybakova and an interview by Patricia Reed were commissioned to help navigate this strange terrain of things and thinking.
Participants: Aistė Ambrazevičiūtė, Artūras Čertovas, Céline Mathieu, Contaminated Nails, Dalia Maini, Eglė Ambrasaitė, Guoda Šulskytė, Jo Kalinowska & Georgie Sinclair (plot twist), Jurgis Bernatonis, NKO, Sholto Dobie, Patricia Reed, Susanne M. Winterling, Vilius Vaitiekūnas
Curator: Tautvydas Urbelis
Coordinator: Goda Aksamitauskaitė
Translator: Paulius Balčytis
Editor: Dovydas Laurinaitis (ENG)
Design: Taktika Studio
Programming: Andrius Zupkus
Interns: Saulė Savanevičiūtė, Radvilė Mauricaitė, Ramunė Balčiūnaitė
Rupert's activities are supported by the Lithuanian Council for Culture.
Programme's partners: Vilnius city municipality, Pakrantė, Gluk Media, Kintai Arts, Žeimiai Manor / Aikas Žado Laboratory
Special thanks to: Rupert's team, Rupert's board, Alumni board, Nida Art Colony, Kaunas Artist House, Galerija 101, SODAS 2123, Atletika, Autarkia, Techanariumas and the amazing tutors of the programme.