27 April, 2017, 6:30 pm
Talk
Art and Science. Monica Bello, Julijonas Urbonas and Rytis Paulauskas in Conversation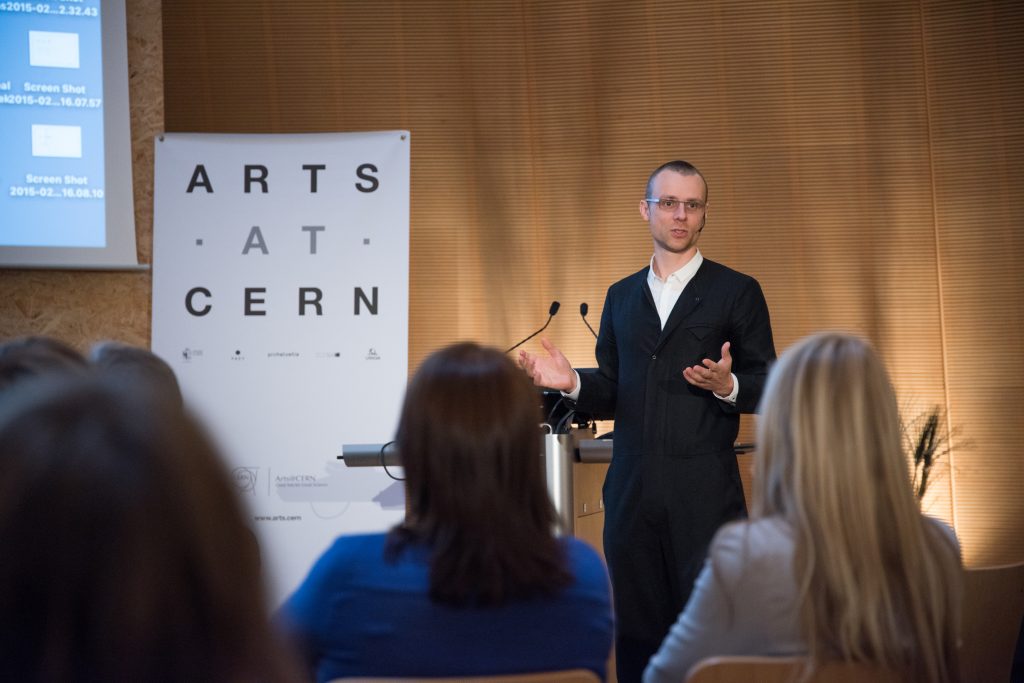 Rupert is pleased to invite you to attend the third event of a new talk series focusing on contemporary art and collecting. This month our programme guests are curator Monica Bello (Head of Arts at CERN), artist Julijonas Urbonas and diplomat Rytis Paulauskas. During this event, conversation will centre on the interaction between art & science, with particular focus to "Arts at CERN", a leading art and science programme promoting the dialogue between artists and particle physics. Last year, a public competition was organized by Arts at CERN in collaboration with Rupert providing Lithuanian artists with the opportunity to spend one month in residency at CERN, one of the most important laboratories of the world. From a large number of applications, a project by Julijonas Urbonas was selected by an international jury. Having researched and developed various technology-mediated gravitational activities, Urbonas became interested in the choreographic dialectics between the macro and the micro, namely, gravity between the scales of human and elementary particles – a topic he investigated during his residency in Geneva last Autumn.
The event will take place on Thursday, 27 April at 6:30 pm at Pakrantė (79 Vaidilutės st.). The talk will be moderated by Rupert's Director, curator Juste Jonutyte.
Mónica Bello is a curator and founder of a number of international projects exploring the potentials of art-led research and interdisciplinary innovation. She is currently the head of Arts at CERN, the official art program of the European Organization for Nuclear Research in Geneva, home of the Large Hadron Collider. From 2010 to 2015 she was director of VIDA, the International Competition for Art and Artificial Art, founded by Fundacion Telefonica in Madrid in 1999. From 2008-2010 she initiated the department of education at Laboral Centro de Arte, Spain, featuring the experimental teachers program and the collaboration with universities. She is a frequent participant of committees and advisory boards, and a speaker at international conferences.
Julijonas Urbonas is a designer, artist, engineer, Vice-Rector for Arts at Vilnius Academy of Arts, and PhD student in Design Interactions at the Royal College of Art. Since childhood, he has been working within the field of amusement park development. Having worked in such field — as an architect, ride designer, head of fairground — he became fascinated by what he's calling 'gravitational aesthetics'. Since then the topic has been at the core of his creative life, from artistic work to scholarly articles. His work has been exhibited internationally and received many awards, including the Award of Distinction in Interactive Art, Prix Ars Electronica 2010, one the most prestigious award in new media arts.
Rytis Paulauskas is an ambassador, at the moment a Director of Information and Public Relations Department at the Ministry of Foreign Affairs of Lithuania and former Ambassador, Permanent Representative of the Republic of Lithuania to the UN and other International Organizations in Geneva (between 2012—2016). R. Paulauskas graduated from Vilnius University Law School, L.L.M and has a Master of Arts Degree from the Fletcher School of Law and Diplomacy, Tufts University, Medford, Massachusetts, USA, cross registration with J. F. Kennedy School of Government, Harvard University (Fulbright Scholar).
The talk will be in English, and the event is free of charge. Prior registration is needed here, at info@rupert.lt or phone +370 682 54 930 (Monday to Friday, 9 am to 5 pm).