5 September, 2019, 7:30 pm
Screening
Film Screening | 'Goodbye Gauley Mountain'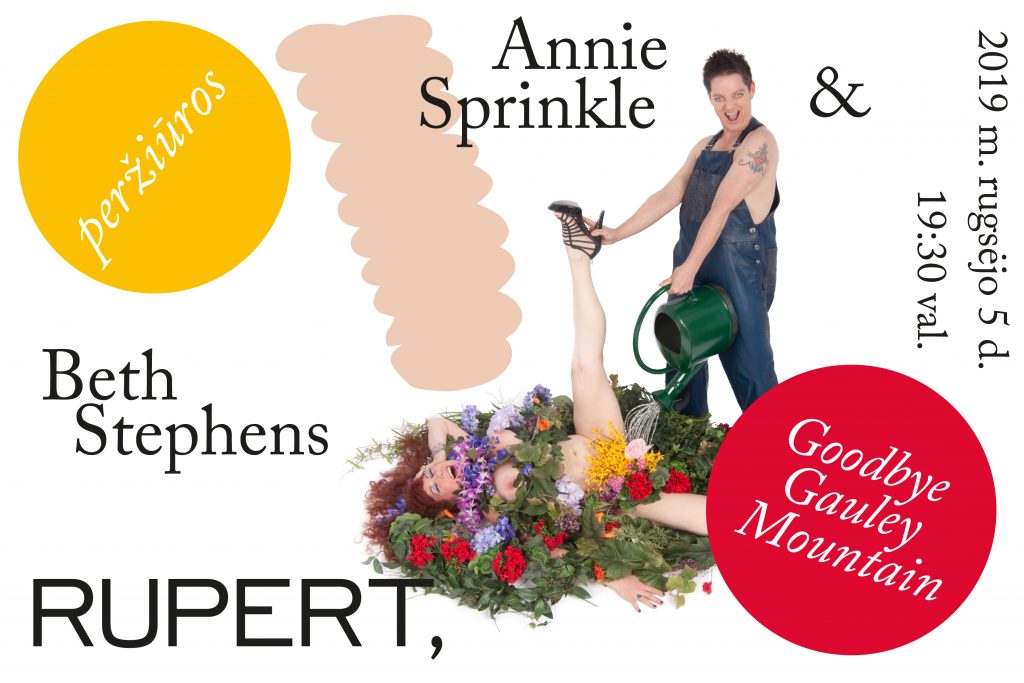 Rupert is pleased to announce a special screening of 'Goodbye Gauley Mountain' (2014), a film by artists and 'campaigning 'ecosexuals', Annie Sprinkle and Beth Stephens. The screening will take place on the 5th September from 19:30 at Rupert with an introduction specially recorded for the event.
Protest and sexuality come together in 'Goodbye Gauley Mountain', a rollicking documentary following campaigning 'ecosexuals' Beth Stephens and Annie Sprinkle. Returning home to the Appalachian mountains of West Virginia to protest against the environmentally devastating practice of mountaintop removal (MTR), which involves blowing up the local environment, they preach their doctrine of 'Earth as lover' with its literal embrace of the natural world. As they put their bodies on the line, bringing sensuality and spirit to the environmental movement, 'Goodbye Gauley Mountain' demonstrates how the fight for environmental justice can be inclusive, sexy and fun, even in the face of environmental tragedy.
Film duration: 70 min.
The event is free of charge. A transcription of the film (in English) will be available on request and Annie Sprinkle and Beth Stephens' 'Ecosexual Manifesto' will be available in English and Lithuanian to take home.
Beth Stephens & Annie Sprinkle have collaborated for eighteen years. Devoted to generating more love and appreciation for the Earth by pollinating the ecosex movement through art, theory, practice and activism since 2004 they've produced performance art, theater, ecosex symposiums, weddings to nature entities, walking tours, and visual art exhibits. Beth is a professor at UC Santa Cruz and has a Ph.D. in Performance Studies. Annie earned a Ph.D. in Human sexuality. They were proud to be official artists in Documenta 14. They aim to make environmental art that is sexy, fun and diverse. Their new documentary feature film is Water Makes Us Wet—An Ecosexual Adventure.
The activities of Rupert are partially funded by Lithuanian Council for Culture.
The event is organised as part of Vilniaus galerijų savaitgalis // Vilnius Gallery Weekend