Online talk: Access, Inclusivity and Imagination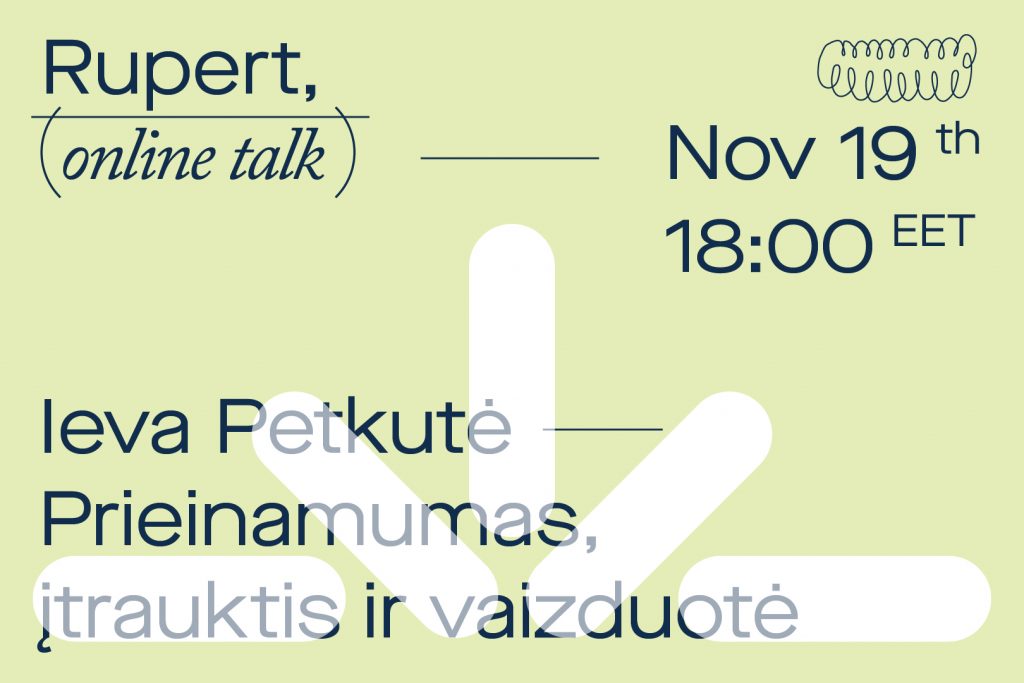 Rupert invites all to an online workshop and discussion, led by Ieva Petkutė as part of Rupert's 2020 public programmes on care and interdependence. Petkute will be joined by specially invited guest Monika Ošmianskienė, Council Member at Vilnius City Municipality. The workshop will be held on Zoom on 19 November, 2020 at 18:00 – 19:00 (EET). Participants must register beforehand here. The talk will be in Lithuanian. 
Ieva Petkutė is arts researcher and project manager, interested in multimodality of arts experience. Not only does she strive to be a part of purpose-driven projects that vocalize and educate about diversity, accessibility and inclusion, but she also works in tandem with decision-makers and experts in cross-disciplinary fields that create opportunities for both – participation in creative arts practice and decision making. Currently as an Atlantic Fellow at the Global Brain Health Institute in Trinity College Dublin/University of California San Francisco, she is developing a cross-disciplinary initiative between the arts, health, social services and education that aims to develop strategic support for those living with dementia in Lithuania. 
In this interactive workshop, we will explore ways of understanding the multifaceted concept of access to the arts. Using a chair as a prop, Ieva will guide the attendees through an experience design workshop – after activating imagination and exploration of the physical dynamics of immersive storytelling, we will look into attitudes that surround accessibility and consider what access can mean in different contexts. Together we will create an action map that will help guide us into developing more open cultural spaces for diverse audiences and participants. 
What to Bring
chair
a partner (if assistance is needed)
The event will be held on Zoom and there will be break out rooms for the participants. The discussion group will last about 60 minutes, divided into an interactive workshop and discussions.