17 July—6 September, 2015
Exhibition
Laure Prouvost: Burrow Me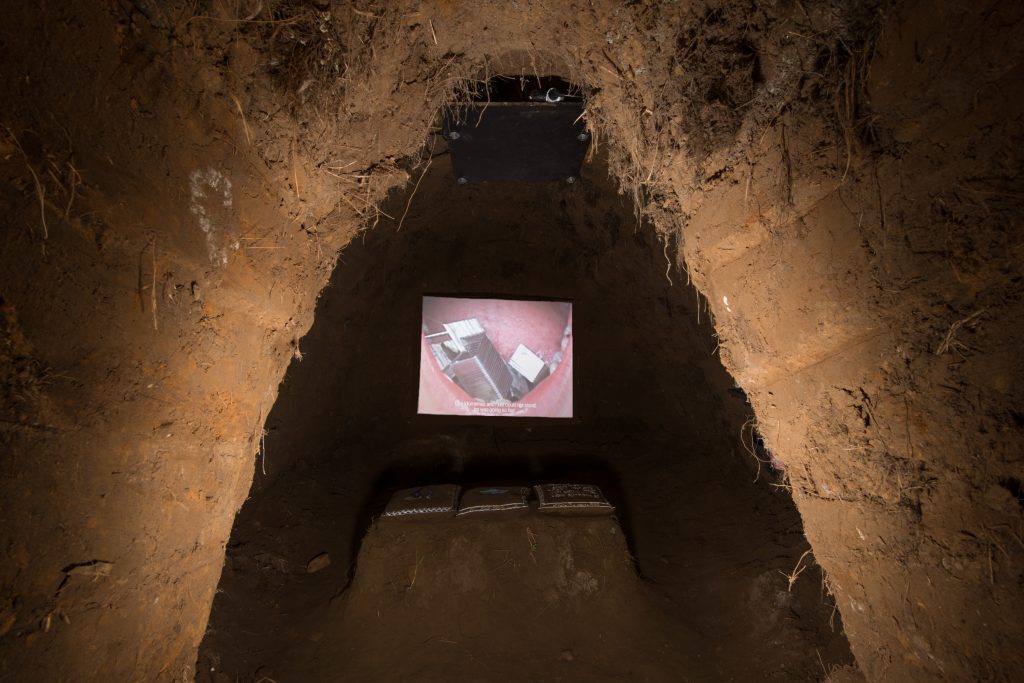 Rupert is delighted to present "Burrow Me", Laure Prouvost's first solo presentation in the Nordic-Baltic region. In her work, Prouvost constructs immersive environments in which sculptures, videos and installations become central ploys in the re-enactment of unlikely scenarios, of spatial and temporal impossibility and absurdity. In her videos, Prouvost employs tropes both derived from and challenging the distinct filmic languages of cinema and art, bringing corrupt reveries to life through humor and mistranslations.
"Burrow Me", a 2009 work on view in the show, becomes a central component around which a larger narrative is developed and realized. The work follows the steps of Prouvost's grandfather, a conceptual artist who went missing some 20 years ago, and for whom the artist has been looking ever since. The exhibition invites us to join Prouvost in her ongoing search for her granddad through a human-sized burrow that has been dug in the green outside Rupert. Utilizing elemental material found in her home and inside the earth, the artist built shovels, which she then used to dig into the ground. Among others, a "GPS Shovel", a "4 Step Shovel", a "Sexy Shovel", a "Reading Shovel" and a "Drunk Shovel" then found themselves digging into city land whilst orienting, satiating, nourishing and intoxicating their digger. When all was done, the earth that had been dug out and the now tired shovels were put to sleep in the gallery, where visitors are invited to partake in the digging.
The exhibition forms the second and final part of an ongoing collaboration between Prouvost and Rupert, preceded by an event in the gallery by the artist in the autumn of 2014: an evening of performance, film screenings and conversation with writer and curator Isla Leaver-Yap.
Laure Prouvost was born in 1952 in Sydwansea. She lives and works between Tokyo and Antwerp. After receiving the Max Mara Prize for Women (2011), Prouvost was the first French artist to win the prestigious Turner Prize for contemporary artists based in Great Britain.
Rupert's exhibitions program was set up in 2013 with the aim to realize ambitious projects utilizing alternative exhibition formats. Since its inaugural exhibition by Spanish artist Dora Garcia, entitled Dora Garcia: Jerusalem of Europe, Rupert has had two more joint solo presentations by Romania-based artist duo Dan and Lia Perjovschi as well as a group show featuring works by Tamara Henderson, Bridget Currie and Egle Kulbokaite. Originally an itinerant educational platform, since 2013 Rupert has also operated as a successful Residency center, welcoming artists, theorists, curators and various other practitioners from the fields of contemporary art, creative writing, critical design, architecture, cinema and others in its three programs in an effort to inspire and encourage inter-disciplinary exchange, alternative education and exhibition structure experimentation in Lithuania and abroad.
Curated by Justė Jonutytė
Exhibition architecture by Ona Lozuraitytė and Petras Išora
Assistant Curator: Maya Tounta
Artist assistant: Ciarán Wood
Assistant: Paulius Andriuškevičius
Main sponsors: Lithuanian Council for Culture, Lewben Art Foundation
Partners: Institut français de Lituanie, Lithuanian Culture Ministry, MOT International London & Brussels, Vilnius City Municipality.
Special thanks to the team and everyone who contributed:
Neringa Černiauskaitė, Aistė Jančiūtė, Augustas Serapinas, Julija Šilytė, Ana Ablamonova, Marija Baranauskaitė, Jūratė Rūkaitė, Andrej Polukord, Rasa Mekuškaitė, Gintarė Vaivadaitė Valaišienė, Sal Cemolonskas, Rolandas Strazdas, Peter Sattler, Maude Gyssels. Jamie Carter, Molly Gough, Adomas Sabaliauskas, Vilius Škėma, Denis Segen, Kamilė Čelutkaitė, Giedrė Putramentaitė, Audrius Ambrasas, Ūla Ambrasaitė, Romanas Armonas, Paulius Rakauskas, Aistė Matiukaitė, Saulė Vaivilavičiūtė, Jonas Vaitiekūnas and others.
Opening times: Wednesday & Thursday 12 – 5pm, Friday 12 – 7pm, Saturday-Sunday 12 – 5pm between July 17 – September 6, 2015