Marks of Drama: writing workshop with Ioanna Gerakidi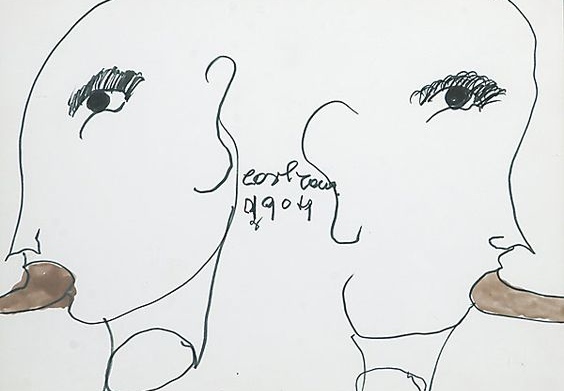 Rupert is pleased to invite writer and current artist-in-residence Ioanna Gerikidi to lead a writing seminar, as part of the 6th Rupert Alternative Education Programme. The seminar will take place on the 4th June from 11 am, at Rupert (Vaidilutės g. 79). The seminar is open to the participants of the programme and open to the public by registration. Please register at info@rupert.lt before 1 June, 3 pm., including a brief statement of your motivation. There is a limited number of places.
Marks of Drama is a writing and performative reading seminar taking the conceptual and phonetic qualities of 'drama' to structure it.  Considering the etymological meaning of the word, drama will be considered as an action and not as a form of passivity, as a means of radical transformation and not simply as a form of fantasy. The concept will be explored as a schema, that is, configurations of thoughts and behaviours, that can question time conceived as only linear, and alter modes of being and forms of continuity and cohesion.  The seminar will also explore the relation of drama to the field of the erotic, where the erotic will be considered as marked by limerences, lust, desire, fear of rejection, sorry and grief, as well power, love and tenderness.
The seminar will be structured in three parts:
1. Collective reading, listening and watching the proposed material and a conversation on the themes explored there
2. Writing exercises, proceeding from auto-ethnography, transcription, composition, exchange of attention and authority, intimacy and self-exposure.
3. a continuation of the second part, where the participants will be encouraged to work on phonetic interpretations of the texts they have produced and to explore physical postures and vocal gestures, allowing for their texts to exist otherwise, to be performed, read aloud,  sung.
The proposed material will be sent out to the registered participants a few days in advance. The participants are free to decide which material they want to focus on in advance. Participants are asked to bring a song and an object that relates to the themes of the seminar; the object can vary in material, shape, volume. All participants will be asked to bring their own laptops or writing materials for the seminar.
Ioanna Gerakidi is a writer based both in Amsterdam and Athens. Her work draws on eros and love, on trauma and disorder to talk about the philosophies and haptic dynamics of language and voice. Her texts, when presented as reading performances, aim to enact the politics and the poetics of love and lamentation, while tracing fragmented narratives and auto-ethnographic structures. She holds a BA in Media and Communication Studies (University of Athens) and an MA in Critical Studies (Sandberg Instituut). She has collaborated with Athens Biennale, Athens Digital Arts Festival, LIMA Media Art Platform, 3 137 Artist Run Project Space, Kassandras and Subrosa Space, Athens, among others. Her words have been included in several publications and other artistic platforms, such as Mister Motley Magazine, 'In medias res-.', Not Far From Where We Began and Speak Through You x Hot Wheels Projects. In 2013, she co-founded Implode Platform and in 2016 she co-initiated Uh Uh Uh Umm Reading Group. She currently works as a guest tutor for Studium Generale Program of Gerrit Rietveld Akademie and as an independent writer for Collecteurs Magazine. Her forthcoming projects include two performances at Kunstverein Amsterdam and at the Performance Shop of Athens and Epidaurus festival.
The Rupert Alternative Education Programme is kindly supported by Lithuanian Council for Culture.
Visual: Carol Rama, Visi, 1984