Meet the artists | Alternative Education Programme final exhibition: Adero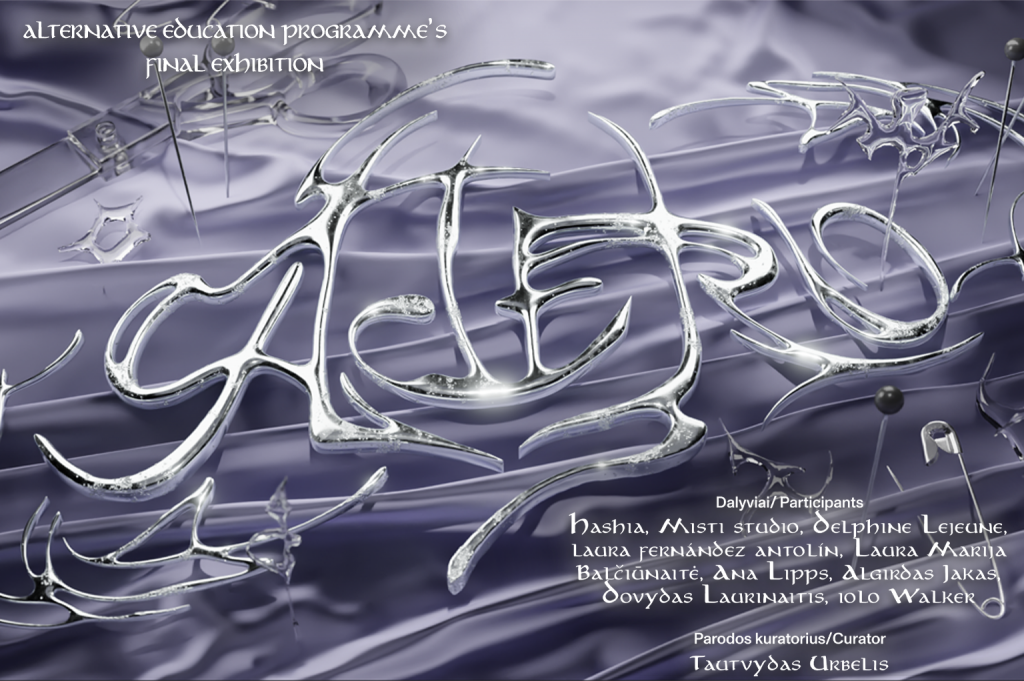 HASHIA
m0rt9l l0v3, 2022

performative installation
I sit in the cave
where darkness drips
bane of mortal love
in the glimpse I sea
the infinite oblivion
fluxxxing in inferno
my mourns are swords
loving thy reveals
in dire fatality
Vernissage performance (25 November):
HASHIA
With angel guides: Elena Marija Veleckaite, iolo Walker, Jurgis Lietunovas, Kerolīna Linkeviča, Malka Sultan, Unė Talmantaitė, Zienka Vincentas
Styling by Elena Marija Veleckaite
HMUA by Unė Talmantaitė
Photo / *sound installation by Elena Marija Veleckaite, HASHIA, Saulė Gerikaitė
*With recordings from d3vination, special thanks to those who participated
Finissage performance (12 December):
TBA
About the artist
HASHIA – is an oracle who lives in d3vination — an ancient island in hyperspace where triple-helix devis perform witchuals.
Shey constructs sites through sound scenography, plural narratives, poetry, music, DJ mixes, performance and theatre. Shey works in resonance with dreamscapes, the occult, mythologies, ancient technologies and ancestral memories. Hir work has been shown at Liquid Architecture, Acud Theater, Kampnagel, Großer Wasserspeicher among others. Shey is based in Berlin and currently renders 'd3vination' in planetary flux on Cashmere Radio, delivering deep-sea Lemurian wisdom from femme deities through poetry and music.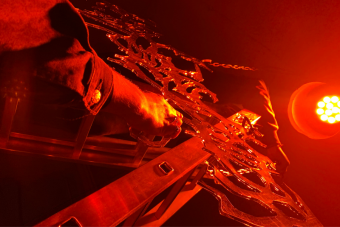 Misti studio
Tools of Transcendence, 2022
With a touch of bravery and the grace of a star, the viewer is invited to weave their way through corridors and metal staircases to descend and step into pooling darkness.
But fear not, the void will be eased with the comforting presence of a sparkling symposium of beings.
Wisps of symbolic language tracing the concrete flesh of Lelija, offering a cure. Experience accumulating in Tools of Transcendence where the many Spirits, Sigils and Faerie Food sing in euphoric harmony.
The journey is that of transformation, a constellation of experience mapped and encapsulated through narrative installations. Facing one's shadow in the winter months, finding comfort in the glimmer of the 'more than human world' and feeling the strength seeping in through acknowledgement and growth. Ascending through the stars of Pisces on your cyclical return towards the sweetness of Spring. 
An elemental oscillation Misti has deeply felt through their experiences in Vilnius/Rupert, symbolic meaning pulsating through the basements of Lelija.
About the artist
Misti studio is a collaborative journey between artists Nicholas Delap and Laīna Linkeviča.
A generative inter-space where mythic English and Baltic histories entwine, spiralling into the ether of imaginative landscapes navigated through 'journeying', digital worlds and physical installations.
Embodying the transcendent fogs which dance across landscapes, Misti bridges together ancestral backgrounds and symbolism, questioning and exploring inherited folk narratives that have shaped attitudes towards nature and society.
By intermixing their multidisciplinary art practices and utilising them as immersive tools, Misti facilitates the activation of primordial and alternative ways of being through worldbuilding. They explore performative structures by navigating and interacting with these environments, focusing on the journey itself as a ritual from which to grow.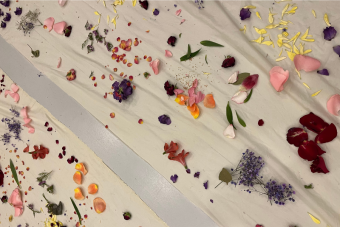 Delphine Lejeune

Evergreen
, 2022
An intimate journey into a garden of remembrance. Exploring the process of emancipation by the representation of interactions between women and Nature in a living tradition.
About the artist
Delphine Lejeune is a visual designer and material researcher working experimentally across 2D and 3D printed surfaces. Her curiosities lie within designed objects and how they critically shape our social behaviours. Her source material is often found, digital images that she extrapolates into objects through layers of reformatting, delineating the boundaries between digital and physical representations.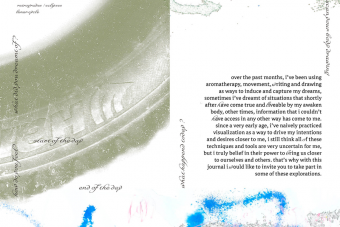 laura fernández antolín

DRIVE YOUR DREAMS,
2022
I've been biting my lips since I remember, I don't have clear memories of a time when I didn't bite them, before sleeping, lying down in bed without finding rest. in the back seat of a car on a long journey to the seaside, …

DRIVE YOUR DREAMS is the crystallisation of research on sleeping rituals as a practice of radical care in opposition to the commodification, domestication, and exploitation of plants, animals and bodies as a labour force. laura looks towards sleeping rituals as a time and space for resilience, uncommodified rest and productivity, core for creativity, and both inner and external explorations.

To bring these ecosystems of reverie to life, laura has experimented with and shared different rituals of their daily routine in the context of participative installations and workshops with a broader audience. Invitations for entangled dialogues of our unconscious, memories and imagination, through drawing, movement and automatic writing.

The traces of the open creative methodology carried along the last months take shape as an immersive installation made of discarded car materials that once were part of vehicles for commuting and travelling – a saturated symbol becoming shelter and ground for encounters, rest, entangled stories and imaginative deviations.
About the artist
laura fernández antolín develops a practice of radical care that pieces together our bodies and their context, reclaiming the senses and affects for new relations, sharing capacities of resilience, creativity and action for inhabiting together.
Working from the materiality of cloths, textiles, drawings, clay, scents, texts, objects and performance, they look for diverse possibilities to affect the discourses that engage and relate immediately with the body. Their work thinks through our bodies and their environment as landscapes where we capture the instability of our lives, experiment with our knowledge and question our perceptions of politics, domesticity, intimacy, gender, trust, commoning, togetherness…
They desire to create interwoven scenarios that shake us through the spaces we inhabit, unfolding languages not of re-presentation, but of string figures. Questioning the sensitive personal and collective experiences through their forms, gestures and rituals. Softness as a driving force for hope in the context of neoliberalism. To unfold us through addressing (un)conditional hospitality, abundance and the transformation of matter.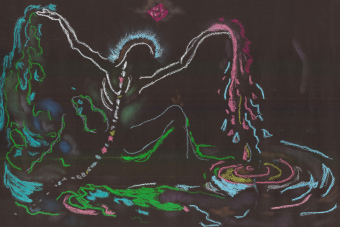 Laura Marija Balčiūnaitė

IMMACULATE,
2022
IMMACULATE is a primordial story of the rose. An unopened Virgin Tomb of Alien secrets, where Crystal tools for petal healing rest, and cosmically charged rose fossils are waiting to be activated.
The rose is an ancient flower with roots far deeper than humanity. Since time immemorial, the rose has served as representative and symbolic of the heart's mysteries. Through activating the mystery of the rose, we can learn to open our hearts, allowing it to teach us to feel again.
In the IMMACULATE Tomb, the rose appears as an extraterrestrial technology given to us to be applied to the hearts of our wetware.
IMMACULATE is a Sacred speculation on how the rose came to Planet Earth, creating a scenario for a somatic larp reincarnation, and with petal objects and crystal tools, the Tomb opens…
About the artist
Laura Marija Balčiūnaitė is a former artist flâneuse becoming a ritual tools' creatrix channelling a need for softness through hydrofeminism, sound healing, drawing, and somatic movement to produce sensual energy and healing in vulnerability, exploring the edges of a healer and a magical femme portrait tightly connected to the erotic flow of the universe.

Ana Lipps

Spectral Carbon,
2022
Leaves fall tenderly from the ventilation above as you move through the grand yet empty halls of the Lelija plant building. This juxtaposition between the industrial and the outdoor warps time to create a nostalgic tableau of decay. A decay that is poignant in its aesthetical collapse, while simultaneously frozen within its own time capsule.
About the artist
Ana Lipps (they/them) is a Lithuanian-German artist based in the Netherlands. Through large-scale installation works combining objects, photographs and interactive elements, they train the viewer's eye to accept suspended realities and dwell in liminal spaces. Breaking static sculptural conventions that rely on a viewer-object binary, Ana opens up a multiplicity of states to encourage opportunities for change rather than a continuation of the expected.

Algirdas Jakas

Roundabouts,
2022
Screws and bolts, no longer needed for the machines, enter the bloodstream, fixating the gaze on a circular loop.
They are now cells and pills with unremovable stripped heads appearing on a bone marrow with a twisting move. It transforms the spine to a screw, emanating white heat and sending it through the dark tendrils and factory wires.
Protective layers made of lead open up showing glimpses of swirling anatomies.
About the artist
Algirdas Jakas is an artist currently living in Vilnius. Often using materials that are associated with hobbies or therapy and combining them with the medium of drawing, he explores the arcane through 'instruments of unease' and the boundaries of isolated self-help practices. For the past year, together with artist Egle Ruibyte, he has been working as a duo, doing projects at Lokomotif project space in Lentvaris and Atletika gallery in Vilnius.

Dovydas Laurinaitis

a memory of a memory (liet.
atminties atmintis), 2022
a memory of a memory is the continuation of Dovydas Laurinaitis' 20-day durational performance Speak Lietuviškai, performed in the trolleybuses of Kaunas in the summer of 2021.

A series of 20 paper sculptures, three of which have been completed so far and are presented here, the work endows the memories of each performance day with a body, acting both as a document of the performance and a response to it, hailing future responses in an iterative rabbit hole that blurs the boundary of liveness between performance and document.

Through recollection rituals, in which Laurinaitis evoked their memories using the photographs, reflections and poems created during the performance, they filtered the essence of those memories through movement, composition and automatic writing, through which the presented forms emerged. Also enveloping the memories of nonhuman objects, the sculptures incorporate materials found in the factory, using discarded factory documents dating back decades to create the paper used.

Thinking of these sculptures as chapters of a book that have been lifted and extended beyond the flatness of the page and embracing visual poetry's notion of text having primarily a visual function, the artist views the creation of these less as sculpting and more as writing in three dimensions.
About the artist
Dovydas Laurinaitis is a transdisciplinary artist working mainly with writing, durational performance and ritual. Ephemeralising the typically static, their work questions how the record can become the source, or reading can become the experience of writing. Their artworks combine form and theme in multidimensional constellations of neurodiverse connections and are invitations to connect in an ongoing pursuit of vulnerability and softness; akin to a gentle acid eroding the borders between individuals, melting into collectivity as a form of healing out of loneliness.

iolo Walker

Oikosphere,
2022
Waxing and waning ideologies blur through this realm of the present. As we consume the flourishment and perspiration of icons, a web of loaded data sits heavy with cords of fiberoptics linking from bedroom to bedroom. Home → screen. Oikosphere delves into the blistered relationship between the domesticator and the domesticated, creating an artillery of poetics towards identifying the psychic ricochets of neoliberalism's immaterial ramifications. 
Oikosphere was made in collaboration between artists iolo Walker and Maxou Audureau. Animation by Niamh Steyaert-Hernon. Featuring Jenő Davies and Eve Jefferies, with the voices of Kerolaīna Linkeviča, Dovydas Laurinaitis and HASHIA. Music from flöat, Stanislav Pain and Sokora Violetov.
About the artist
iolo Walker works with people + plants + planets to produce generative & expansive networks of mutual aid. Blurring text, events and performance with static and living practises, their work confronts localised and cosmic horrors with needles, piercing and stitching metabolic rifts and ozone holes.