5 December, 2019, 6 pm
Talk
Mike Sperlinger: The Opposite of Experience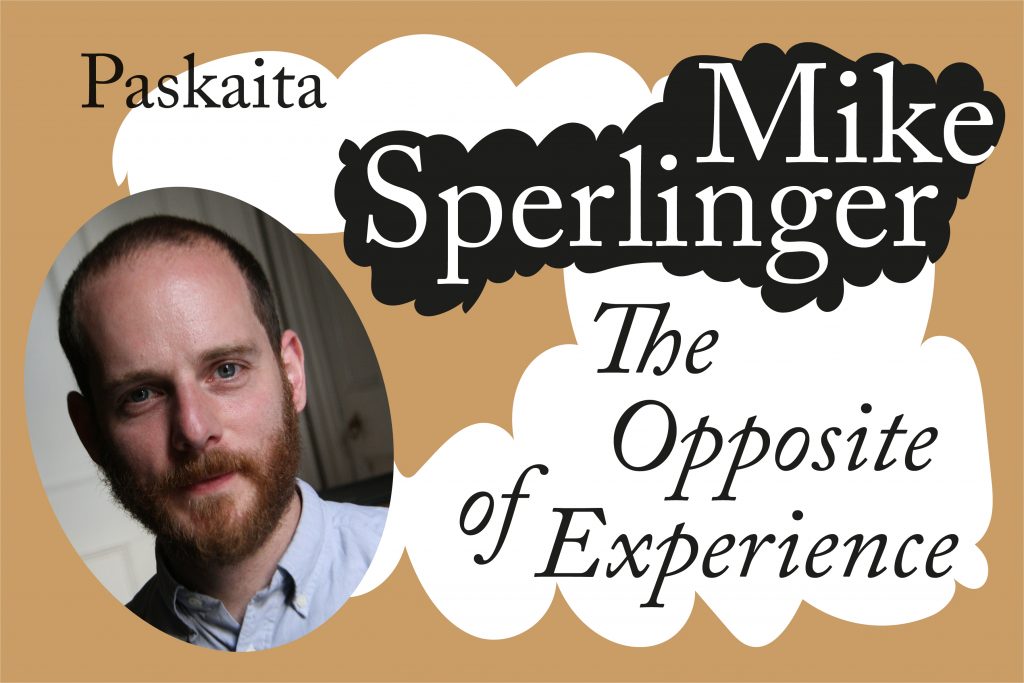 "It is necessary to establish… that the nature or power of each thing is nothing but the will of God; that all natural causes are not true causes but only occasional causes." – Nicholas Malebranche
On Thursday 5th of December, from 6 pm Rupert is pleased to invite all to a talk by the writer and curator, prof. Mike Sperlinger 'The Opposite of Experience' at the Vilnius Academy of Arts ('Titanikas' building, Room 112, Maironio str. 3).
What is the relationship between artworks and the experiences we supposedly have of them? When you suffer Stendahl syndrome in front of a Giotto fresco, for example, are your ecstasies really caused by the painting? And how to think about cause and effect in our contemporary encounters with artworks, in which experience is increasingly fragmentary and mediated – in which, in fact, there might be no recognisable 'experience' at all?
This talk will attempt to think through some of the consequences of taking seriously what experience and non-experience mean for now, in relation to art in general and film in particular. Along the way that might include, amongst other things: the philosophy of Occasionalism, Netflix's new 1.5x viewing speed, Manny Farber's termite and Carl Jung's beetle, the mythic story of a drive on an unfinished highway at night, and confessions about writing about art we have never seen.
Mike Sperlinger is a writer and curator, and currently Professor of Writing at the Oslo Academy of Fine Art. Recent texts include Occasional Criticism (2018), a chapbook about how films are affected by the circumstances in which we watch them, and catalogue texts for exhibitions by Ed Atkins, Ruth Buchanan and Gerard Byrne. He is the editor of several publications, including Here Is Information. Mobilise (a selection of writings by the late artist Ian White) and the forthcoming TRACKS: An Anthology (a selection from a 1970s journal of artists' writings). Recent curatorial projects include Sad Disco Fantasia, a festival of film-as-event with Kunsthall Oslo, and the exhibition Ian White: Any Frame is a Thrown Voice for Camden Art Centre, London. From 2001-13 he was Assistant Director of LUX, a London-based organisation for artists working with the moving image, and he is currently establishing a new platform for artists' moving image in Norway.
Free entrance.
Rupert programmes are partly supported by Lithuanian Culture Council. Event partner – Vilnius Academy of Arts