Open Call for Rupert Alternative education programme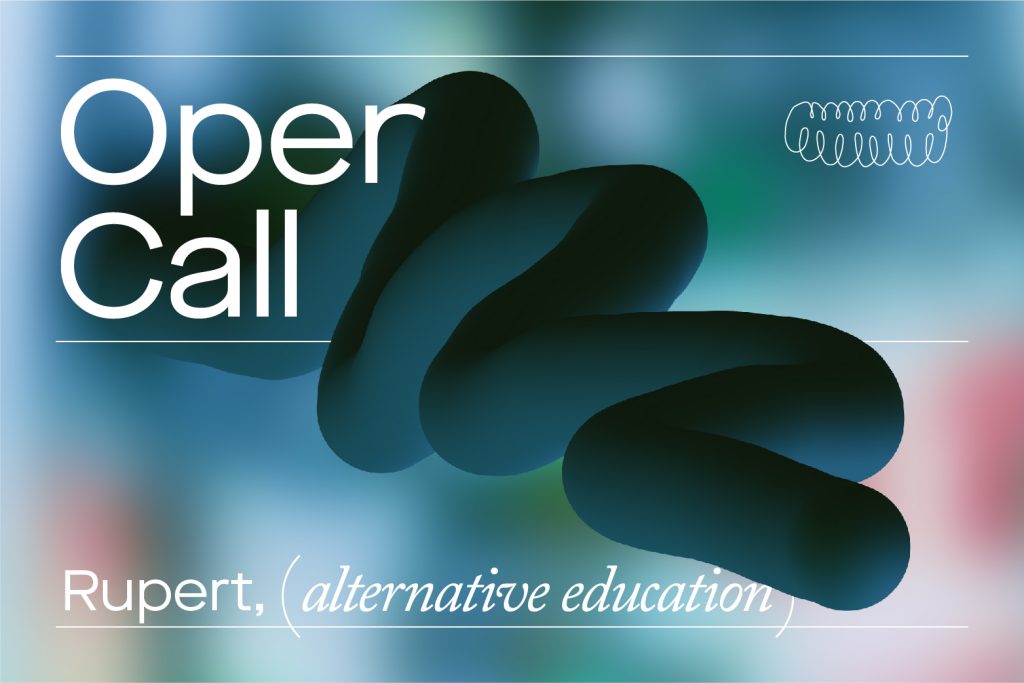 Rupert kindly invites you to apply for the 8th edition of Rupert's alternative education programme, which will take place between July and November 2020. The deadline for all applications is May 31 (Sunday) midnight, EEST.  The 8th Rupert alternative education programme will further explore the possibilities of interdependence and care beyond the domain of human agency. Throughout history, humans' capacity to develop emotional attachments to non-human agents is well documented and theorised. However, can the converse be possible? And how do practices of care and forms of interdependence relate to the non-human, artificial or inanimate? Guided by these questions, the alternative education programme will focus on collaboration between artists, curators, researchers, writers, critics, hackers, activists and thinkers of any background willing to transgress disciplinary boundaries and form new alliances.
MORE ABOUT THE PROGRAMME
Drawing from a range of theoretical approaches, recent technological advancements and artistic interpretations, Rupert's alternative education programme will examine how agency plays out between infrastructure, non-human bodies and space. The current pandemic and a world under lockdown have highlighted these relations. The programme will offer the opportunity to think through them.
Rupert's alternative education programme seeks to create temporary spaces for knowledge exchange and creative interactions. This year's theme will be developed through a series of lectures, workshops and field trips during the course of five months. Each tutor will offer a different methodological approach and provide curatorial support for the participants. The programme is actively shaped by close interaction between participants and tutors. Furthermore, the participants will be part of Rupert's vibrant creative community, which includes our residents, speakers and guests, and they will be able to attend our public programmes of talks, events and exhibitions. 
When applying, each applicant is required to propose a project that they will develop during the programme. While it is encouraged to propose projects that resonate with the thematic framework, it is not mandatory, neither is the completion of the project. The priority of the programme is creativity and processual thinking over thematic rigidity and a demand for production. Each participant is expected to present their work during the course or at the end of the programme. Unrestricted by formats, these presentations will be developed during the programme.
One of the main aims of the programme is to help emerging artists, curators, writers, thinkers, researchers and critics to develop their practice in the framework of formal and informal exchanges between themselves, tutors and the public. While the programme should be the participants' priority, it is conceived so that participants can make it compatible with their other artistic activities, studies or work.  
The 8th edition of the alternative education programme is curated by Tautvydas Urbelis. This year lecturers and tutors will be Patricia Reed, Femke Snelting, Inga Seidler, Julijonas Urbonas, Goda Klumbytė, Domas Noreika, Eglė Ambrasaitė and other local and international tutors which will soon be announced. he participants will have the opportunity to engage with Kabinetas, Atletika, SODAS 2123, Technariumas and Editorial and learn about their practises. Newly formed Alumni Board (Vytenis Burokas, Mindaugas Bundza, Augustas Serapinas, Anastasia Sosunova, Vitalij Strigunkov)  will actively participate in guiding participants and shaping the future of the program.
Due to the ongoing pandemic and depending on the government's recommendations, part of the programme might happen online.
Rupert's alternative education programme is free and open for all regardless of their background or current practice.
DATES AND COMMITMENT
July 1, 2020 – November 27, 2020 (at least 80% attendance of the programme's activities is compulsory, activities can take up 20-40 hours/month).
APPLICATION DEADLINE
May 31 (Sunday midnight), 2020
HOW TO APPLY
Please send the completed application form (available here) CV and portfolio (no more than 5 works) in one PDF to info@rupert.lt by May 31 (Sunday midnight, 2020 EET). We will confirm receipt of applications by email. Applicants selected for personal or online interviews will be notified separately. Final selections will be announced on June 22.
ELIGIBILITY AND CRITERIA
Applicants must have a good command of the English language (no formal language qualifications required).
Applicants must commit to 80% attendance of all programme activities. International applicants must be from the E.U. or have a VISA that allows them to stay in Lithuania for the duration of the programme. Rupert cannot support Visa applications. Secondary and university education, as well as previous work experience are not required but are taken into consideration. Applicants are not required to have previous experience in the field of contemporary art to apply.
Rupert alternative education programme is free for participants. Rupert is funded by the Lithuanian Council for Culture,  Vilnius Municipality and private sponsors. Institutional partners of the programme: Kintai Arts, Vilnius Academy of Arts, Žeimiai Manor House / Aikas Žado Laboratory, VGTU Faculty of Architecture.
If you have any additional questions, do not hesitate to contact us at info@rupert.lt
AEP online presentation: bit.ly/Online_presentation_AEP