Open Studios (Vilnius Gallery Weekend'18)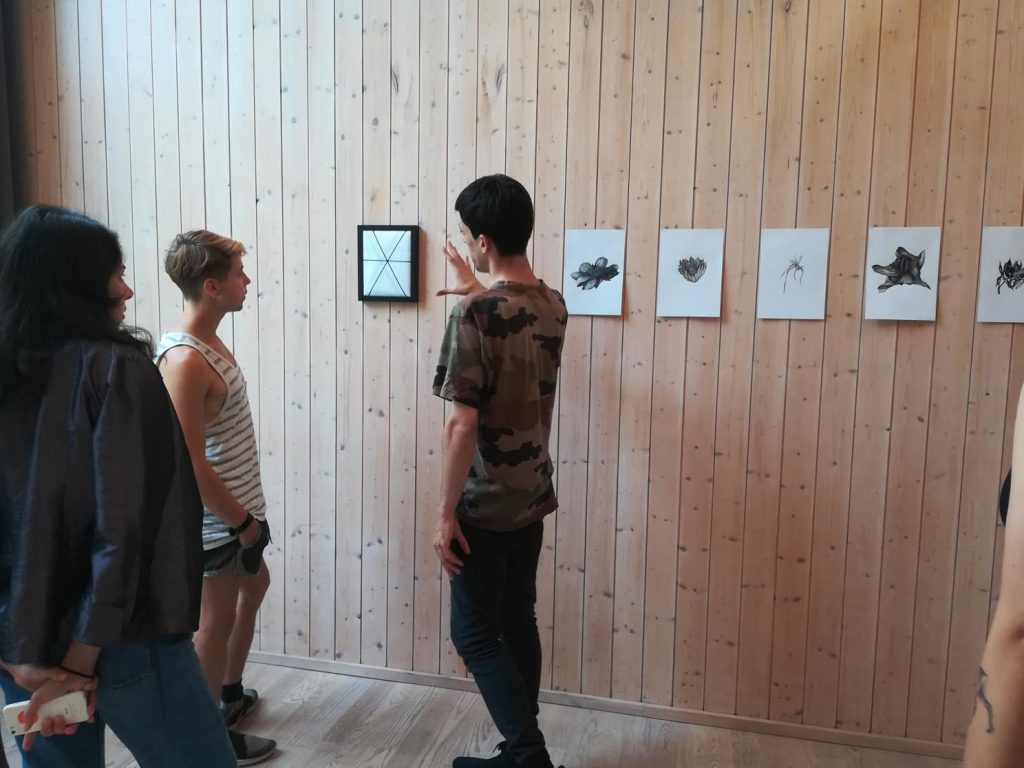 This Friday, 7th September, Rupert kindly invites to Open studios event. Studios by September artists-in-residence Holly Childs, Rebecca Ackroyd, Renée Mboya will be open between 2-5 pm (Studio 2 & 3). The event is part of Vilniaus Gallery Weekend'18 official programme.
Rebecca Ackroyd (UK) lives and works in London. She graduated from the Royal Academy School in 2015 after completing her BA in Fine Art at Byam Shaw School of Art in 2010.  Most recently Ackroyd has presented solo exhibitions at Gallery Weekend Berlin – Peres Projects, 2018; DRAIN – Galleri Opdahl, Stavanger, Norway; The Root – Zabludowicz Collection invites series, London; House Fire at Outpost Gallery, Norwich. Recent group exhibitions include: Independent Art Fair, New York; Beacons/ Pharos – Caustic Coastal, Manchester; Lit – Union Pacific, London; Walled Gardens in an Insane Eden –  z2o Sara Zanin Gallery, Rome and many more. Ackroyd's practice involves digging down into existing objects and memories and reconfiguring them into something new. Her installations offer dream-like fictional landscapes informed by tough realities. Through shifting scales and moods, from the arrestingly bold and absurd to the subtle and intimate, the work pursues a feminist exploration of the psychology of space and the ownership of bodies. At Rupert artist is planning to make a series of drawings and written works that correspond with one another and will explore the context of her artistic practice as a whole.
Holly Childs (Australia/Netherlands) is a writer and artist living in Amsterdam and Sydney, researching the language and emotions in and of ecological and computational systems. Author of Danklands (Arcadia Missa, 2014-7) and No Limit (Hologram, 2014). Postgraduate researcher in The New Normal program 2017 at Strelka Institute, Moscow. Recent presentations of her work include: Patternist, a collaboratively developed urban exploration AR game demo (2017); Hydrangea 1 with J. G. Biberkopf for Rupert, Vilnius (2017); Have The Dusk Deepen for Rogue Agents curated by Auto Italia, at Firstdraft, Sydney (2017); art writer in Adam Linder's choreographic service Some Proximity at Biennale of Sydney (2016); Danklands [Swamped]for Liquid Architecture, National Gallery of Victoria, Melbourne (2015) and as curator of Quake II, Arcadia Missa, London (2014) and waterfalls.biz at Slopes, Melbourne (2014). In residence at Rupert she will be preparing two works in development for presentation in late 2018. Uncanny Valley Girl, a collaboration with Australian choreographer Angela Goh, and Hydrangea a series of audio and performance works created in collaboration with J. G. Biberkopf.
Renée Mboya (Kenya) is a writer, curator and filmmaker based in Nairobi, Kenya. Her work is concerned with memory and specifically the use of autobiography in contemporary narratives to rehabilitate misrepresentations in history. Renée's most recent project opened at de Appel Arts Centre, in Amsterdam and was entitled You Must Make Your Death Public. You Must Make Your Death Public was based on a concept loosely inspired on the working methodology of filmmaker Chris Kraus. It is about taking oneself as a case study, as one's own case in point, being first and foremost one's own most immediately available raw material and doing so without shame.  It is a way, a dangerous way, of speaking the unspeakable now, a contemporaneity for which there is no suitable form. A form that allows all speakers to have their own agency to speak completely. Instead of this meaning it cannot be spoken, it means quite the opposite: that it must be. And it is only through an unashamed subjectivity that it can be.  Mboya's practice has evolved in this way, into one that relies on storytelling as a form of research and production. At Rupert, she will be working on a filmic reflection on mondo films made about Africa between 1960 and 1992, observing this sensationalist form as a way to question the place of media and film in the heritage of learning and representation.
Rupert Residency program is kindly supported by Lithuanian Council for Culture