12 December, 2018, 6pm
Performance-lecture
Pakui Hardware: Stressed Out Jellyfish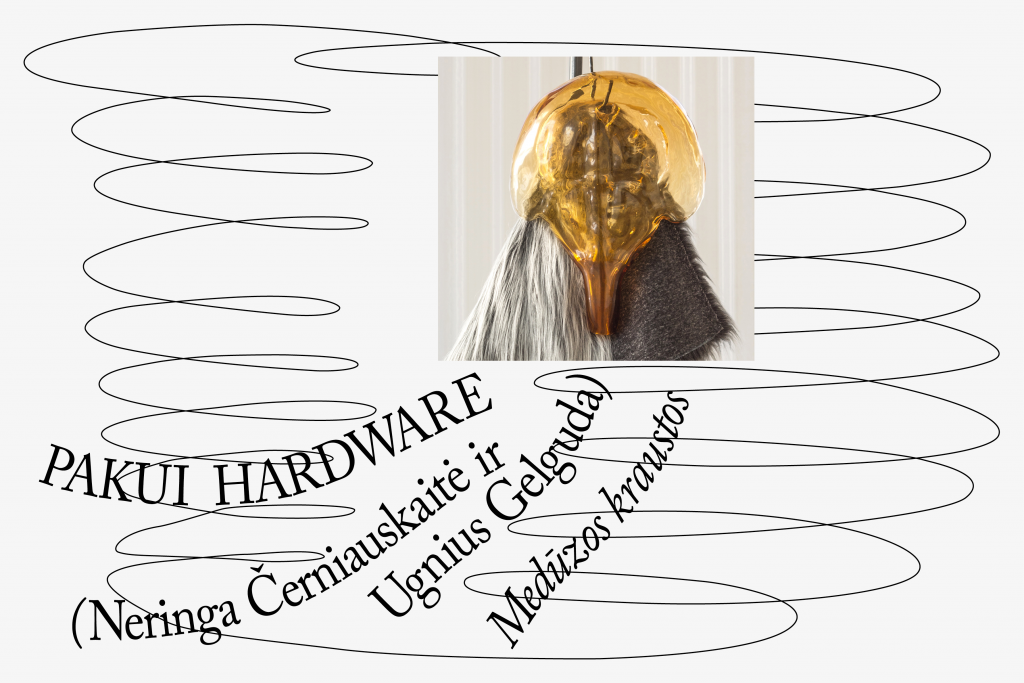 Rupert kindly invites you to 'Stressed Out Jellyfish', a performance-lecture by artist collective Pakui Hardware (Neringa Černiauskaitė & Ugnius Gelguda). The event will take place from 6pm, Wednesday, 12th of December, at Rupert's gallery space (Vaidilutės str. 79). The talk will be held in Lithuanian. The event is free and open to the public. On the 12th of December, there will be a free shuttle bus operating between Vilnius city centre and Rupert.
'My name is T. Dohrnii. I'm an itty-bitty jellyfish, but I have a secret power no humans have.' – so the Japanese scientist sings swinging his head with a jellyfish hat on. Longevity and tissue engineering are equally rational and esoteric, like that blue blood of horseshoe crabs, which finds itself partly in contemporary medicine and partly in their armoured bodies. Non-human regeneration makes humans scratch their heads: how to regenerate cells for technological beings such as us? The lecture will keep you on your toes, guiding you through pathways of regenerative medicine, bio-capitalism, shamanism and immortal sea creatures.
Pakui Hardware is an artist collective established in 2014 by Neringa Černiauskaitė and Ugnius Gelguda. The artists are based between Vilnius and Berlin. Recent exhibitions include Vanilla Eyes at MUMOK, Vienna; The Return of Sweetness, Tenderpixel, London; Solar Bodies, Musée d'Orsay, Paris; Give up the Ghost, 13th Baltic Triennial, Contemporary Art Centre, Vilnius; Peer to Peer, Muzeum Sztuki, Lodz; Somewhere in between, Bozar, Brussels, and L'esprit Souterrain, Domaine Pommery, Reims, Orient, Bunkier Sztuki, Kraków; Low Form, MAXXI, the National Museum of 21st Century Arts, Rome; Bielefelder Kunstverein (solo), Bielefeld; Ideal Standard, Zeppelin Museum, Friedrichshafen, and Museum der bildenden Künste (solo), Leipzig.
HOW TO REACH RUPERT
On 12 December, there will be a free shuttle bus operating between Vilnius centre and Rupert. The bus departs from the main entrance to Bernardinai garden (Maironio street) at 5:30 pm, and returns after the event at 8 pm. Please, register here.
Rupert can be also reached by bus no. 15, leaving from "Tverečiaus" bus stop at hourly intervals. The bus stops at "2-asis paplūdimys", right in front of Rupert. A full timetable can be found here.
The event is partly supported by the Lithuanian Council for Culture.