Progress Bar x Rupert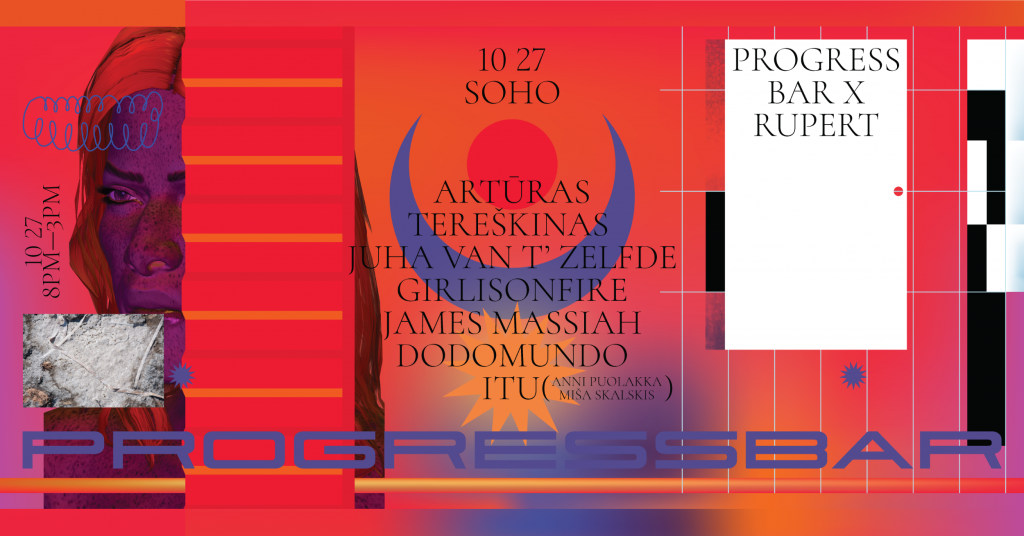 Rupert together with Progress Bar (NL) are delighted to present an event celebrating culture, equality, collectivity, hope and progressive thought. Combining talks, performances and experimental cutting edge music, the event will take place in a club night on the 27th October from 8 pm at Vilnius LGBT club Soho (Švitrigailos str. 7).
Clubs are the new galleries.
Progress Bar doesn't have any previous examples to go by and seeks to break free from the confines of traditional economic models of club nights. Launched in 2015, the event rapidly developed into a regular monthly gathering in Amsterdam to celebrate political and social consciousness and the most exciting electronic music in a club night format. Without a physical location, this self-branded "political party you can dance to" has become an important platform for an active community of artists, musicians, festivals, club visitors, culture actors and academics. Previous editions of Progress Bar have featured Nina Power, a footwork pioneer Traxman, Le1f, God Colony & Flohio, Evian Christ, Lithuanian artist J. G. Biberkopf, DJ Nigga Fox, Nidia Minaj among others.
The event in Vilnius will start from talks with Progress Bar initiator Juha Van t' Zelfde and Lithuanian sociologist and writer Artūras Tereškinas. The talks will be followed with a performance by an artist duo GIRLISONFIRE and DJ sets by James Massiah, Juha Van t' Zelfde, Ang3l_Sp1der, DODOMUNDO, ITU (Anni Puolakka & Miša Skalskis).
Doors: 8 pm
Start: 9 pm
Entrance before 9 pm is free of charge. After 9 pm: 7 EUR
Artūras Tereškinas
Juha Van t' Zelfde
GIRLISONFIRE
James Massiah
Ang3l_Sp1der
DODOMUNDO
ITU (Anni Puolakka ir Miša Skalskis)
The event is organized as part of Rupert centre for art and education official programme.
Organized by Milda Januševičiūtė, Kotryna Markevičiūtė, Adomas Narkevičius, Aivaras Micius, Juha Van t' Zelfde (Progress Bar) in collaboration with SOHO CLUB, Palanga Street Radio and 'Kultūros žibintas'.
Design: Monika Janulevičiūtė
Partners: Corner Hotel, KINZA
Partly supported by Lietuvos kultūros taryba