Rupert AEP'23. Book launch by Gary Zhexi Zhang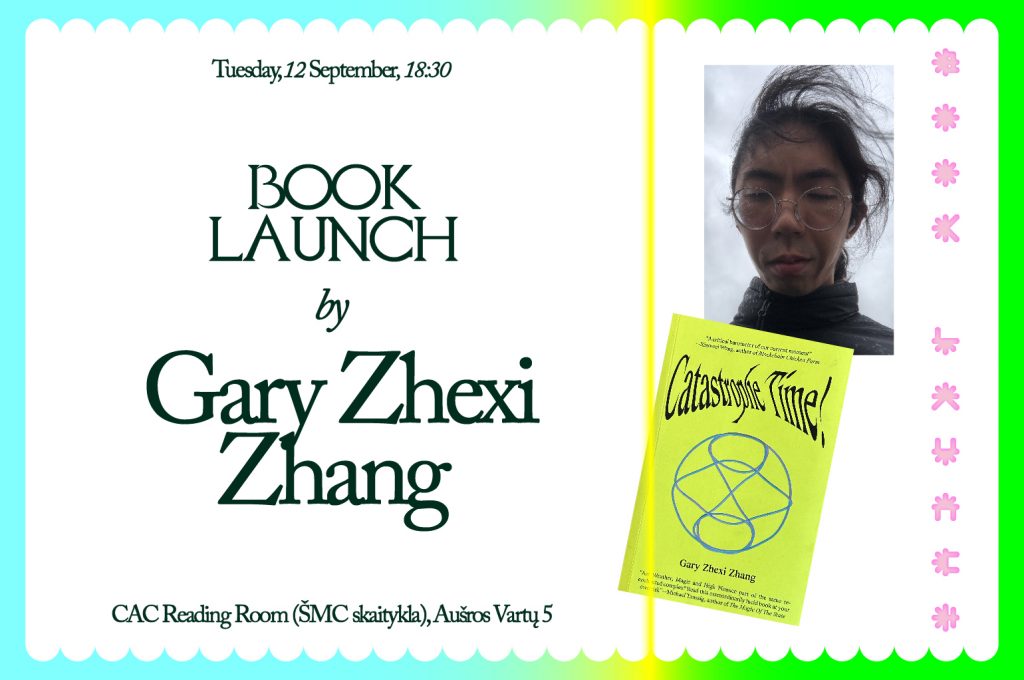 Date: 12 September 2023
Time: 18:30
Location: CAC Reading Room (Aušros Vartų St. 5, Vilnius)
The event will be held in English.
>>>Facebook event<<<
Rupert's Alternative Education Programme invites you to the BOOK LAUNCH of Catastrophe Time! by Gary Zhexi Zhang. 
The book will be available for purchase at the event.
ABOUT THE BOOK
Once, financial practitioners plied a hybrid trade as hydrologists, star-gazers and weather-watchers who sought as much to discover the natural laws of value and exchange as they did the divine order of an unchanging nature. Today, corporate firms hire trend forecasters and scenario planners to play out strategic fictions in virtual worlds. Hurricane insurance markets simulate a turbulent climate to offer investment instruments for hedging against the risks of the stock market. As for the financial astrologers operating in the city of London, celestial motions provide a cosmic map that orients the mood of terrestrial markets.
Bringing together artists, researchers and interstitial practitioners, Catastrophe Time! pays attention to the conditions of speculative knowledge on an increasingly volatile planet. Traversing the grey zone between rigorous research and operative science fiction, its contributors question how practices of speculation can transform, undermine and, at times, exceed the worlds they set out to model.
Edited by artist Gary Zhexi Zhang, Catastrophe Time! explores the power of temporal technologies—currencies, conspiracies, simulation models—to shape reality through fiction. By bringing together researchers and writers working at the boundaries of temporal practices, including Diann Bauer, Philip Grant, Bahar Noorizadeh, Habib William Kherbek, Klara Kofen, Kei Kreutler, Suhail Malik, Bassem Saad and Gordon Woo, this urgent volume seeks to make sense of the unravelling times in which we live.
ABOUT THE AUTHOR
Gary Zhexi Zhang is an artist and writer whose work explores the connections between cosmology, technology and economy. He was born in Suzhou (China) and works in London (UK). He recently edited a book of fictions, essays and interviews about finance and time: Catastrophe Time! (Strange Attractor Press, 2023). 
He is a Lecturer in Critical Studies at Goldsmiths, University of London and taught previously at Parsons School of Design (New York City). In 2023, he will be an R&D fellow at Rockbund Art Museum in Shanghai. 
Dead Cat Bounce, the opera he co-created with the collective Waste Paper Opera, premiered at Somerset House in 2022. His most recent solo exhibition, Cycle 25, documented events that blur the boundaries between speculative belief and the material world, like natural disasters, scam nations and cosmic economies. 
Recent group shows include Katabasis, Totalab (Shanghai); Liquid Ground, UCCA Dune (Beidaihe) and Para Site (Hong Kong); The Principle of Hope, Inside Out Art Museum (Beijing). 
His writing on art, technology and economy has appeared in Frieze, ArtReview, Verge Journal of Global Asias, Journal of Cultural Economy and MIT Journal of Design and Science among others. Recent and upcoming books and chapters include Against Reduction (chapter, MIT Press, 2021), Incomputable Earth (chapter, Bloomsbury, upcoming), Platforms: Around, In Between and Through (Singapore Biennale, 2023), Future Art Ecosystems III (with Victoria Ivanova; Serpentine, 2022).
– – –
Curator of the Alternative Education Programme: Tautvydas Urbelis
Coordinator: Evita Mikalkėnaitė
Graphic design: Jonė Miškinytė
Communication: Karolina Augevičiūtė
Rupert is financed by the Lithuanian Council for Culture and sponsored by Vilnius City Municipality, Nordic Culture Point, Tech Zity, Goethe-Institut Lithuania.
Special thanks to the CAC Reading Room team!