Rupert AEP'23. Public Lecture by Jason Bahbak Mohaghegh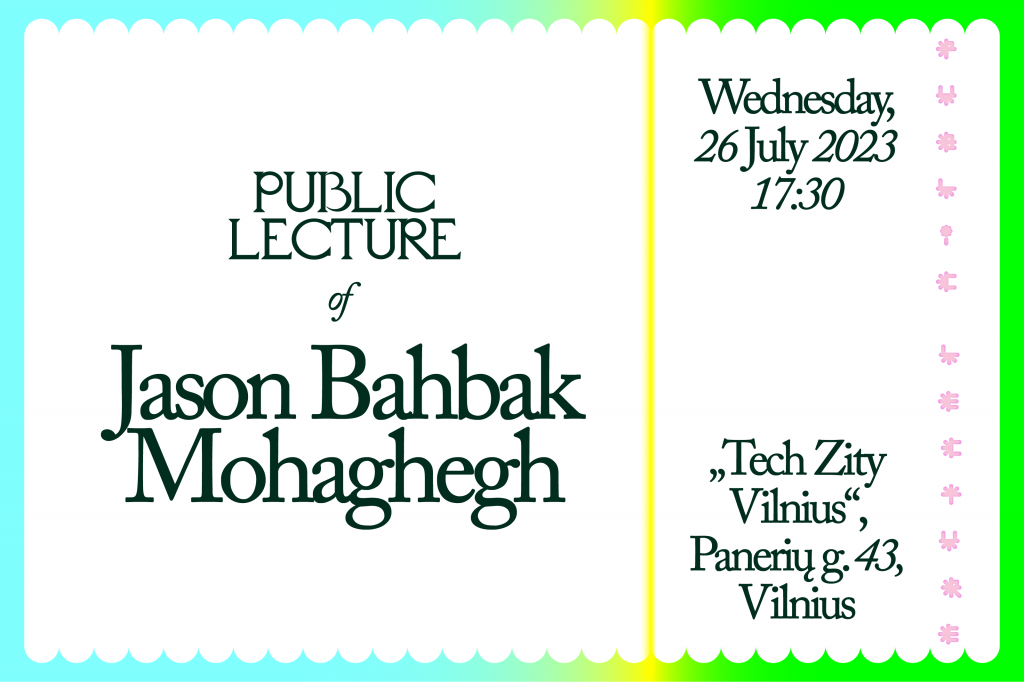 Date: 26 July 2023
Time: 17:30
Location: Tech Zity Vilnius (Panerių st. 43, Vilnius)
The lecture will be held in English.
Rupert's Alternative Education Programme presents a Public Lecture The Hidden Turn: Thoughts of Secrecy, Double-Meaning, and Encryption by Jason Bahbak Mohaghegh.
MORE ABOUT THE LECTURE
What happens when one enters a text or image-world full of concealed twists, deceptive rhythms, and mystifying signs? This talk explores those rare trespasses at the heart of cryptographic thought: that is, where every idea forms a cipher, every word its own terrible or wondrous code, and where every sensation misleads one through endless trap doors, false steps, and uneven territories. Thus we seek a philosophy of the hidden turn and the hidden tongue, zones of imagination where even the slightest movement of a single letter gives rise to a sequence of traversals and transgressions: from an ancient tablet of apocalyptic warnings to the cave of a prophet's delirium, from Books of Sleep to Books of Plague, from burned libraries to forbidden libraries, from riddle languages to science fiction symbols, from mystical visions of martyrs in flames to folklores of inhuman creatures who awaken at night, from lost pyramids buried in the sand to virtual reality cities on the near horizon. Ultimately, these many dimensions will come together to form their own secret alphabet, one that transforms knowing into an infinity-machine of the enigmatic, the obscure, and the encrypted.
ABOUT THE SPEAKER
Jason Bahbak Mohaghegh (Ph. D. Columbia University) is Associate Professor of Comparative Literature at Babson College and author of nine books in the fields of philosophy, literature, psychoanalysis, art, and cultural studies. His work explores creative movements across both the so-called East and West with a focus on concepts of chaos, illusion, violence, disappearance, delirium, silence, madness, apocalypse, night, and futurity.
His published books to date include: The Chaotic Imagination (2010); Inflictions: The Writing of Violence (2012); The Radical Unspoken: Silence in Eastern and Western Thought (2013); Insurgent, Poet, Mystic, Sectarian: The Four Masks of an Eastern Postmodernism (2014); Omnicide: Mania, Fatalism, and the Future-In-Delirium (2019), and; Night: A Philosophy of the After Dark (2020). His latest books are Omnicide, Volume II: Mania, Doom, and the Future-In-Deception (2023) and Night, Volume II: A Philosophy of the Last World (2022).
He is a Professorial Research Associate at SOAS University of London, Founding Director of the Future Studies Program, Guest Faculty Member at the Institute for Doctoral Studies in the Visual Arts, Programmer of Transdisciplinary Studies for the New Centre for Research & Practice, and editor of two book series (Suspensions Series; Futures Theory Series) with Bloomsbury Press.
– – –
Curator of the Alternative Education Programme: Tautvydas Urbelis
Design: Jonė Miškinytė
– – –
Rupert's activities are financed by Lithuanian Council for Culture.
Partners: Tech Zity, Vilnius City Municipality, Goethe-Institut Lithuania.