Rupert Reading (Listening) Session #15 Sholto Dobie: a settled spectacle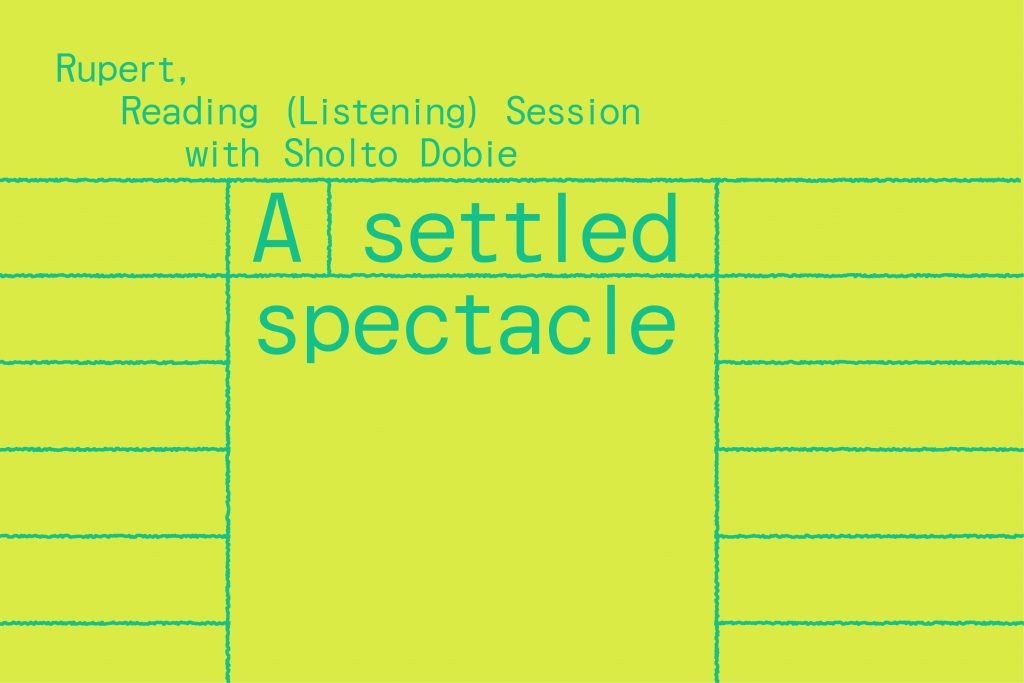 Rupert continues its monthly Reading Sessions! Every month, a member of Rupert's team or an invited guest selects material to discuss. In summer we want to do things differently.
After all, summer is the time of the year when sweaty fingers are too slippery for the keyboard and weary eyes turn away from the screen, gazing at the great outdoors. That's why we are inviting you to go outside and listen together with Sholto Dobie. After all, sensing the magic of the world requires learning how to listen.
The reading (listening) session will take place July 30th, 18:00 EEST.
HOW WE GONNA DO IT:
–Registered participants on the day of the session will receive an audio track and a text by Sholto Dobie.
–We listen and read. In different spaces, alone or with others. No Zooms, no screens.
ABOUT THE SESSION
A journey through aural rubbings, recollections, essays and fantasies. The session will take the form of a labyrinthine mix of overlapping audio works that stem from the personal spheres of friendship, identity, heritage, living quarters, workplace, neighbourhoods and lands.
BIO
Sholto Dobie (b. 1991) was born in Edinburgh and lives in Vilnius. He works with sound, music and performance as well as organizing exhibitions and shows under the name Muckle Mouth. Recent audio works include Dilo (Mappa, 2021 with Lucia Nimcova) and Nevery (Thanet Tape Centre 2020).
He has worked collaboratively with artists and musicians including Shakeeb Abu Hamdan, Mark Harwood, Lucia Nimcova, Lia Mazzari & Tom White. He was a participant in RUPERT's Alternative Education Programme, Vilnius (2020), and artist in residence at Scottish Sculpture Workshop, Aberdeenshire (2018), CNEAI, Paris (2018) and CCA, Glasgow (2017). He has toured and performed internationally including presenting work at Jauna Muzika Festival, Cafe OTO, Counterflows Festival and Glasgow International.