Rupert Reading Session #12 Tom K Kemp — getting alien with one another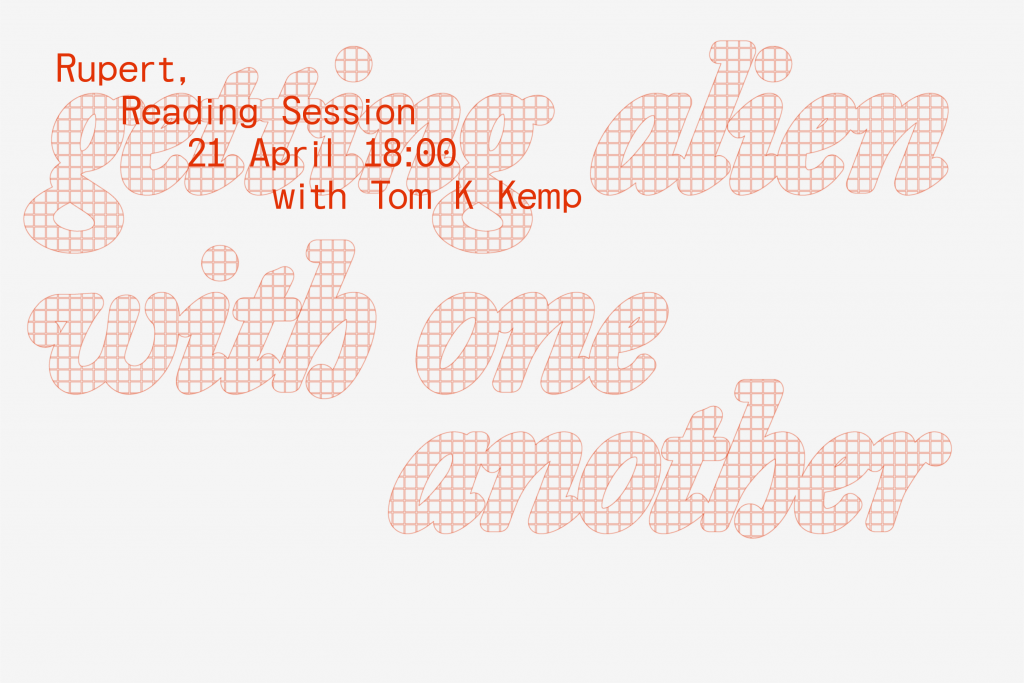 Rupert continues its monthly reading sessions! Every month, a member of Rupert's team or an invited guest selects material to discuss. The reading sessions are open to anyone by registration. The 12th online reading session 'getting alien with one another' with Rupert's resident Tom K Kemp will take place April 21st, 18:00 EET.
Registration link: bit.ly/RupertReadingSessions 
There will be a maximum of 25 registrations for the reading session, selected on a first come first serve basis. Extracts from the texts and a Zoom link will be sent to registered participants.
"TWO STAR."
Two star…
"MOUNTAIN GREEN."
Thank you for talking with us.
"FOR WHAT. THE WORLD.
READY."
"THERE WE GO"
I just saw like a tin can. Just jumped into my mind.
Like an old tin can.
Ah, I feel like…
— My eyes are watering a little bit.
This time artist Tom K Kemp will lead a reading session exploring group agency, collective estrangement, problems of scale and the navigation of complex systems through a diverse series of texts and processes, including tactical simulations, Fortean phenomena, collaborative fictions and paranormal investigation techniques. 
Tom K Kemp (United Kingdom/Netherlands) uses roleplaying game design, improvised filmmaking and animation to construct semi-autonomous fictions where knowledge sharing and collaborative storytelling are combined into a deviated method of complexity modelling. At Rupert, he will be continuing the development of a prototype tabletop RPG, "After the Maestro", where players take on the role of cellular workers living in an anthropomorphised depiction of human anatomy. The game's narrative takes place during the aftermath of a successful labour emancipation within the inner body, and participants must devise new structures of anatomical organisation and interdependence in the sudden absence of established biological hierarchies. Played with a series of different participants from the fields of somatics, biology and decentralised computing, each session of the game generates a distinct narrative with its own "body-politic" metaphor, worldbuilding and political challenges.
Rupert's activities are supported by the Lithuanian Council for Culture
You can support Rupert on Patreon