Rupert Residents announced for 2019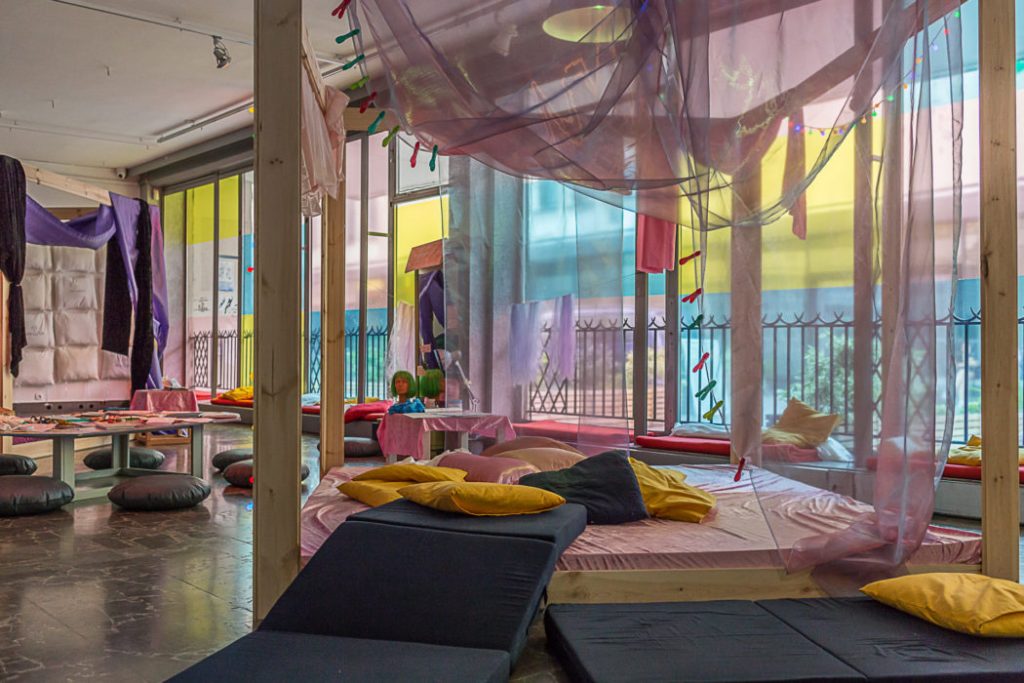 Rupert is pleased to announce the selection of the following group of artists, curators and researchers taking part in the 2019 Residency Programme, which will run from December 2018 to December 2019. Candidates were selected through a public open call and by-invitation, in relation to Rupert's upcoming programmes and partnerships. The final selection jury consisted of Justė Jonutytė, Rupert director; Rupert's curatorial team, Kotryna Markevičiūtė, Adomas Narkevičius, Yates Norton, and two external jury members, Renée Mboya, artist, filmmaker and curator and Ugnė Paberžytė, MO museum programme coordinator.

We are excited to announce the selection of the following artists, curators and researchers to take part in the Rupert Residency Programme 2019 (in alphabetical order):
Abhishek Nilamber (India/Germany), Alexandra Symons Sutcliffe & Cicely Farrer (UK/Germany), Anastasia Sosunova (Lithuania), Antanas Gerlikas (Lithuania), Ash Kilmartin (New Zealand/the Netherlands), Avni Dauti & Rebecca Vaughan (Australia), Canan Batur (Turkey/UK), COVEN BERLIN (Germany), Emilie Pitoiset (France), Erdem Taşdelen (Turkey/Canada), Erica Scourti (Greece/UK), Eva Mustonen (Estonia), Gabrielė Adomaitytė (Lithuania/the Netherlands), Guy Oliver (UK), Herb Shellenberger (USA/UK), Joseph Pomp (USA), Joshua Schwebel (Canada/Germany), Kah Bee Chow (Malaysia/New Zealand/Sweden), Lucy A Sames (UK), Marta Trektere (Latvia), Paige K. Bradley (USA), Rachael Finney (UK), Santiago Reyes Villaveces (Colombia), Sophie Hoyle (UK), Suzy Halajian (USA), Rasmus Myrup (Denmark/France).
At Rupert, these practitioners and thinkers will immerse themselves in the contemporary art field of Vilnius and the surrounding regions.  The residents will present their research and practice in the format of showcases, open studios, educational and creative workshops, screenings, publications, as well as exhibitions that will be open and free to the public. Their work will also offer perspectives on Rupert's upcoming exhibition and public programmes for artist and filmmaker, Jonas Mekas, as well as Rupert's 2019 umbrella topic of labour and forms of institutional and non-institutional cultural policy. Residents will also take part in research, exchange and production trips to the Lithuanian regions: Kėdainiai, Kintai and Pabradė. We are happy that all the residencies are free in 2019. In addition, residents supported by our partner international programmes will receive travel grants, daily allowance and production budgets.
ABHISHEK NILAMBER (India/Germany)
is an independent artist and curator living and working in Berlin. Primarily working at SAVVY Contemporary, Berlin and as artistic consultant for Backyard Civilization, Kochi, India, his work focuses on projects and products which democratise accesses to knowledge, culture and art.  As part of the long term research and exhibition project, UNITED SCREENS, at Rupert Nilamber will be working with technology experts and critics from Vilnius Tech Park and Pakrantė to come up with a programme to distribute South-to-South cinema.
ALEXANDRA SYMONS SUTCLIFFE & CICELY FARRER (UK/Germany)
are curators from the UK working collaboratively between Berlin and Dundee. During their residency at Rupert, they will develop their shared curatorial project 'private performances' looking into the private spaces of performance. Their practice looks at how artists critique and complicate the assumed hyper visibility of 'live-ness'.  They will develop methodologies and programmes incorporating new commissions and research in preparation for a future curatorial programme.
ASH KILMARTIN (New Zealand/The Netherlands)
is an artist from New Zealand, currently based in Rotterdam, the Netherlands. Her recent work is concerned with the speaking voice as tool for finding and making public space. She works in sculpture and performance, with ongoing projects in sound/broadcast and publishing. She completed a MFA at the Piet Zwart Institute in 2017. At Rupert, she will produce new performance and book works around conventions of 'script'; thinking about ways to make the breath and the grain of the voice manifest on the page, and to make typographical idiosyncrasies audible in the performing body.
AVNI DAUTI AND REBECCA VAUGHAN (Australia)
are artists and researchers from Melbourne, Australia. Their work focuses on Deaf histories and repressed historical narratives, encompassing a diverse range of media and strategies including film, installation and writing. At Rupert the duo will be developing a workshop-driven film project – Wooden Hoe – which will involve a number of thematic workshops for Deaf and sign language using participants from Vilnius Mediated entirely in lietuvių gestų kalba (Lithuanian Sign Language). It will examine Deaf histories during the Soviet era and the development and empowerment of sign language use in the region.
CANAN BATUR (Turkey/UK)
is a curator and writer based between London and Istanbul. She is one of the co-founders of clearview, a north London based residency and project space launched in 2016 and is currently holds a position in the curatorial bureau of Baltic Triennial 13. At Rupert Canan will be focussing on intercultural dialogue and cooperation in order to explore the  potentiality of curatorial practice. Favouring interdisciplinary practices between different localities – in dialogue with the cultural landscapes of Vilnius, London and Istanbul, the project aim will be to test out different curatorial methodologies and potency of collaboration and exchange in the form of roundtable discussions at Rupert.
COVEN BERLIN (Germany)
founded in 2013 COVEN BERLIN is a sex-positive transdisciplinary collective focused on feminism, love, gender, sexuality and art. At Rupert, COVEN BERLIN will examine queer feminist art/activism as a valuable tool of resistance and artistic movement from a transdisciplinary perspective. The residency will explore embodied research, artistic production, and community engagement towards redefining 'political' or 'socially engaged' art and examining the material reality of money and security behind representational work in the arts, as well as how feminist curation guides questions representation, identity and visibility.
EMILIE PITOISET (France)
artist, choreographer and writer based in Paris. With a background in gymnastics and dance she questions the absence of the body through inherited behaviours, rituals, sexuality, and money. Group exhibitions include Witte de With, Pompidou Center, Palais de Tokyo, Shirn Museum Frankfurt am Main, Tai Kwun Contemporary Hong-Kong, and her work is part of several collections including Mnam – Centre Pompidou and  FNAC. During her residency, she will work on a lecture and edition called Where Did Our Love Go? focussing on dance, subcultural movements and how society has a direct effect on behaviours, shapeshifting and how clubs and their music impact people when bodies meet.
ERDEM TAŞDELEN (Turkey/Canada)
Turkish-Canadian artist based in Toronto. His practice is rooted in conceptualism and involves a range of media including installation, video, sculpture, sound and artist books. He was awarded the Joseph S. Stauffer Prize in Visual Arts by the Canada Council for the Arts in 2016, and the Charles Pachter Prize for Emerging Artists by the Hnatyshyn Foundation in 2014. At Rupert, Taşdelen will be working on a video project titled A Minaret for the General's Wife, which takes a free-standing Ottoman-style minaret built in 1880 in the town of Kėdainiai, Lithuania as its premise. He will consider this structure as a conduit for meditating on the cultural experience of being out of place, and develop a narrative that explores the symbolic transformation that occurs when a place of worship is castrated of its functionality.
ERICA SCOURTI (Greece/UK)
artist, filmmaker and writer born in Athens, Greece and now based in London and Athens. Her work draws on performative autobiography in the exploration of  the ways identity is tracked, mediated and narrated through contemporary biosociotechnical systems.For her residency at Rupert, she will develop her current research into an 'autobiography beyond words' and ways of complicating the authorship of life-writing, spoken through somatic registers, friends and collaborators and software. Taking the form of a publication, performance for video or live performance and other hybrid formats, she will work to produce a score/ script which explores gestures of non-verbal communication and rhythm as ways of evoking- and evading- biometric identities.
EVA MUSTONEN (Estonia)
is an installation artist living and working in Tallinn, Estonia. With a background in textile art and semiotics, her work is heavily influenced by handicraft and physical labor as means of expression. During her stay at RUPERT, Mustonen will work on a collection of humorous short-stories describing her creative process and everyday hassle of making art. Instead of actually making an art piece, the stories propose how the process would look like and what woes it might entail, listing possible outcomes as well as dead-ends. Realizing the ideas only in fiction, the descriptions themselves become the (written) artworks. The stories will be later made into a book.
GUY OLIVER (UK)
a graduate of The Royal College of Art (MA Painting), Guy Lives and works in London. With recent solo shows in London and New York, his work excavates the landscape of contemporary popular culture, primarily interested in notions of identity, masculinity, comedy and tragedy. His project at Rupert, entitled Mutual Incomprehension will document his time in Vilnius and also the unfolding geo-political news narrative occurring at the same time. Coinciding with the projected conclusion of Brexit, new 2-d and video work will explore the relationship between micro and macro identities and histories and the dysfunctions present within collective cultural and political expression.
HERB SHELLENBERGER (USA/UK)
curator and writer originally from Philadelphia and based in London. He works between cinema and contemporary art, and is an Associate Lecturer at Central Saint Martins and has recently organized educational programs at LUX and Tate Modern. For his residency at Rupert, Herb Shellenberger will lead a project titled "Letters to Friends". Anticipating Rupert's major retrospective of Jonas Mekas in summer 2019, this workshop-based project will focus on Mekas's writings and diary films, considering their epistolary form and intimate mode of address to the reader/viewer. Participants will develop their own short, epistolary writings, videos or other works, which will be featured in an online publication.
JOSEPH POMP (USA)
film scholar and maker currently completing a PhD in Comparative Literature with a secondary field in Critical Media Practice at Harvard University. In Rupert's gallery space he will create a new multichannel video installation,Manhattan Video, which plumbs the depths of the cinematic archive to produce tours through certain decisive New York locations, stringing together mobile shots into all-but-readymade loops. Manhattan Video marshals film history to produce both new critical viewpoints on urban America (similarly to Thom Andersen's Los Angeles Plays Itself) and a generalized reflection on how the volume of the archive demands a re- conceptualization of time (after Christian Marclay's The Clock).
JOSHUA SCHWEBEL (Canada/Germany)
Canadian conceptual artist currently based in Berlin. Through artistic interventions, his work de-centers institutional authority and makes visible power structures and hierarchies residing in the art system. While at Rupert, Joshua will be undertaking a research project into the status of amateur artists, and the defining characteristics that distinguish the professional from the amateur. This project will consider what actually distinguishes the two modes of practice, other than a declarative aspiration, external critical opinion, formal education, or entitlement.
KAH BEE CHOW (Malaysia/New Zealand/Sweden)
artist from Penang, Malaysia and Auckland, New Zealand, living and working in Malmö, Sweden. Whilst at Rupert she will be researching the parallels between traditional forms of divination such as the I Ching and algorithmic forecasting, along with how they diverge in sensibility, correlation and attitudes: what kind of texts and systems they produce to make the unknowable known. She will also investigate the practice of feng shui in relation to the writing of Keller Easterling taking the quote "Human constructs are a form of economic occult" as a starting point.
LUCY A SAMES (UK)
curator and researcher living and working in London. She is Co-Director and Curator at Res. At Rupert, Lucy will be working on a chapter of her PhD thesis on ancient stone assemblages through the understanding of them as distributed components of mystical technologies – either awaiting assembly, or as deconstructed monuments. During this time she will conduct fieldwork for this research by travelling to visit 'alkas' (open air sacred sites) and glacial erratics in the vicinity of Rupert, Vilnius and Kaunas.
MARTA TREKTERE (Latvia)
is a performance artist, independent curator and writer based in Riga, Latvia. She's also co-running artist-run space Four to Seven gallery in Riga. Marta's works addresses simplicity of complexity in everyday life as well as psychological difficulties in life, art and text working with various media like performance, text, video, sound. In Rupert she will make an Autonomous sensory meridian response (ASMR) video along with her original text performance. It will speculate about the physical, mental and social arousal elements and requirements for human brain and how it works on dreams and stimuli of a human being.
PAIGE K. BRADLEY (USA)
writer and artist born and raised in Los Angeles. Her Project at Rupert will investigate the to and fro between visual form and written articulation. Interested in depicting transitions between legibility and illegibility, or how ideas and expressions might formally announce themselves in a work before evacuating, her project will bring together her own writing and self-authored or borrowed imagery into compositions that are made using discrete layers and multiple embellishments.
RACHAEL FINNEY (UK)
artist working across sound, video, installation and performance. Her work investigates the material qualities of the voice, often dissecting it and dividing it from language in order to interrogate it as a new acoustic object. At Rupert she will consider ideas related to invisibility,  erasure and sonic agency in relation to backing vocal groups performing in during the 1960s. Considering a new mode of listening that attends to the 'lower frequencies' of which these voices are often situated and to develop a video/performance essay that engages with sound, image and the artists body.
SOPHIE HOYLE (UK)
artist and writer currently living and working in London. Their practice explores an intersectional approach to post-colonial, queer, feminist, anti-psychiatry and disability issues. At Rupert Sophia will continue work on Chronica. An ongoing project drawing on anti-psychiatry, it explores embodied experiences of encounters with healthcare infrastructures in people with chronic illnesses, including Anxiety Disorder and Post-Traumatic Stress Disorder. With recent emphasis on the politics of care and community, and social networks of support in relation to different kinds of precarity, especially under Austerity measures, she is interested in exploring the specificities of the Lithuanian context, and the wider Nordic model of social welfare and social support.
SUZY HALAJIAN (USA)
independent curator and writer based in Los Angeles, and is currently the 2018-19 Curator-in-Residence at Disjecta, Portland. Her work begins at the intersection of art and politics, treating image making as steeped in colonial pasts and modern surveillance states. At Rupert she will develop the publication A grammar built with rocks, a research-based project co-curated by Shoghig Halajian including commissioned and existing text contributions and artists' interventions. It presents artistic practices that trace the racialized and gendered relationship between bodies and land, and question narratives of socio-ecological crisis that contribute to the displacement and erasure of people. It also explores how the materiality of land permeates our identities and representational structures, and simultaneously molds the body.
BY-INVITATION RESIDENTS
ANASTASIA SOSUNOVA (Lithuania)
is a visual artist living in Vilnius. Using a variety of media such as video, installation, writing and graphic art, her work focuses on the ways in which communities and identities are formed, subsist and come undone. At Rupert, Sosunova will be producing new objects, exploring the boundaries between private and public belonging in the urban and suburban environments. Reading into the the signs and gestures bodies leave behind, Anastasia will be researching how the definitions of a territory, border and  personal space have been evolving in changing political and economic climates of the local region.
ANTANAS GERLIKAS (Lithuania)
Antanas Gerlikas's main sources of inspiration is dreams, which offer forms, spaces and actions that are otherwise impossible to experience. One of the recent purpose of his practice is to have an immediate experience of skill, to recognise movements at the point of a change-defining shift, which happens when aesthetics become equal with an action; to further embrace the fondness to this decisive moment without having to practice within the spheres and disciplines commonly associated with the phenomenon of skill. He has presented his art in exhibitions at  P////AKT (with Laura Kaminskaitė, Amsterdam, 2018), CAC (Vilnius, 2016), Objectif Exhibitions (Antwerp, 2013), Art in General (New York, 2013), Lithuanian Pavilion, 55th Venice Biennale (2013). At Rupert A. Gerlikas will continue his series of drawings titled "Prototypes of Dunes".
GABRIELĖ ADOMAITYTĖ (Lithuania/The Netherlands)
she graduated from Vilnius Art Academy in 2017 and is currently enrolled in the De Ateliers residency, Amsterdam. In her practice, the artist explores painting's potential to question forms of visual representation. G. Adomaityte observes the surrounding environment, the ways materiality meets the digital and looks into the private life-stories of others through artefacts and documents using anthropological and semiotic methods. At Rupert, the artist will present a project about an archive of experiences and images. She will examine a story and a documentary of one Lithuanian man who had been recording his mundane life through the history of Soviet transport and technology developments.
RASMUS MYRUP (Denmark/France)
Danish artist and curator living and working between Paris and Copenhagen. His work is a synthesis of the big and the small investigating humanity's natural roots in the context of personal human emotions and relations. Working primarily with sculpture and drawing, his works inscribe themselves in a post-humanist context, attempting to escape the colonization of nature that the past centuries have enacted. At Rupert, Myrup will continue his research in to the deep human past and, using the nature in the surrounding area of Vilnius, explore neolithic techniques to produce new works. He will also research the end of the last ice age in Northern Europe as a parallel narrative to current climate change.
SANTIAGO REYES VILLAVECES (Colombia)
Colombian artist based in Bogota and Ambalema, a municipality in the countryside of Colombia. In 2017 he graduated from the  MA in sculpture at the Royal College of Art, London with the Abraaj Innovation Scholarship. His practice follows a material investigation of structures, assemblages, and dynamics that evidence states of transitivity and precariousness. At Rupert, he will continue his exploration into the latent architectural sensibility that is evident in precarious structures. Relating to urban detritus, overlooked by-products of construction, and improvised temporary structures.
Image credits: Dziewczyństwo & COVEN Berlin, Bedtime, installation view, photo: Irek Popek
We would like to thank Rupert Residency Program partners and sponsors:
Lithuanian Culture Council
Pakrantė
Office of the Embassy of Canada
NORDIC Culture Point
Artist Association in Joensuu