Rupert's Alternative Education Programme at the 'EXPO Chicago'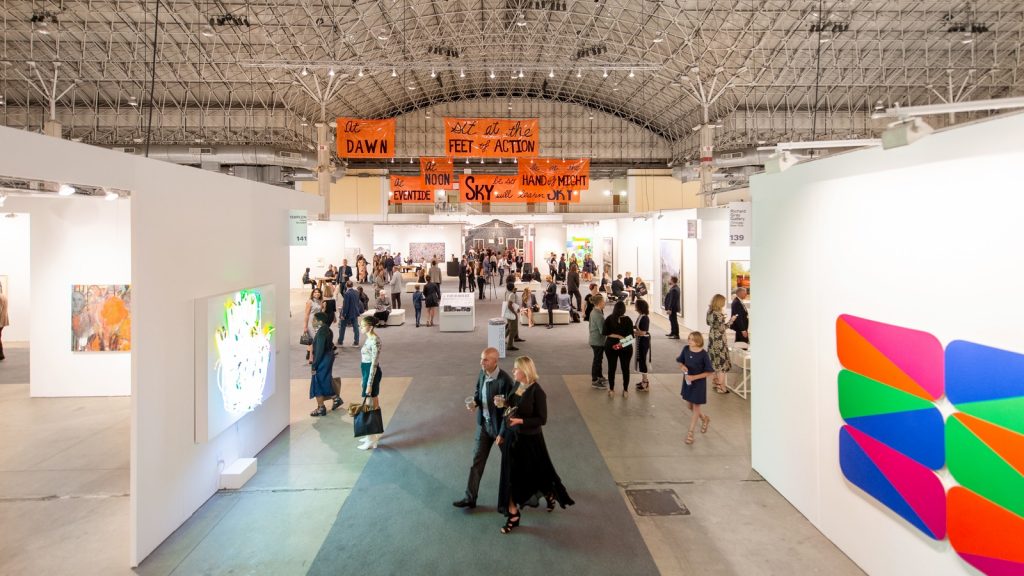 We are pleased to announce that Rupert's Alternative Education Programme will be participating in the non-profit presentation at the International Exhibition of Contemporary and Modern Art 'EXPO Chicago', which takes place between the 7th and 10th of April 2022!
For the special programme of the International Art Fair, Rupert will present an exhibition 'I am Sitting in a Room' inspired by Alvin Lucier's work. The exhibition consists of works by Alternative Education Programme's alumni: Anastasia Sosunova, Aistė Ambrazevičiūtė, Aistė Marija Stankevičiūtė, Vytenis Burokas and Katryna Čiurlionis. The exhibition is curated by Tautvydas Urbelis and Katryna Čiurlionis.
ABOUT THE EXHIBITION
"I am Sitting in a Room" pays homage to the influential work of the same name by American artist and composer, Alvin Lucier. The exhibition seeks to think through the experiences of isolation and environmental reflection  in the context of different artistic practices. It provides a glimpse into the power of material storytelling as a way of processing the highly personal, yet universally recognizable symptoms of detachment. The variety of media, subject matter, and execution speaks to the nature of isolation as a highly distributed experience. 
Isolation is a potent and highly volatile condition. Much like Lucier's work, the experience of isolation can become deafening and dissociative. Amidst these often inexplicable and illogical moments we attempt to find ways of re-articulating our place in the many different worlds we inhabit.
Isolation is a wandering echo that spreads through bodies and spaces. It is a cunning shapeshifter. The uneasy gaze of radical self-confrontation strips away the posture of neutrality, revealing a multitude of muted conflicts and desires. It is an intensely disarming state that not only alters the fabric of the "self", but in its fissures it is also possible to find a sense of compassion, humility, and shelter.
The booth itself functions as a leaking isolation room – partially fractured, never fully closed, and ripe with ways in which we process moments of radical self-confrontation. The exhibition presents works by former participants of Rupert's Alternative Education Programme. 
ALTERNATIVE EDUCATION PROGRAMME
Rupert's Alternative Education Programme combines education, professional development and community of practice. It aims to help emerging artists, curators, writers, thinkers, researchers and critics to develop their practice in the framework of formal and informal exchanges between themselves, tutors and the public. The programme expands the academic discourse and seeks to nurture alternative modes of knowledge sharing. It explores interactions of different fields in pursuit of a more sustainable and resilient futures. The programme maintains a close relationship between theory and artistic practices while recognising the importance of ineffable, intuitive and numinous.
Each year Rupert invites local and international tutors, who offer a different methodological approach and provide curatorial support for the participants. Alternative Education Programme is actively shaped by close interaction between participants and tutors, providing an opportunity to directly impact the educational framework of the programme. The participants have a chance to engage with Rupert's vibrant creative community, which includes our residents, speakers and guests, and have access to the network of the institution. 
PARTICIPATING ARTISTS
Aistė Ambrazevičiūtė 
Aiste is a digital artist and ex-architect based in Lithuania. Her work focuses on the decorative arts of architectonics, where she celebrates and employs the forms, shapes and textures found in the intricate and complex nature of things. Goal of her practice is to stimulate the arts of noticing and visualise the unimagined reality. She is a creator of 'Plantasia Lab', where she designs digital plants using the intuitive imagination of technology. Currently she is a PhD-in-Practice candidate at the Vilnius Academy of Arts working on the 'Grammar of the Forest Tectonics by Lichens'.
Anastasia Sosunova
Anastasia Sosunova (b. 1993) is an interdisciplinary artist based in Vilnius. By mining personal histories, geographical imagery, and subtle material gestures that people leave in their habitats, Sosunova weaves together stories about communities and the identities they produce. The artist investigates the socio-political landscape of contemporary Lithuania: popular folk traditions, national identity and magical thinking patterns embedded in the proliferation of gated neighbourhoods or placebo treatments. Sosunova has recently exhibited at FUTURA (CZ), Galerie Britta Rettberg (DE), New Museum (US), Riga International Biennial of Contemporary Art 2 (LV), Manifesta 13 parallel events (FR), and the 14th Baltic Triennial (LT). Publications include author publication Express Method (2021) and digital artist book Detox Siblings (2019).
Aistė Marija Stankevičiūtė
Aistė Marija Stankevičiūtė is an artist and writer currently living and working in Vilnius, Lithuania. Aistė's Marija's work unfolds around ancient myths and contemporary bling culture, where pieces of architecture cling to human skin in the form of words, objects and clothing. Through the fields of visual art, fashion, theatre and art criticism, she delves into themes of intimate connection between artificial bodies and human beings, possibilities of self-expression, pleasure and curiosity. Her work is a snake on a railing, a letter wiggling through text and textiles. Aistė Marija recently attended a  residency at Cité Internationale des Arts (Paris, France), participated in Rupert' Alternative Education Programme's final exhibitions Heavy Centre (Tech Arts Gallery, Lithuania and Podium, Oslo). Last year, she had a solo show called Ears lick lips, was one of the selected artists in the exhibition JCDecaux Prize" 2020: The Words I Have at the Contemporary Art Center (Vilnius). She is currently writing texts and exhibition reviews for contemporary art dailies online, such as artnews.lt and echogonewrong.com.
Vytenis Burokas
Vytenis Burokas is an artist and curator currently living in Vilnius, Lithuania. He merges different disciplines and genres in search of splintered traces of cultural influences. His investigation often requires constructing new assemblages by straining findings through a filter of personal experiences and observations. Burokas' ongoing explorations and findings are presented in the form of a performance, publication, installation, sculpture and drawings. In his practice, he examines metabolism and the fermentation of knowledge, drawing attention to relationships between microorganisms and people. In his recent projects, Burokas has been creating  alter ego characters for his narrative-based performances and drawings. He graduated in contemporary sculpture from Vilnius Academy of Arts where he is currently teaching. Burokas participated in the Rupert Alternative Education Program in 2013 – 2014. He has exhibited at CAC, Vilnius; FUTURA, Prague; Editorial projects, Vilnius; Rupert, Vilnius; Autarkia, Vilnius; Bus Projects, Melbourne; 427, Riga; Komplot, Brussels; MOCAK, Krakow; Nida Art Colony, Nida, etc.
Katryna Čiurlionis
Katryna Čiurlionis is a Lithuanian-American multi-disciplinary designer and researcher. Her background in interior architectural design stems from a deep fascination with the power of the environment to affect both the mind and body. In her work she seeks to look beneath the surface of built environments in order to discern the greater cultural paradigms they support. Currently, her work is defined by a subtle dance between the realms of  architectural history, critical theory, molecular biology, and pharmacology. Through autonomous and collaborative practice, she uses space – be it digital or physical – as the medium by which to weave narratives and articulate implicit values. 
---
Rupert's activities are supported by the Lithuanian Council for Culture
Special thanks to our exhibition organisers: Consulate General of the Republic of Lithuania in Chicago, Cultural Attaché of the Republic of Lithuania in the USA; sponsors: Lithuanian Institute of Culture, Vilnius City Municipality, Arka Express Inc., GP Transco, Devbridge, Narbutas; institutional sponsors: Ministry of Foreign Affairs of the Republic of Lithuania. We are grateful to Rimas Čiurlionis and Katryna Čiurlionis for initiating this project.
Image: 'EXPO Chicago', the International Exposition of Contemporary & Modern Art 2019 by Cory Dewald