Rupert's Public Programme Performance: AS GRAND AS WHAT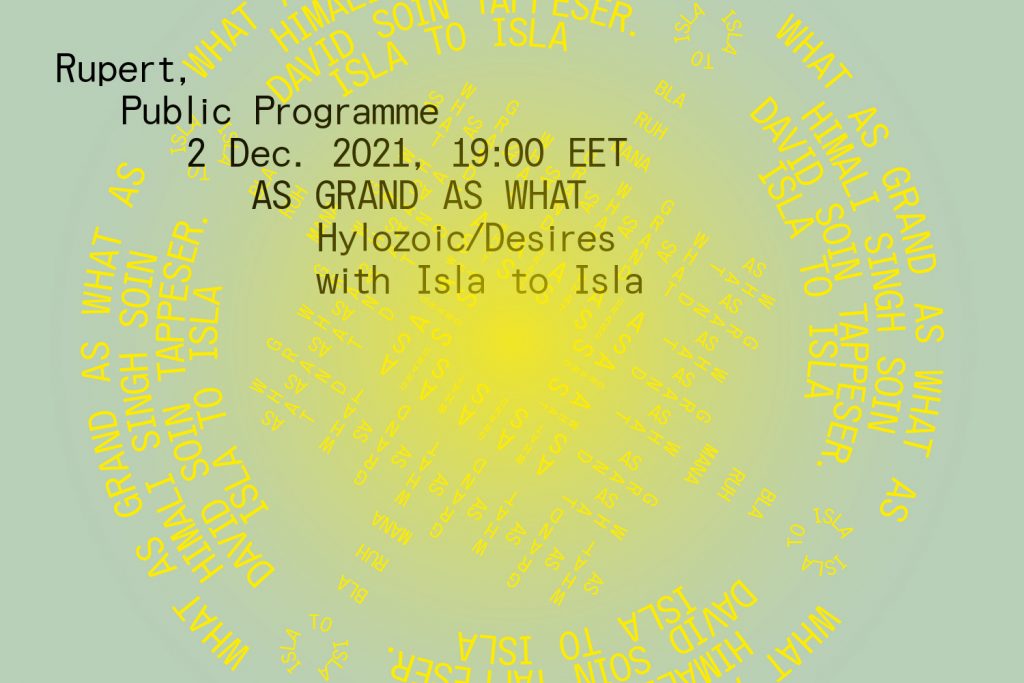 Date: 2 December 2021, 19:00 (EET)
Address: Contemporary Art Centre, Vokiečių st. 2, Vilnius
Rupert centre for arts, residencies and education, in partnership with Contemporary Art Centre, is pleased to announce the ritual performance as grand as what by artist collective Hylozoic/Desires (Himali Singh Soin & David Soin Tappeser). The performance will be followed by and extended further through a collaboration with Isla to Isla. The event is part of Rupert's ongoing Public Programme 'Magic and Rituals'. Alongside the performance, Singh Soin's recently published book ancestors of the blue moon will be available to preview or purchase on-site.
as grand as what reimagines the structure of the Kalachakra mandala—a geomantic diagram in which the drawing, body, city, earth and universe mirror each other in a grand, cosmic architecture. The main artery of the story is the search for the lost bla, a subtle life force that runs through the world. bla, a term borrowed from Tibetan medicine that translates into prana, qi, ruh or mana across different cultures, has lost itself amid the crisis of the present moment. This is expressed both in the weary body and the parched earth. A drummer calls upon li, a spirit manifestation of human and non-human consciousness, to conduct a series of remedying rituals and recall bla into our bodies and the planet. In a series of transmissions and receptions, the figure masked by a palm leaf embarks on a journey of grounding, circulation and regeneration according to the chakras of the body which in turn reflect the elements of nature. Flitting between the inner, outer and other wheels of time; drawing seismic lines from the Himalayan mountains to the Vesuvian volcano; seeking to reconnect to the anima of the earth, and in doing so with the resonance of sound and the force of the word love, healing ourselves.
Event is free of charge. 
VISITOR NOTE
On your visit to the performance, we highly recommend wearing white or light colour clothing. Please leave all your belongings, including your shoes, at the cloakroom or just outside the performance space. Please arrive at least 15 min prior to the performance to allow yourself enough time to prepare for it. The length of performance – approximately 1 hour, followed by live music, DJ set and drinks.
ABOUT THE PUBLICATION
ancestors of the blue moon (2021)
Drawing on research into Himali's namesake, the Himalayas, and their animistic rituals and remedies, mystical geometries, old/new materialism and spirit realism, ancestors of the blue moon is a collection of flash fiction from the perspective of remote or forgotten deities, deities protected by rites of secrecy or left out of archives, deities invisible and formless, deities incarnated as ruined objects, dangerous aspects or shadowy energies. They flow through our contemporary timescape, recounting the world they witness. A total of 13 dispatches—signifying the Tibetan Buddhist conception of the astral planes of existence as well as the rare blue moon that transforms linear time into mythical time—will culminate in the live multi-media performance as grand as what, combining text, film and music. Shot overlooking Mt. Vesuvius, these made-up rituals conflate these Himalayan deities with Napoli black magic. 
ABOUT THE ARTISTS
Hylozoic/Desires (Himali Singh Soin & David Soin Tappeser) is a multimedia performance duo whose work combines poetry and music to conjure Borgesian, speculative futures or multiverses. H/D aspire toward a flat ontological ether in which all forms of life—solid, stone, spirit or human—are equal. H/D's sense of time and space is messy. H/D's research orbits around (non)place and history as a lens through which to look upon the multiple materialities of contemporary existence. H/D is concerned with the (poly)rhythms of love and the bea(s)t of belonging. They use metaphor as an event, as a force of attraction that holds otherwise distant entities together.
Himali Singh Soin is a writer and artist based between London and Delhi. She uses metaphors from outer space and the natural environment to construct imaginary cosmologies of interferences, entanglements, deep voids, debris, delays, alienation, distance and intimacy. In doing this, she thinks through ecological loss and the loss of home, seeking shelter somewhere in the radicality of love. Her speculations are performed in audio-visual, immersive environments.
https://www.himalisinghsoin.com/
David Soin Tappeser is a musician, composer and performance artist, based between London and New Delhi. His practice centres, broadly speaking, around ideas concerning the ecology of time. He is particularly interested in how our understanding of the scale of time affects our perception of reality socially, culturally and environmentally. He strives to practically explore some of these ideas on a micro level in performances and compositions, manipulating frames of temporal reference through rhythm. His approach to drumming is very improvisation-driven, strongly emphasising the aesthetics of tone and dynamics, and heavily influenced by long periods spent in India, Italy, Nepal and Mexico.     
https://www.davidsointappeser.com/
Isla to Isla
The Isla crew gathers melomaniac weirdos from various backgrounds to celebrate the freedom of music, intoxication and life in general. High-spirited and festive, their event series explore exotic music, unbound by any genres, and invite people to spend a night outside the conventional rules of clubbing.
Hìldå (Isla to Isla)
https://soundcloud.com/hilezoda
Patricia Kokett (Isla to Isla / Knekelhuis)
https://soundcloud.com/patriciakaas
*Visitors of the event must provide a vaccination certificate and follow all necessary safety measures, including face masks and social distancing.
Curator: Tautvydas Urbelis
Assistant curator: Þórhildur Tinna Sigurðardóttir
Coordinator: Gabrielė Marija Vasiliauskaitė
Technical solutions: Audrius Antanavičius
Graphic design: Nerijus Keblys & Mantas Rimkus (Taktika Studio)
Tea: Ada Abromaitytė
Translation: Paulius Balčytis
Editing: Dangė Vitkienė
Special thanks: Milda Batakytė, Virginija Januškevičiūtė, Kristijona Čerapaitė
Rupert's activities are supported by the Lithuanian Council for Culture
Supported by: Vilnius City Municipality
Partner: Contemporary Art Centre