Rupert's Residency Programme: VENUS by Tyler Matthew Oyer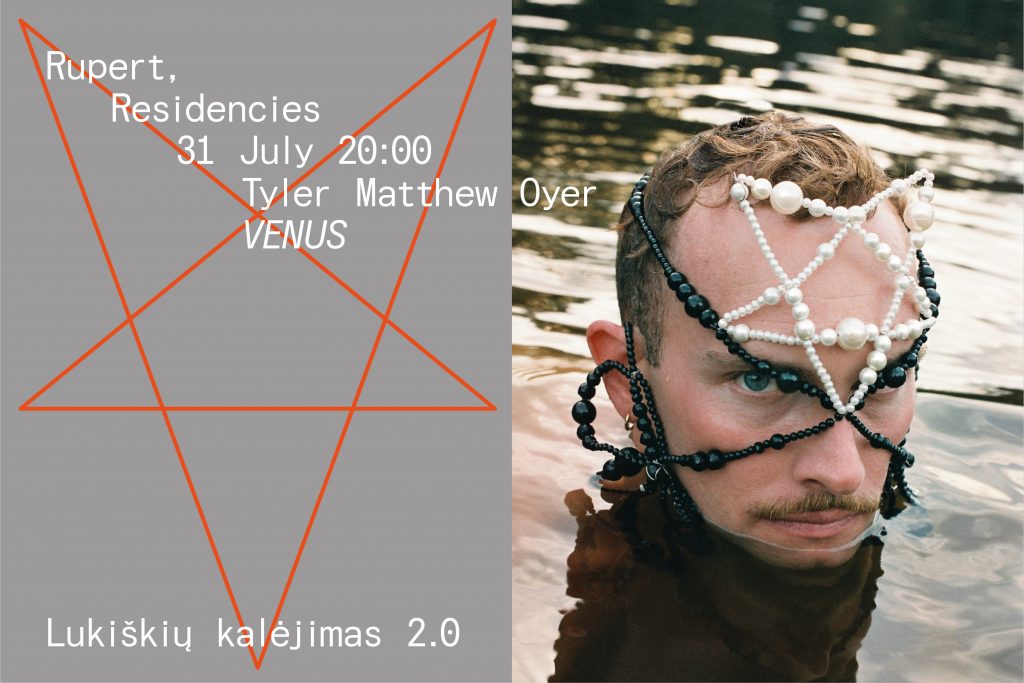 Rupert is pleased to announce the premiere of VENUS, a new performance by Los Angeles-based artist and musician Tyler Matthew Oyer. This multimedia performance concludes Tyler's two-month residency in Vilnius. 
The premiere will take place at the cultural and concert venue Lukiškių kalėjimas 2.0 in the centre of Vilnius on Saturday July 31, 2021 at 20:00. 
Beforehand, at 18:00, philosopher and educator Mijke van der Drift will present a lecture performance Embracing the Void: Lucretius and the Magic of Social Change at the same location, thus introducing a dialogue between these two acts as part of Rupert's Residency and Public Programmes. 
The entrance to the event is free of charge. 
___
Part operetta, part techno club, and part esoteric ritual, VENUS is contextualized within the decommissioned chapel of the decommissioned prison Lukiškės. Entitled VENUS, this music-driven stage show revolves around mediations on Venus as a femme, anti-patriarchal, non-dominant icon. It features music from Tyler's records RELEASE DELUXE, NO TEMPLE, and RETEMPLE, in addition to brand new unreleased songs produced while in residence at Rupert. 
Over the last decade Tyler Matthew Oyer has become an internationally recognized visual and performing artist known for their theatrical, campy, goth-pop performances. Their songs call for social change; the destruction of patriarchal rule in favor of femme, queer, anti-violent, unconventional or maladjusted alterities. Their musical aesthetics combine performance art-spoken-work incantation with their training in opera and classical voice. Their performances are born from the radical legacies of Klaus Nomi, Kembra Pfahler, Kenneth Anger, Peaches, Ron Athey, and Diamanda Galas. Previous performances include The Getty Museum, Silencio Paris, Ekebergparken Oslo, MoMA PS1, and documenta 13.
___
Address: Lukiškių kalėjimas 2.0, Lukiškių skg. 6, Vilnius 01108
Rupert's activities are supported by Lithuanian Council for Culture
Co-organiser: Lukiškių kalėjimas 2.0
Concept: Tyler Matthew Oyer
Choreography + dancer: Paulius Prievelis
All music by: Tyler Matthew Oyer with Theo Karon, Ben Babbitt, Yoann Durant, Zgjim Elshani
Music mixing and mastering: Theo Karon, Heba Kadry, Paul Corley, Anni Casella
Costumes: IDEN, Zana Bayne, LEAK NYC
Scenography: TMO STUDIO
Promotional images: Agnė Papievytė
Promotional video footage: Morta Pau
Promotional video edit: TMO STUDIO
Graphic design: Taktika Studio, TMO STUDIO
Thank you: Romuald Demidenko, Tautvydas Urbelis, Kristijonas Gukauskas, Liza Mišeikytė and team at Rupert Residency, Mijke van der Drift for sharing this program, Martynas Butkevičius at Lukiškių kalėjimas 2.0, Katja Aufleger, Edita Mockeviciute