Rupert's residencies: A Wilder Sort of Walk with Lily Tonge and Sallamari Rantala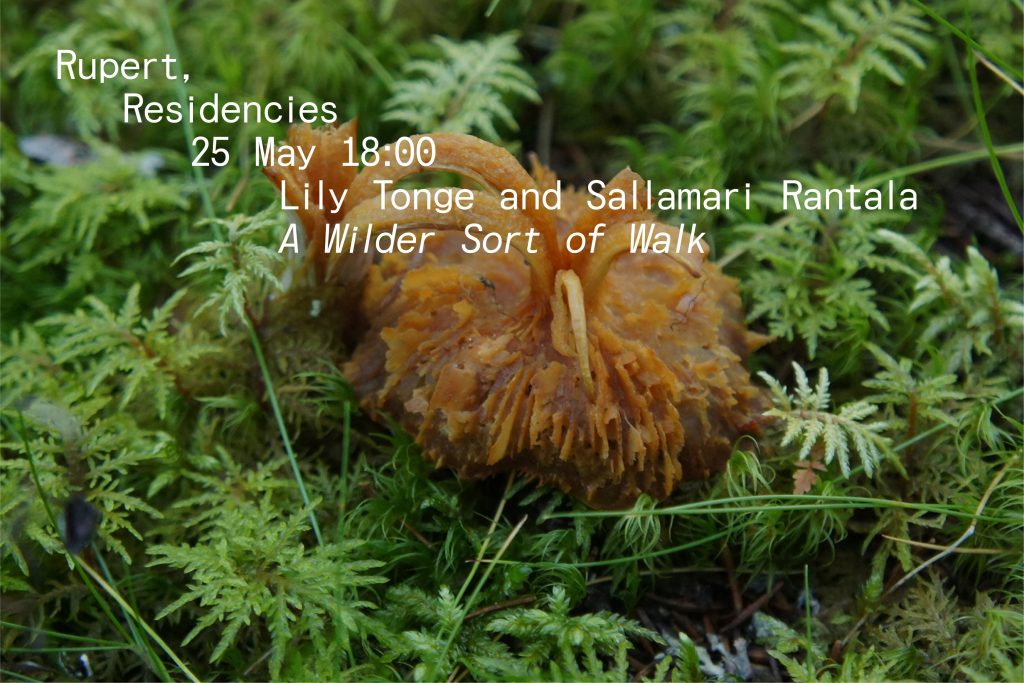 Rupert is pleased to invite you to join current resident Lily Tonge, and artist Sallamari Rantala, for a guided walk along the river bank around Rupert. 
There are a limited number of spaces available to attend this event. 
Tuesday, 25 May 2021, 18:00 EEST
Start: entrance of Tech Arts / Rupert building
Duration: approx 90 mins. 
The walk will be punctuated by a group listening exercise, a collective reading from Jack Halberstam's book Wild Things: the disorder of desire, 2020, and the opportunity to share stories drawn from observations in the area. In particular, the walk will pay attention to ways of generating information about a locality from multiple perspectives and with partial knowledges. 
Halberstam defines the Wild as that which has resisted, and holds the potential to unmake, the civilisational, colonial and capitalist forces of modernity. Although the wild is tied to nature, the walk will consider how wildness is not limited to the natural world. Using Rhiannon Firth's theory of critical cartography, the conversation generated by the event will be used to produce a map of the site for future residents that moves from a language of occupation to bewilderment.
—
Lily Tonge (UK) is a curator and producer based in London. At Rupert, Lily is developing the project "A Wilder Sort of Walk", which considers the wild as a useful critical term, and as a strategy adopted throughout history to resist civilisational, normative narratives. Recent projects she has curated focus on the local, and idleness as strategies to counter individualisation and hyper-productivity. She is currently Programme Coordinator at the South London Gallery (SLG) for exhibitions, displays and public programme. 
Sallamari Rantala (Finland) is an artist based in Vilnius. Her practice uses field trip investigations to gather materials, knowledges, and stories that inform her sculptural installations and writing. Her work is underscored by observation and explores how knowledge production, in relation to the landscape, is often human centric and extractivist. To challenge this situation and herself, she gathers stories from field research, playing with a merge of the naturally occuring, scientific and romantic. Rantala was awarded the JCDecaux Prize in 2020.
*Participants must follow all necessary safety measures.
Tech Arts/Rupert, Vaidilutės g. 79, Vilnius

Rupert's activities are supported by Lithuanian Council for Culture
This project was made possible with Art Fund support
Photo: Sallamari Rantala