Talking about disability and solidarity: David Ruebain and Rahila Gupta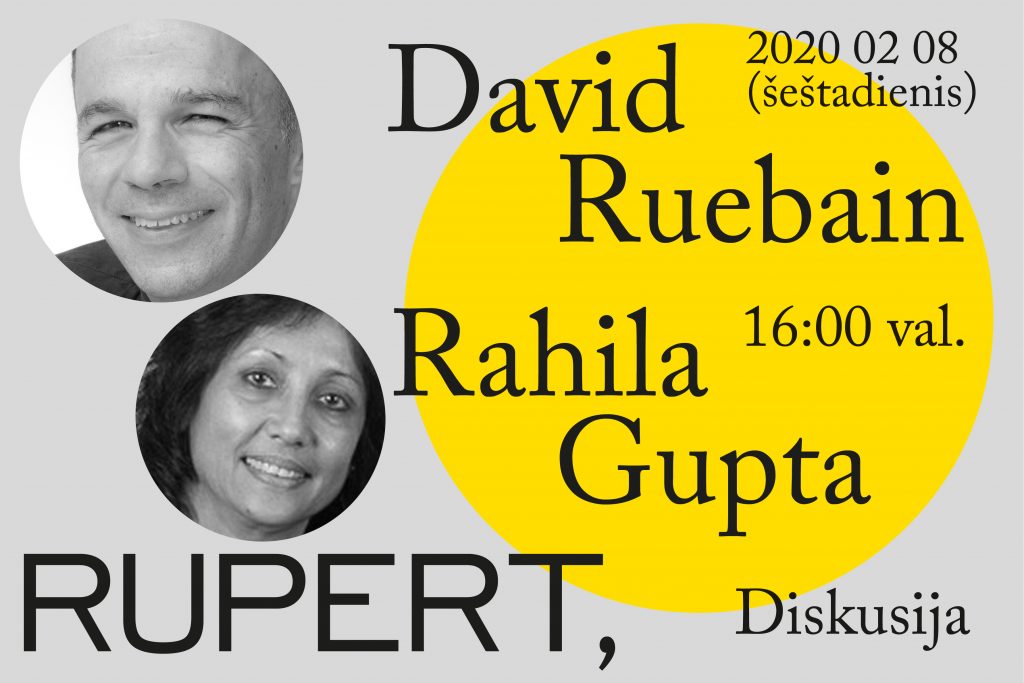 As part of Rupert's public programme on care and interdependence, we are pleased to invite all to a public discussion with internationally renowned disability rights activist, lawyer and current Chief Executive for the UK Conservatoire for Dance and Drama, David Ruebain and activist, scholar, filmmaker and journalist, Rahila Gupta. The event will take place on 8th February, 4:00 pm, at the National Gallery of Art (Konstitucijos pr. 22, Vilnius). The event is free of charge and will be held in English.
David Ruebain and Rahila Gupta will be in conversation about forms of allyship and practices of care. They will discuss how we can speak about specific experiences of impairment without contributing to oppressive and prejudicial perspectives on disability.  The conversation will be moderated by Rupert's public programmes' curator, Yates Norton.  
David is Chief Executive of the Conservatoire for Dance and Drama.  Prior to that he had been Chief Executive of Equality Challenge Unit, a policy and research agency funded to advance equality & diversity in the UK further and higher education and research sectors (until it merged with two other agencies to form Advance HE).  Before that, he was a practicing solicitor for 21 years; latterly as Director of Legal Policy at the Equality and Human Rights Commission of Great Britain following a career in private practice as a Partner at and founder of the department of Education, Equality and Disability Law at Levenes Solicitors.  David is also a Visiting Professor of Law at Birkbeck University of London. He is an ADR Group accredited mediator, equality adviser to the English FA Premier League, a Trustee of ADD (Action on Disability and Development), a member of the Rights & Justice Committee of the Joseph Rowntree Charitable Trust, a member of the Diversity and Inclusion Strategic Advisory Board of the Wellcome Trust and a Fellow of the British American Project.
Rahila Gupta is a freelance journalist, writer and activist. She is a longstanding member of Southall Black Sisters and chair of The Nihal Armstrong Trust, which provides grants for cutting edge equipment and services to children with cerebral palsy. Her poems and short stories have been published in several anthologies. Her books include: a collection of essays she edited, From Homebreakers to Jailbreakers: Southall Black Sisters in 2003; Provoked, the story of a battered woman who killed her violent husband and she co-wrote the screenplay of the film which was released in 2007; Enslaved, on immigration controls, was published in 2007. Her play, a monologue in verse, Don't Wake Me: The Ballad of Nihal Armstrong, ran in London, Edinburgh, New York, and four cities in India between 2012-14 and was nominated for a number of awards.  Her articles are published in the Guardian, New Humanist, New Internationalist and openDemocracy among other magazines, journals and websites. She and Beatrix Campbell are collaborating on a book, Why Doesn't Patriarchy Die? She visited Rojava, Northern Syria in March 2016 as part of the research for the book. Her epic poem Rubáiyát of Rojava was performed at the Prima Donna festival 2019.  She has edited and contributed to Turning the Page (2019), an anthology of writings by the Southall Black Sisters support group.  
If you have any specific access requirements or if you have any questions about our programmes, please contact us at info@rupert.lt.  The National Gallery and conference room are wheelchair accessible via a ramp. The National Gallery has a wheelchair accessible toilet and free tap water is available too. All exhibitions (permanent collection and temporary exhibitions) are accessible via lifts.  For more information please see the National Gallery website.
Partner – National Gallery of Art.
Rupert's programmes are partly supported by Lithuanian Culture Council.