Rupert AEP│Workshop by Rieko Whitfield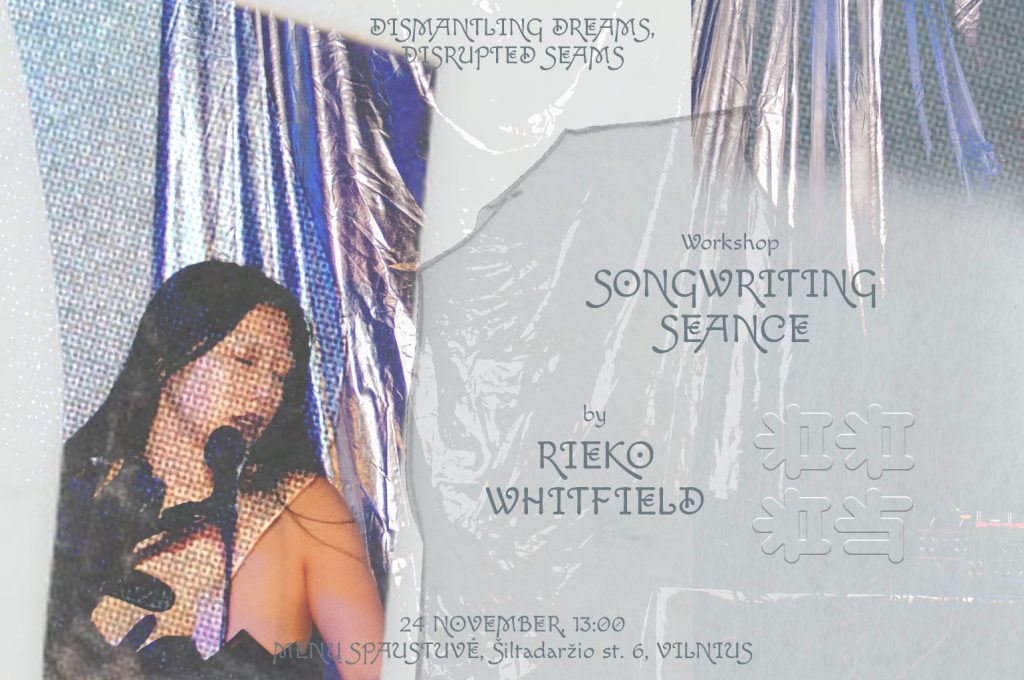 #RupertAEP's final exhibition opening event will start with a very special guest – 𝓡𝓲𝓮𝓴𝓸 𝓦𝓱𝓲𝓽𝓯𝓲𝓮𝓵𝓭 and her workshop 𝓢𝓸𝓷𝓰𝔀𝓻𝓲𝓽𝓲𝓷𝓰 𝓢𝓮𝓪𝓷𝓬𝓮:
𝓓𝓪𝓽𝓮: 24 November, 2023
𝓣𝓲𝓶𝓮: 13:00 (EET)
𝓛𝓸𝓬𝓪𝓽𝓲𝓸𝓷: Arts Printing House, Šiltadaržio st. 6, Vilnius
Workshop will be held in English.
! Due to the limited seating, registration is required. Registration form can be found here.
ABOUT THE WORKSHOP:
Participants of the workshop will embark on a journey of guided meditation, healing bass frequencies, and automatic writing exercises designed to channel the voices of their innermost selves. The workshop will result in improvised performances of the resulting songs or spoken-word poems – casting collective spells toward rebirth, embodiment, and alternative futures.
ABOUT THE ARTIST:
Japanese-American 𝓡𝓲𝓮𝓴𝓸 𝓦𝓱𝓲𝓽𝓯𝓲𝓮𝓵𝓭 is a visual artist, musician, and self-described experimental pop witch, with her debut EP Regenesis hailed as 'hauntingly beautiful' by BBC Sounds, and 'both intimate and colossal' by Sleek Magazine. As a recent artist-in-residence at the Tate and graduate of the Royal College of Art, Whitfield has been gaining a cult following through mesmerising live performances equally suited for the museum and the club. Her practice is a proposition for collective healing and spiritual expansion.