The tutors of the 10th edition of the Alternative Education Programme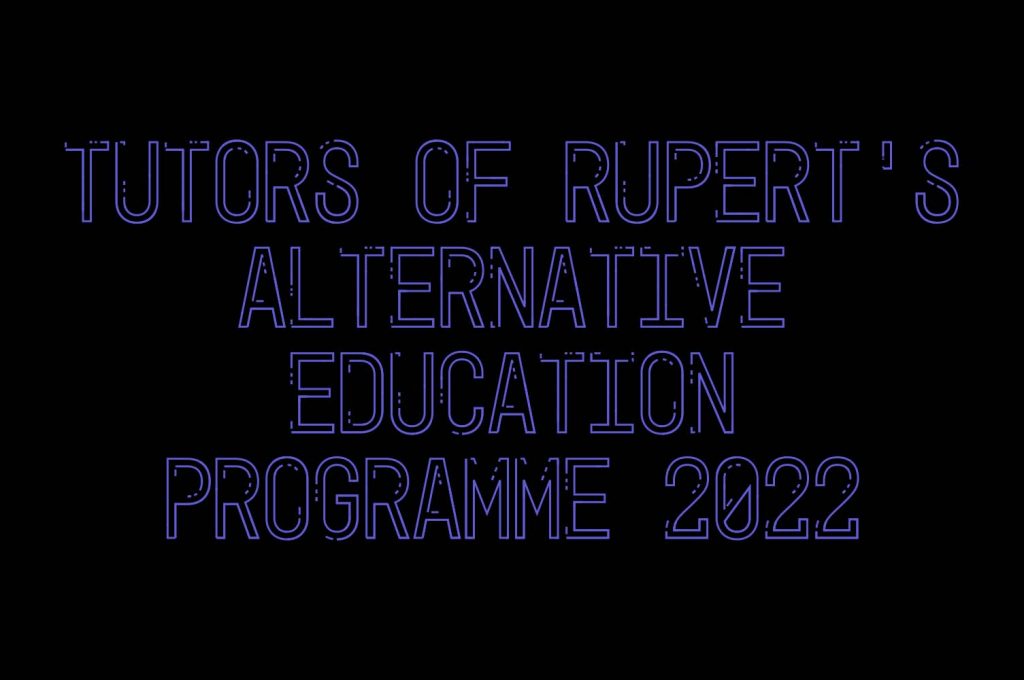 Meet the tutors of the 10th edition of the Alternative Education Programme:
Áron Birtalan
Áron Birtalan (they/he, EU) is an artist, musician and experience-maker who makes real-life games, contemporary mystical practices, unusual gatherings, words, thoughts and educational initiatives. Working together with people and their embodied imagination as an artistic medium, Áron facilitates and guides social experiences where participants play together, explore possible ways of being and form intimate bonds with the unknown. Through their work, Áron encourages people to tap into the creative territory where the playful, the magical, the intimate and the funny mingle. Their work advocates for the politics of imagination and intimacy in times of crises.
Áron is currently a research fellow at the DAS Graduate School in Amsterdam and a PhD candidate in artistic research at Stockholm University of the Arts, working on the long-term project titled 'Your Bones Hold the Shape of What's to Come'. Next to their artistic activities, Áron speaks, writes about and consults on the areas of play, participation and consent, and co-runs a three-week children's fantasy camp in rural Hungary.
Bones Tan Jones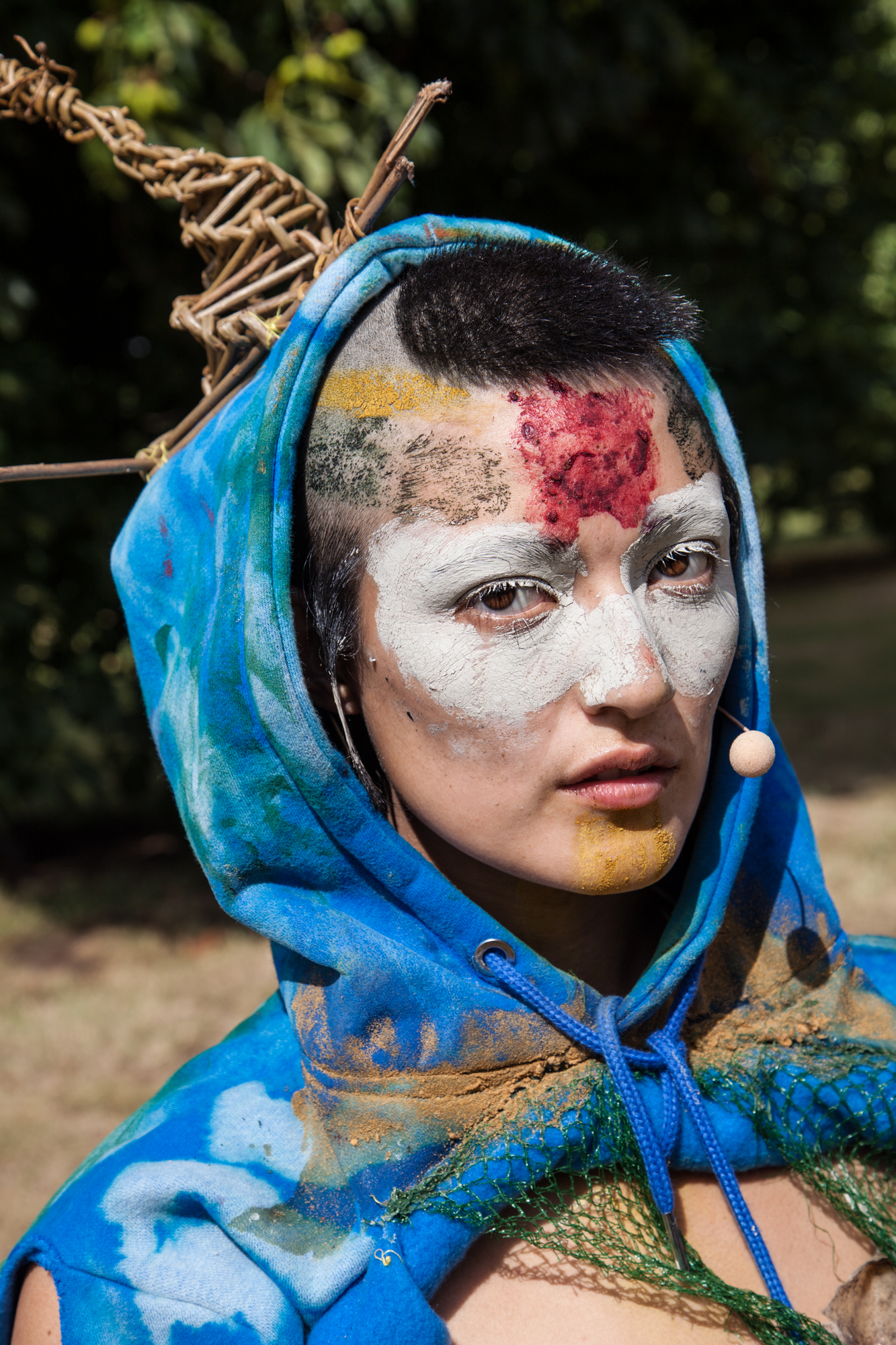 Bones Tan Jones' (UK) work is a spiritual practice that seeks to present an alternative, queer, optimistic dystopia. They work through ritual, meditating through craft, dancing through the veil betwixt nature and the other. Bones weaves a mycelial web of diverse, eco-conscious narratives that aim to connect, enthra and induce audiences to think more sustainably and ethically. Traversing pop music, sculpture, alter-egos, digital image and video work, Bones sanctifies these mediums as tools in their craft.
Selected recent commissions and exhibitions include Dream Portal Sigil Stones and Dream after Screen, 13th Shanghai Biennale (2021); The New Elementals, 7th Athens Biennale (2021); Solo Show at Underground Flower Offsite (2020); Parasites of Pangu, Serpentine Galleries, London (2019); Future skins, IMT Gallery, London (2019); Mimosa House, London (2018); A Sound Identity, ICA, London (2018–2020); Cell Project Space, London (2018); Gropius Bau, Berlin (2018); Yorkshire Sculpture Park (2016–17).
Denis Petrina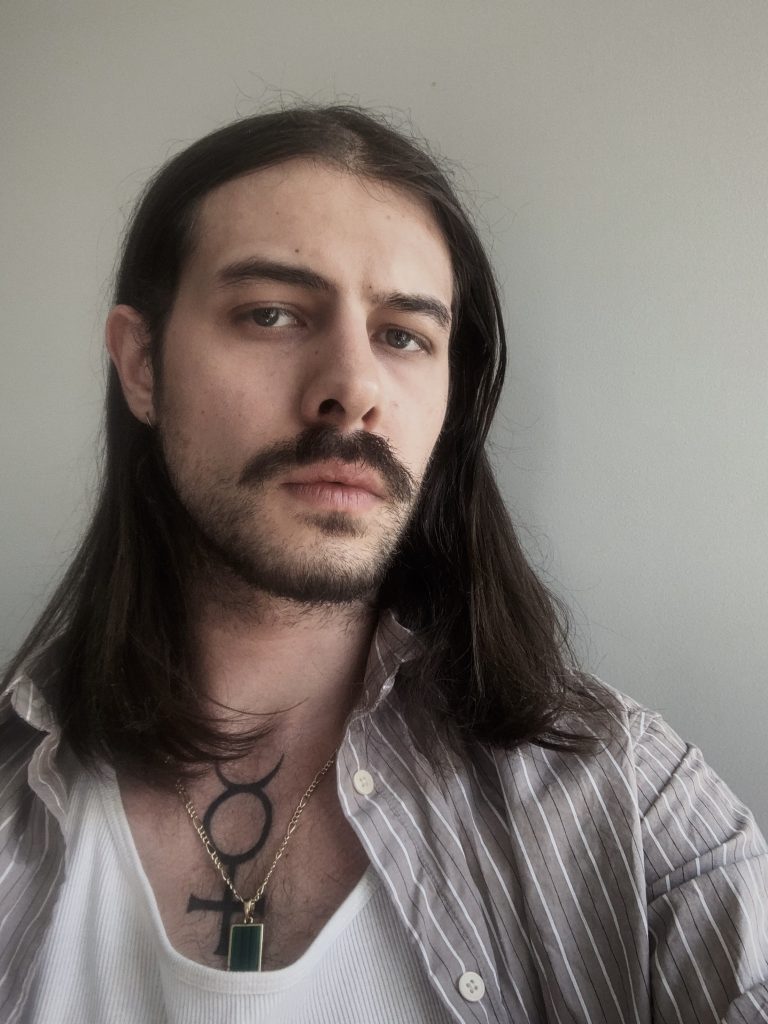 Denis Petrina (LT) has successfully completed a PhD in Philosophy at the Lithuanian Culture Research Institute (Vilnius, Lithuania). His doctoral dissertation (to be defended) explores the philosophical interpretations and (bio)political implications of the notion of affect. His publications mostly focus on affect theory in the contexts of both classical and contemporary philosophy, (re)interpretations of biopolitics and, more recently, digital governmentality in cybercapitalism. His research interests include affect theory, theory of subjectivity, biopolitics, media studies, sexuality and queer studies, non-classical philosophy and alternative epistemologies.
Dorota Gawęda and Eglė Kulbokaitė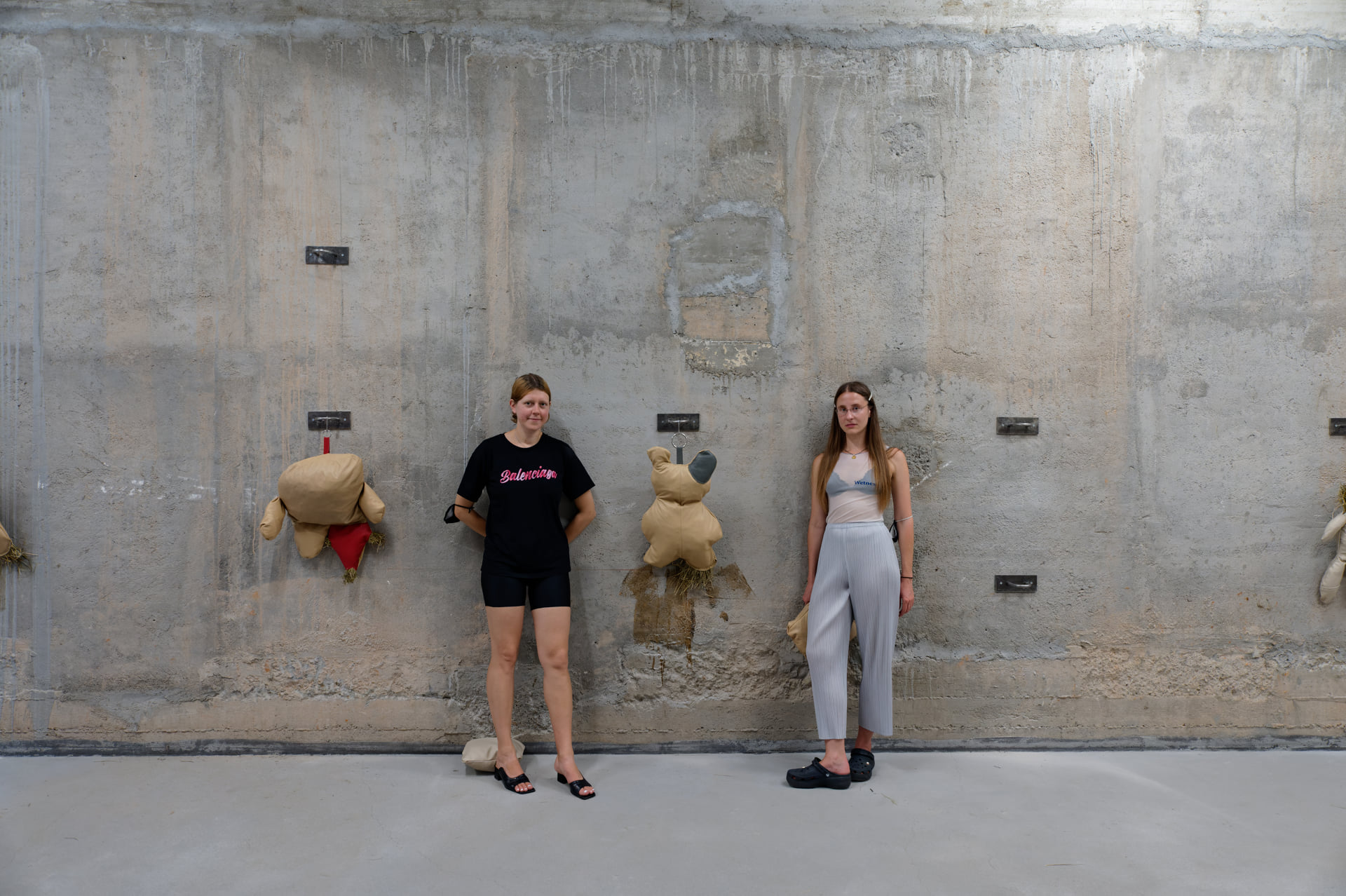 Dorota Gawęda (PL) and Eglė Kulbokaitė (LT) are an artist duo established in 2013 and based in Basel, Switzerland. They are both graduates of the Royal College of Art in London (2012). Their work spans performance, installation, fragrance, sculpture, painting and video.
They have exhibited internationally including: Wired Magic, HEK (Haus der Elektronischen Künste), Basel (2021); SULK IV Magazine, Kunstverein Hamburg (2021); LandLiebe, Bündner Kunstmuseum, Chur (2021); Almusibli Panorama, Centre d'Art de Genèva (2021); Cultivation Techniques, Kunstverein Leipzig (2021); Haunted Haus, Swiss Institute, New York (2020); Ghosthouse, Den Frie, Copenhagen (2020); Poetry & Performance—The Eastern European Perspective, MWW, Wroclaw (2020); Kunstverein Düsseldorf (2020 and 2016); Kaleidoscope Manifesto, Lafayette Anticipations, Paris (2019); Do Disturb #4, Palais de Tokyo, Paris (2018);  ANTI, 6th Athens Biennale (2018); This Site Is Under Revolution, MMOMA, Moscow (2018); Kunstkredit Baselstadt, Kunsthalle Basel (2017); In Formation, ICA, London (2017); Ministry of Internal Affairs. Intimacy as Text, Museum of Modern Art, Warsaw (2016); Boat Rage #7, Berlin Biennale 9 (2016); Co-workers: network as artist, MAM, Paris (2015), among others.
They have also participated in numerous international residencies including Alserkal Arts Foundation, Dubai; La Becque, La Tour-de-Peilz, Switzerland; Onassis AiR, Athens. Gawęda and Kulbokaitė are the recipients of the CERN Collide Residency 2022 and the Swiss Performance Art Award (2021). The duo are also the founders of YOUNG GIRL READING GROUP (2013–2021).
Joey Holder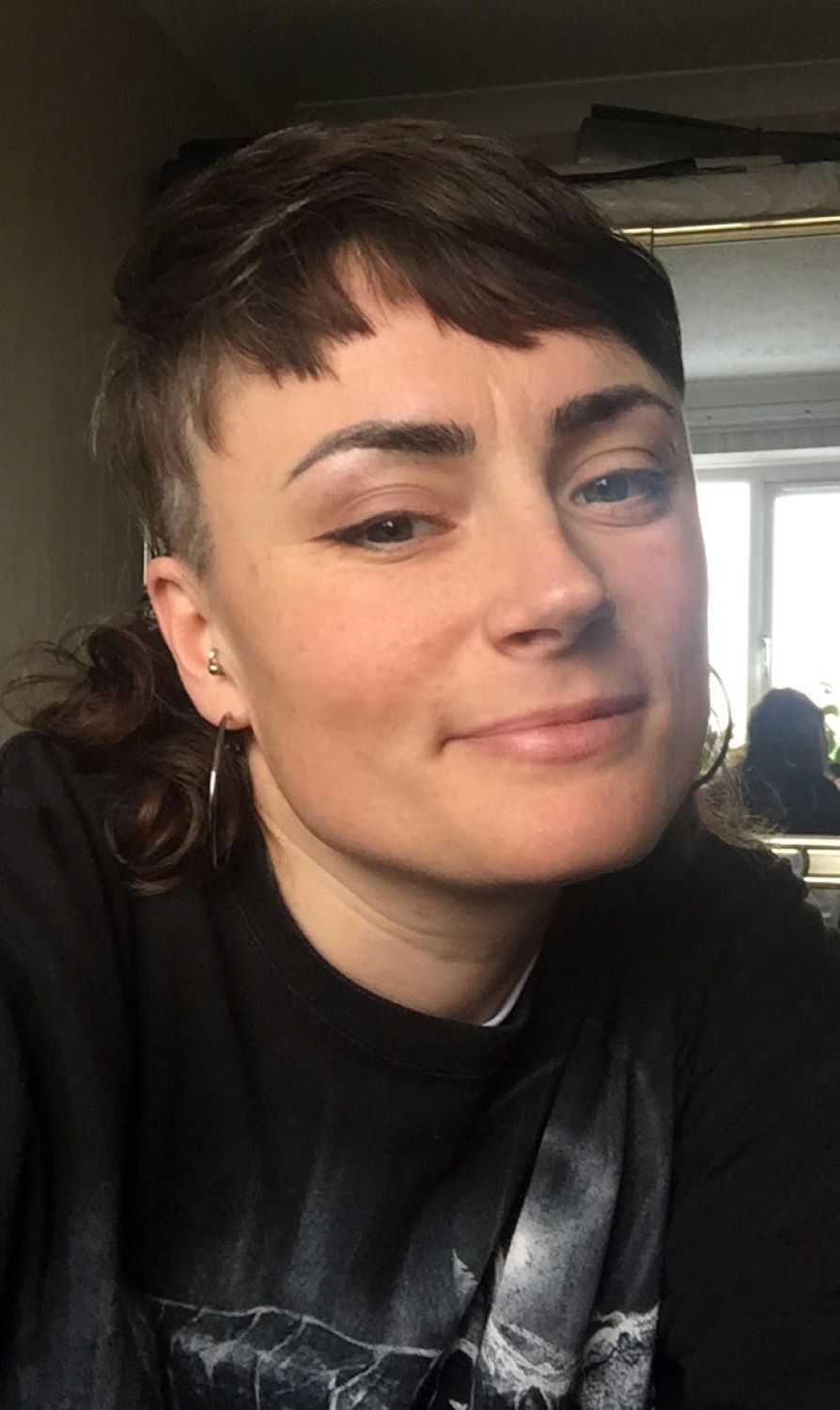 Joey Holder (UK) is a visual artist, producer and mentor. She is represented by Seventeen Gallery, London. Joey is also the director of SPUR, an online platform that supports digital practices, and the director of Chaos Magic, an arts project space in Nottingham.
She has exhibited widely in the UK and internationally, including at the Harvard Museum of Natural History, Athens Biennale, Design Museum, Moscow Biennale, Transmediale, and Venice Biennale. Her artworks are fueled by continuous dialogues and collaborations with researchers and practitioners from various fields. She creates fictional worlds and constructed environments that respond directly to contemporary, real-world events. Each artwork is considered a 'set' with filmic, narrative, architectural, visual and sonic elements created uniquely for the conceptual underpinning of the project. She has worked with computational geneticists, marine biologists, behavioural psychologists and investigative journalists; her artworks have addressed themes including future farming, synthetic biology and deep-sea ecosystems.
Solo exhibitions include Abyssal Seeker at Seventeen Gallery, London (2021) and FUTURA, Prague; Semelparous, Offspace, London (2020); Adcredo—The Deep Belief Network at QUAD Gallery, Derby, Matt's Gallery, London, and Bloc Projects, Sheffield (2018). Group shows include New Mystics, an online exhibition curated by Alice Bucknell; Memeplex, Seventeen Gallery, London; rīvus, 23rd Biennale of Sydney; Among the Machines, Zabludowicz Collection, London; British Art Show 9, touring exhibition in the UK; Iskra Delta, 34th Ljubljana Biennale; ANTI, 6th Athens Biennale (2018); Joy Before the Object, Seventeen Gallery, London (2019); Cursed Images, Galerie Lisa Kandlhofer, Vienna (2019); Future Love, HEK (Haus der Elektronischen Künste), Basel, Switzerland (2018). 
Mary Maggic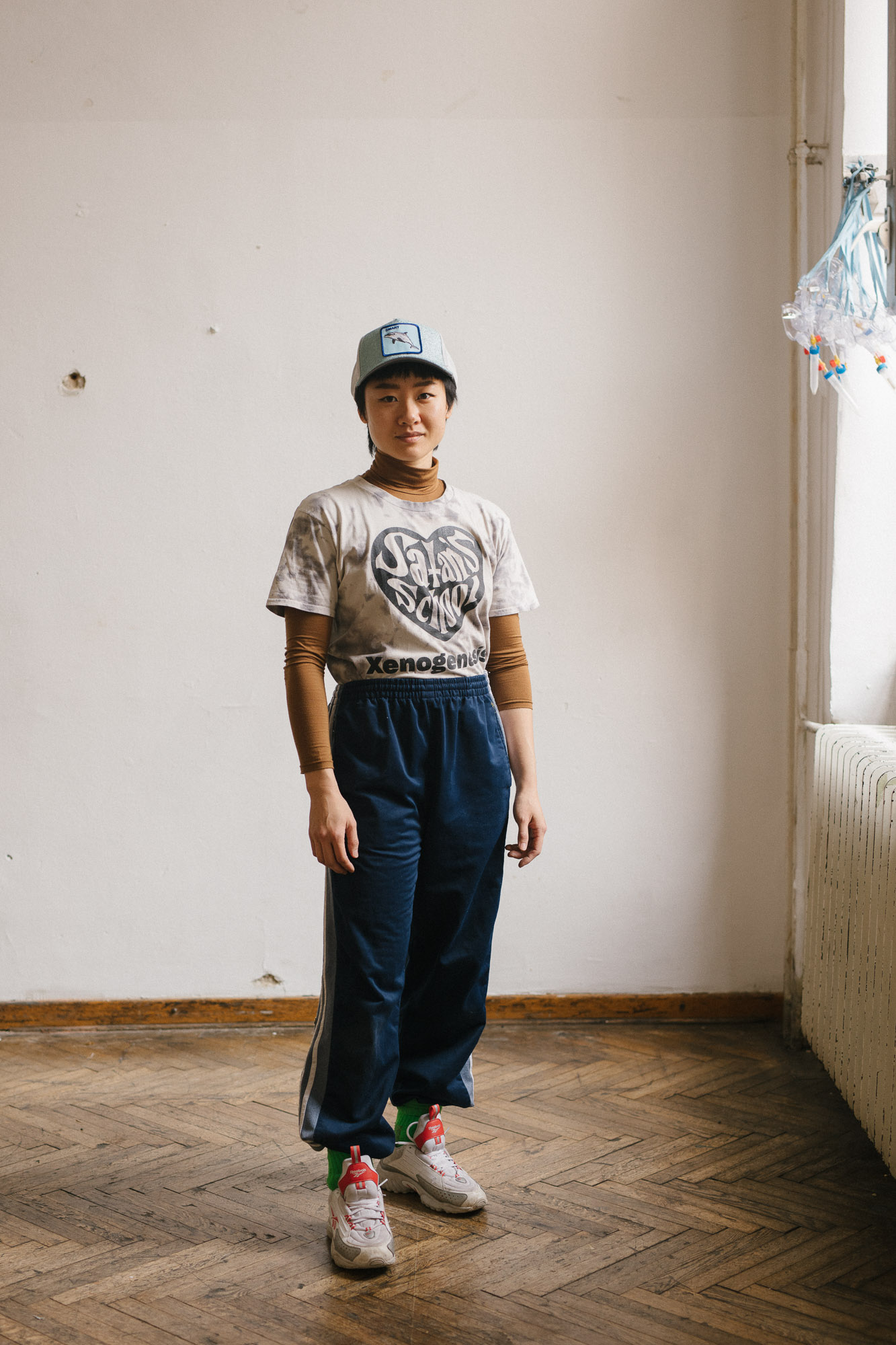 Mary Maggic (USA) is a non-binary artist working at the intersection of hormones, body and gender politics, and ecological alienations. They frequently use 'biohacking' as a xenofeminist practice of care that holds the potential to demystify invisible systems of molecular biopower. Maggic is a current member of the online network Hackteria—Open Source Biological Art, the tactical theatre collective Aliens in Green, and the Asian feminist association Mai Ling Vienna, as well as a contributor to the radical syllabus project Pirate Care and the online Cyberfeminism Index.
Nisha Ramayya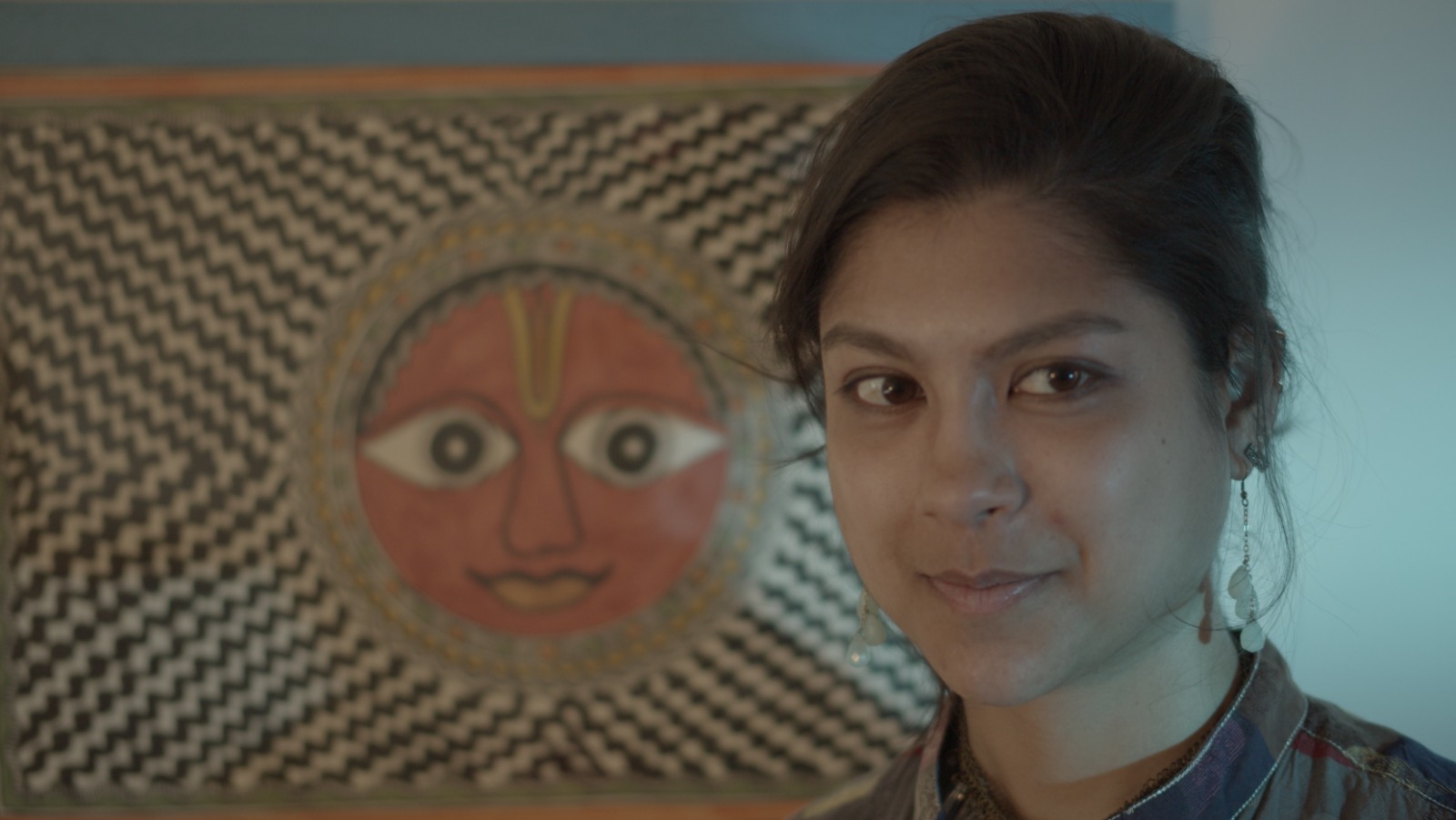 Nisha Ramayya (UK) grew up in Glasgow and now lives in London. Her poetry collection States of the Body Produced by Love was published by Ignota Books in 2019. Recent projects and publications include poems in Ludd Gang (https://poetshardshipfunduk.com/about/); TREBLE HEAVEN, a collaboration with sonic dramaturg MJ Harding performed at Wysing Polyphonic 2021: Under Ether (reviewed in Tank); a sequence of poems reflecting on Scotland's colonial histories in CCA Annex; an essay-poem in response to the work of mathematician Fernando Zalamea in audiograft. She is currently working on a second poetry collection, tentatively called Now Let's Take a Listening Walk.
Post Brothers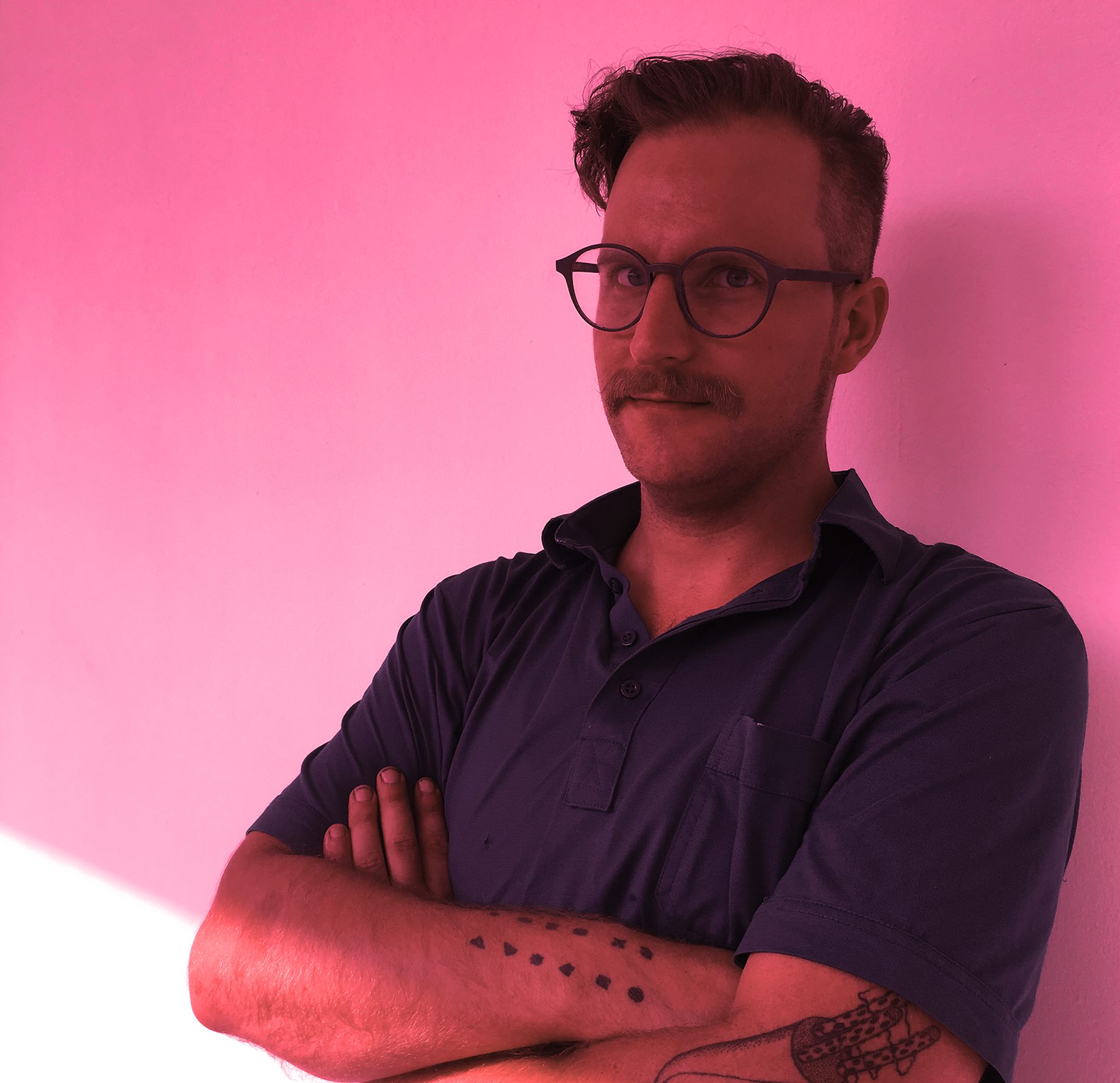 Post Brothers is a critical enterprise that includes Matthew Post, an enthusiast, word processor and (co)dependent curator often engaged in artist-centred projects and collaborations or occupying the secondary information surrounding cultural production.
From 2016 through 2019, Post Brothers was the curator at Kunstverein München in Munich. Post Brothers has also curated exhibitions and presented projects in Poland, Mexico, Canada, Spain, the United States, Portugal, Denmark, Greece, Estonia, Germany, Austria, Lithuania, Italy, Sweden, Finland, Belgium, Latvia, the Netherlands and China.
Their recently curated exhibitions: AMIGA WORKS by Barry Doupe at Swallow in Vilnius; In the beginning was the deed!, an exhibition inspired by local histories of insurrectionary anarchism at the Galeria Arsenał in Białystok, Poland; Double double by Laura Kaminskaitė at the CAC in Vilnius; Mercury, a visual essay curated in collaboration with the artist Simon Dybbroe Møller for the Tallinn Photomonth 2019 Biennial. Their essays and articles have been published in numerous art magazines, cultural journals, artist publications, and exhibition catalogues. They also regularly participate in exhibitions with text-based and performative contributions, and lecture in art and educational contexts across Europe. Post Brothers has extensive experience collaborating in the Baltics and their massive archive of science fiction paperbacks, 'Memoirs Found in a Bathtub or what Entropy Means to Me', is currently held at the Contemporary Art Center (CAC) in Vilnius.
Born in Los Angeles, Post Brothers completed their BFA in 2006 at the Emily Carr Institute of Art and Design in Vancouver and an MA in Curatorial Practices at California College of Arts in San Francisco in 2009. They live in Kolonia Koplany, a small village near Białystok and are currently an Associate Professor at the Royal Danish Academy of Fine Arts in Copenhagen.
Simone Kotva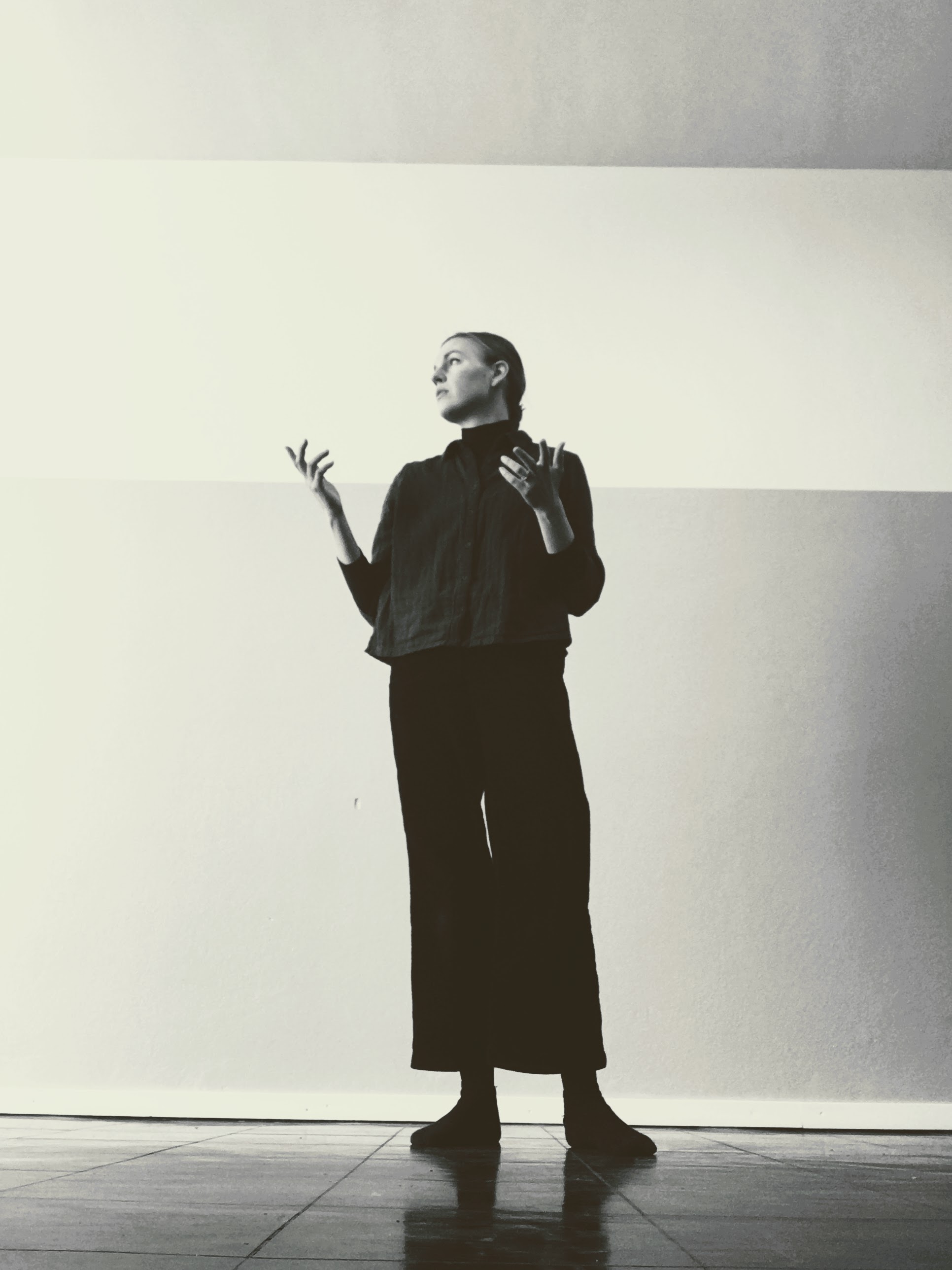 Simone Kotva is a writer, academic and student of Trolldom. Their published work draws on feminist, environmental and decolonial theologies, the history and theory of magic, new materialism and critical plant studies to articulate a new approach to the practice of philosophy as a way of life and spiritual exercise. Currently they are research fellow at the multidisciplinary ECODISTURB project, based in the Faculty of Theology, University of Oslo. They are also affiliated lecturer at the Faculty of Divinity, University of Cambridge, where they design and co-teach an MPhil (MA) module, Theology in the Anthropocene. In 2020-2021 Simone co-convened Magic and Ecology for CRASSH, the Cambridge Centre for Research in the Arts, Social Science and Humanities.
Institutions:
Agency Agency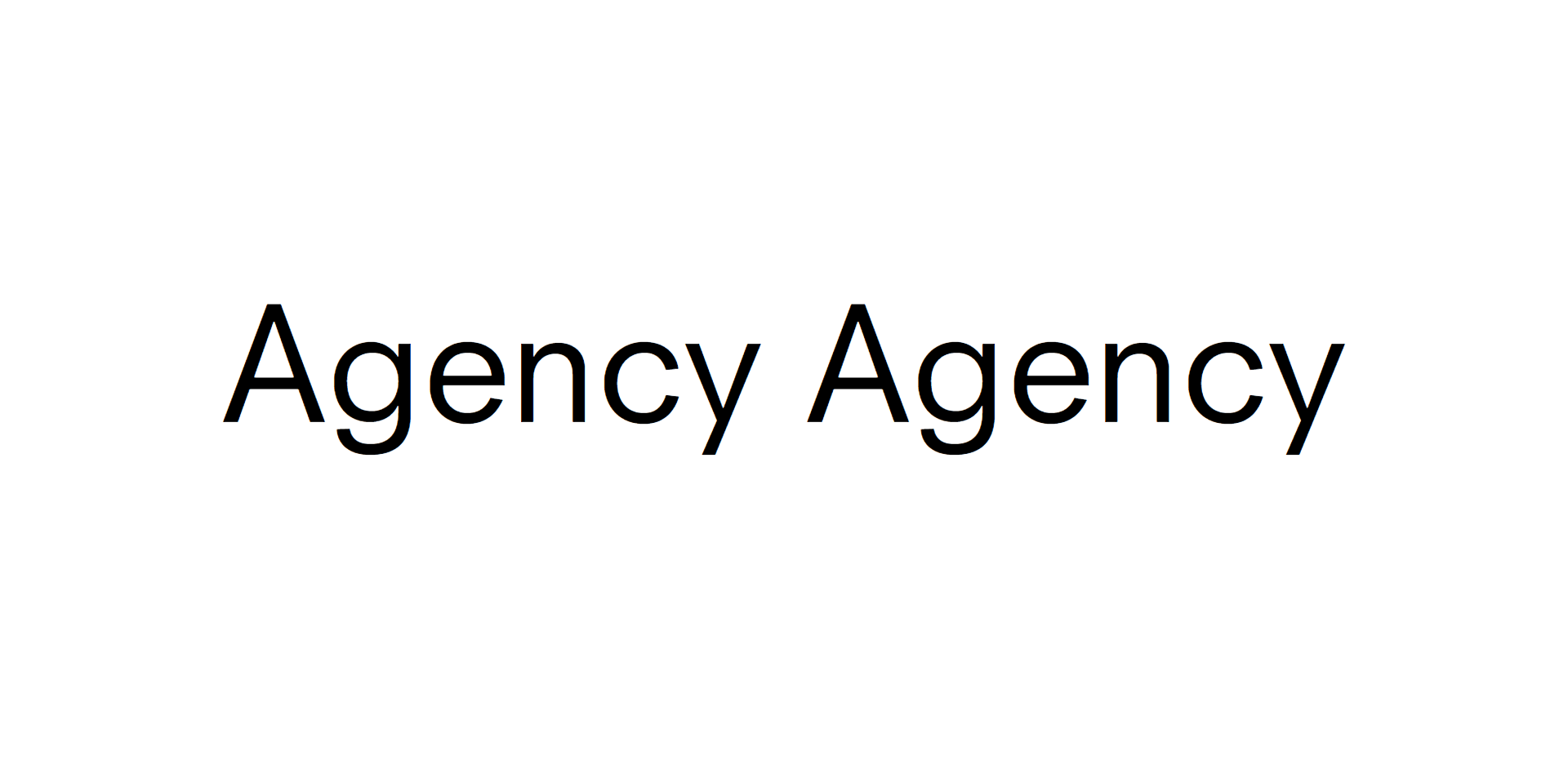 Agency Agency is a strategy and design consultancy, based in Amsterdam. Founded in 2015 by Roel van Herpt and Victoria Meniakina, it assists cultural institutes, artists, brands, design studios and urban projects in establishing their vision and achieving sustainable growth. Agency Agency provides strategic planning, concept development, positioning and branding, communication strategy, creative direction, digital transformation, organisational strategy and business development. Additionally, Roel and Victoria lead Reality Check—a professional development program at the architecture and design departments of Gerrit Rietveld Academie (Amsterdam) and KABK Royal Academy of Art (The Hague). They also lead workshops at international art academies and residencies.
***
Victoria Meniakina (LT) is a creative strategist, providing strategic, design and communication advice as well as creative direction for architecture, design, fashion, culture and technology companies worldwide. With her background in architecture and design, as well as an MBA in Brand Management, Victoria helps brands and creatives grow, innovate, embrace change and communicate authentically and beautifully.
Roel van Herpt (NL) is a strategy advisor with expertise in positioning, communication, organisation, business development and digital transformation. With a combined background in strategic management, business and creative development, he guides leaders and emerging talents in their professional growth across the fields of art, design, higher education and urbanism.
Aikas Žado Laboratory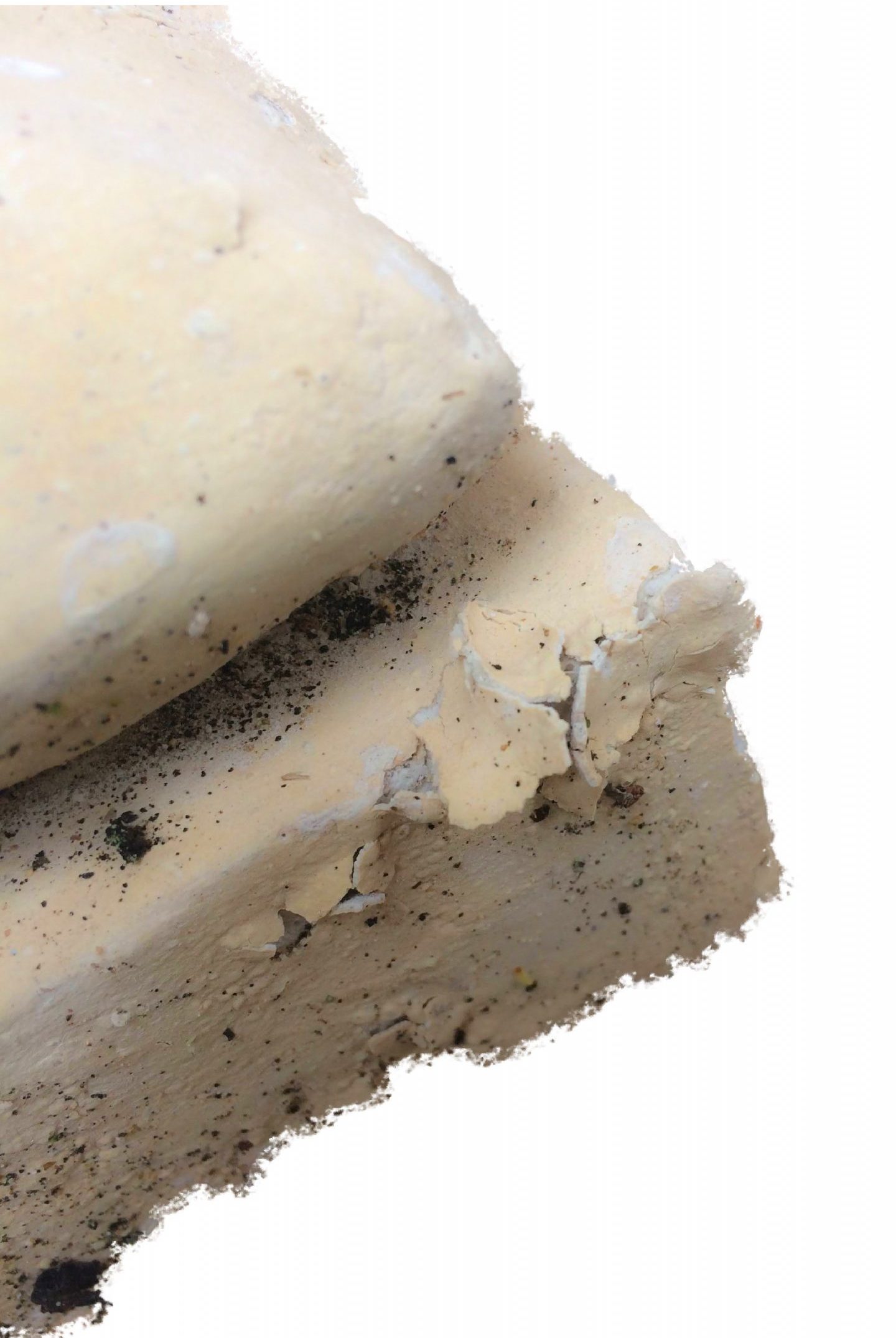 Aikas Žado Laboratory is a contemporary art device, constructed in Žeimiai manor house. Aikas Žado Laboratory is organized as an individually collaborative artwork of the artist Domas Noreika, as well as a communal artwork. Part of its programs are administered, coordinated and ideologically developed by the Aikas Žado Association. The main activities of the Laboratory are practical experiments related to the management of cultural heritage objects and the combination of discoveries, methods, techniques and knowledge in the fields of contemporary art, science and culture. The main principles of the Laboratory's activities are illustrated by the application of conservation, prevention and restoration systems in the Žeimiai manor house. At the Laboratory, the team collects and tests historical materials, organises scientific research and exhibitions, and presents cognitive expeditions that showcase specific solutions and methods of turning the manor house into a contemporary artwork.
***
Eglė Ambrasaitė (LT) can be located in a spot reserved for interdisciplinary art: she is both an artist, a curator and a scholar. Her interdisciplinary studies—Bachelor in Film, Video and Interactive Arts (Middlesex University, London), Masters in Political Sciences (Vytautas Magnus University, Kaunas) and her ongoing PhD research in Gender Studies (Central European University, Budapest/Vienna)—have transformed her artistic work into a challenging, contemporary and critical medium that crystallises in the language of both visual arts (video/sculpture/installation), various forms of written material and her curatorial practice for Aikas Žado Laboratory's (Žeimiai Manor House) programmes. At the moment, her main artistic and curatorial practice circulates around the themes of love, tenderness, toxicity and bodies/embodiments. Her theoretic interests encapsulate gender, biopolitics, late socialism and post-socialism, affect theories and dark ecology.
Domas Noreika (LT) is an interdisciplinary artist and the creator of unparalleled parts of Aikas Žado Laboratory. Domas Noreika collaborates with scientists, artists and other cultural figures in areas such as restoration, geology, biochemistry and microbiology. He conducts experiments with 18th-century materials and technologies, as well as working with the idea of the Invisible Man in calcium carbonate media/abiotic environments.
Arts of the Working Class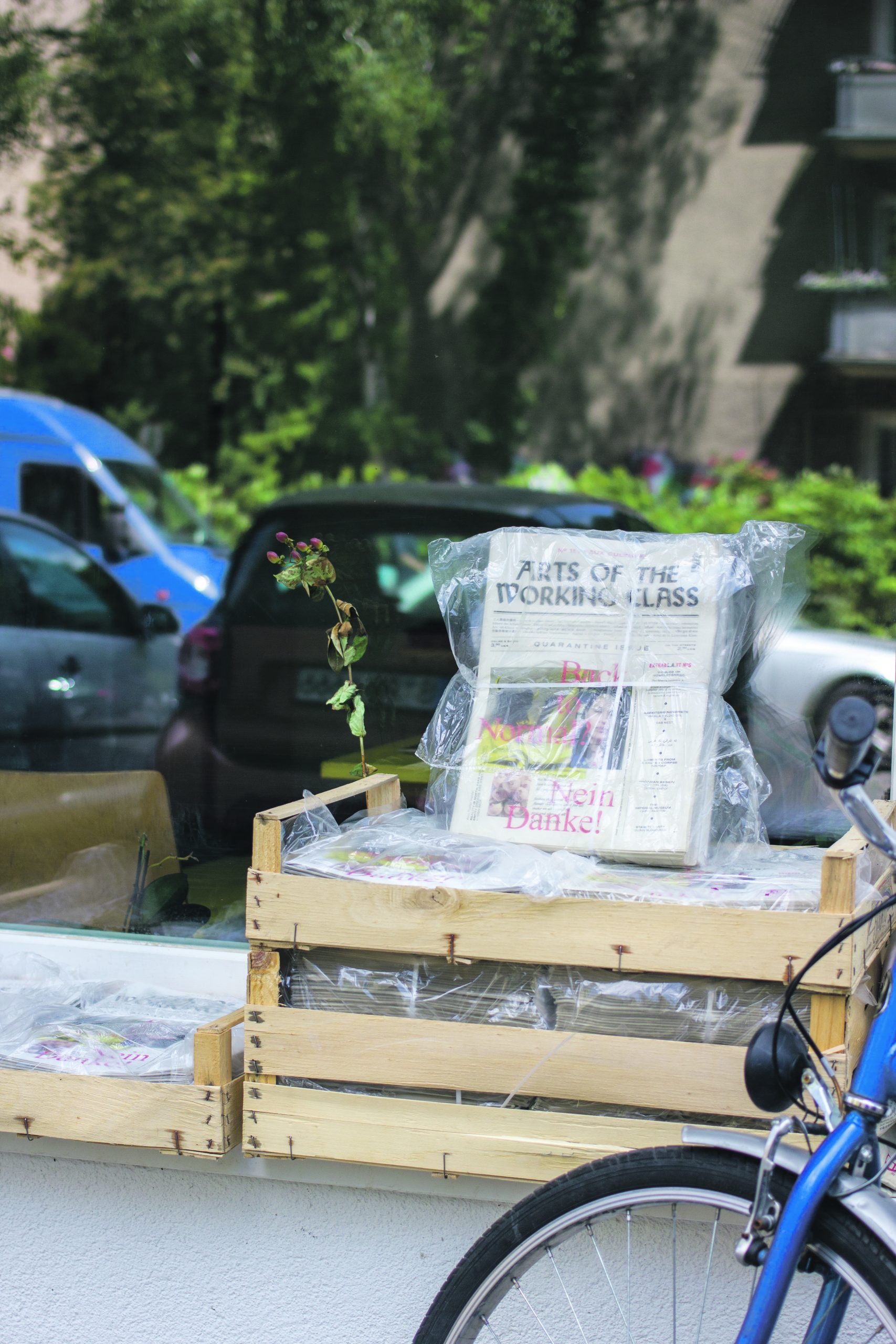 Arts of the Working Class is a bimonthly, international street newspaper based in Berlin and distributed globally. Its name reacts to the erosion of class identity and class consciousness in contemporary society, specifically within the arts. Founded in 2018, it moves in the spirit of three tenets: highlighting the economic gap between different actors in the art system, the street newspaper aims to redistribute wealth and generate income for the many, not the few; undermining the dictates of the attention economy by featuring underrepresented/underfunded projects and authors next to more popular or celebrated ones; questioning the representation of internationality in the Identitarian symbolic economy, it is published multilingually to engage with different communities and acknowledge that not every piece of writing can be adapted to the standards of hegemonic English.
Arts of the Working Class also commemorates the many artworks and artists that problematise values of incessant self-promotion, the virtuosity of independence and distinctive competition. After more than 15 issues of our street newspaper, the publishers—Pawel Sochacki, María Inés Plaza Lazo and Alina Kolar—are hopeful about the many encounters they have already had on the streets, as well as with authors and artists.
Verpėjos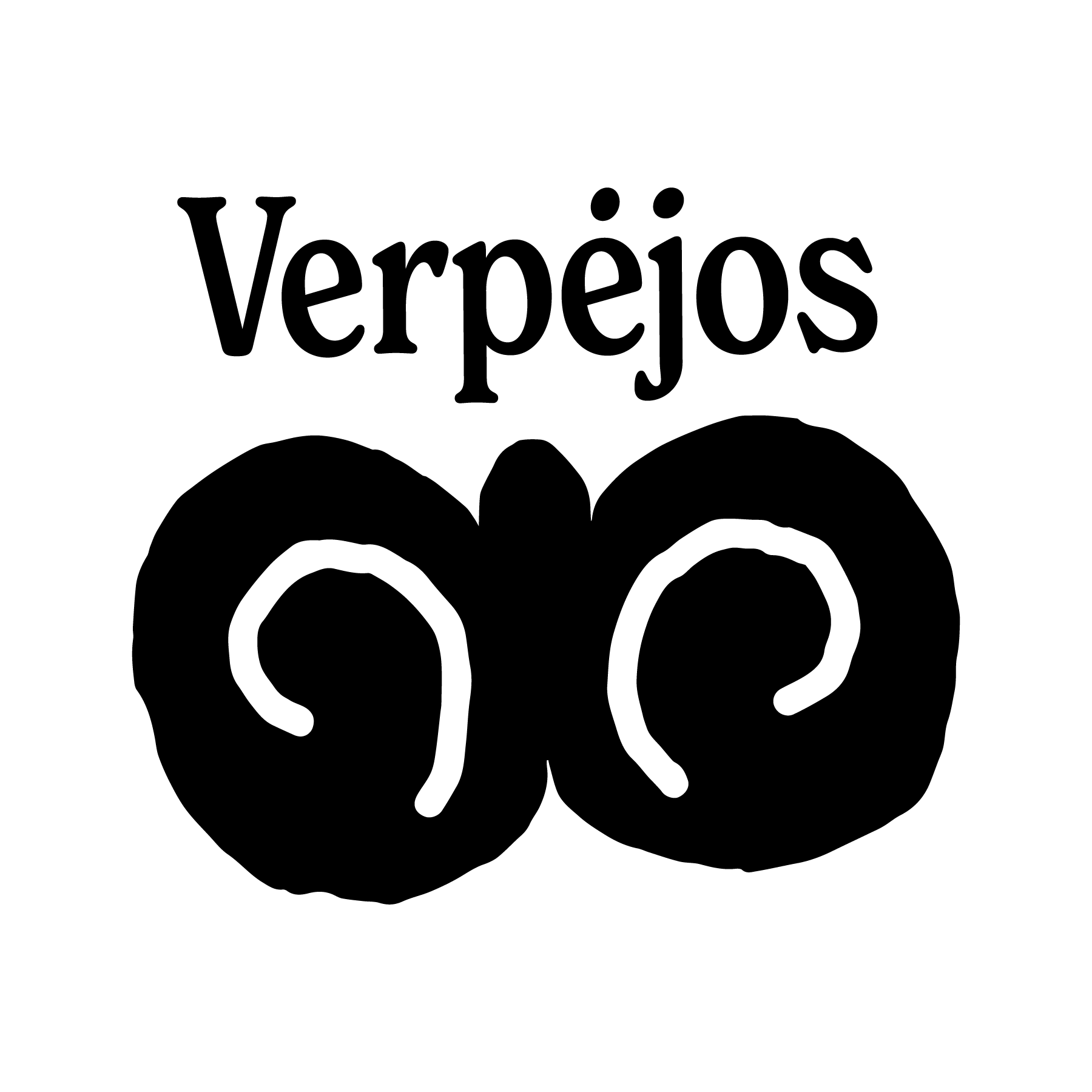 Verpėjos (The Spinners) is an artist-run initiative founded in 2017 by artist Laura Garbštienė to research and discuss the rural, traditional lifestyle and nature preservation, and activate discourse on changes and processes, both local and global. Working with contemporary artists, curators, craftspeople and nature scientists, we organise interdisciplinary workshops, symposiums and exhibitions.
***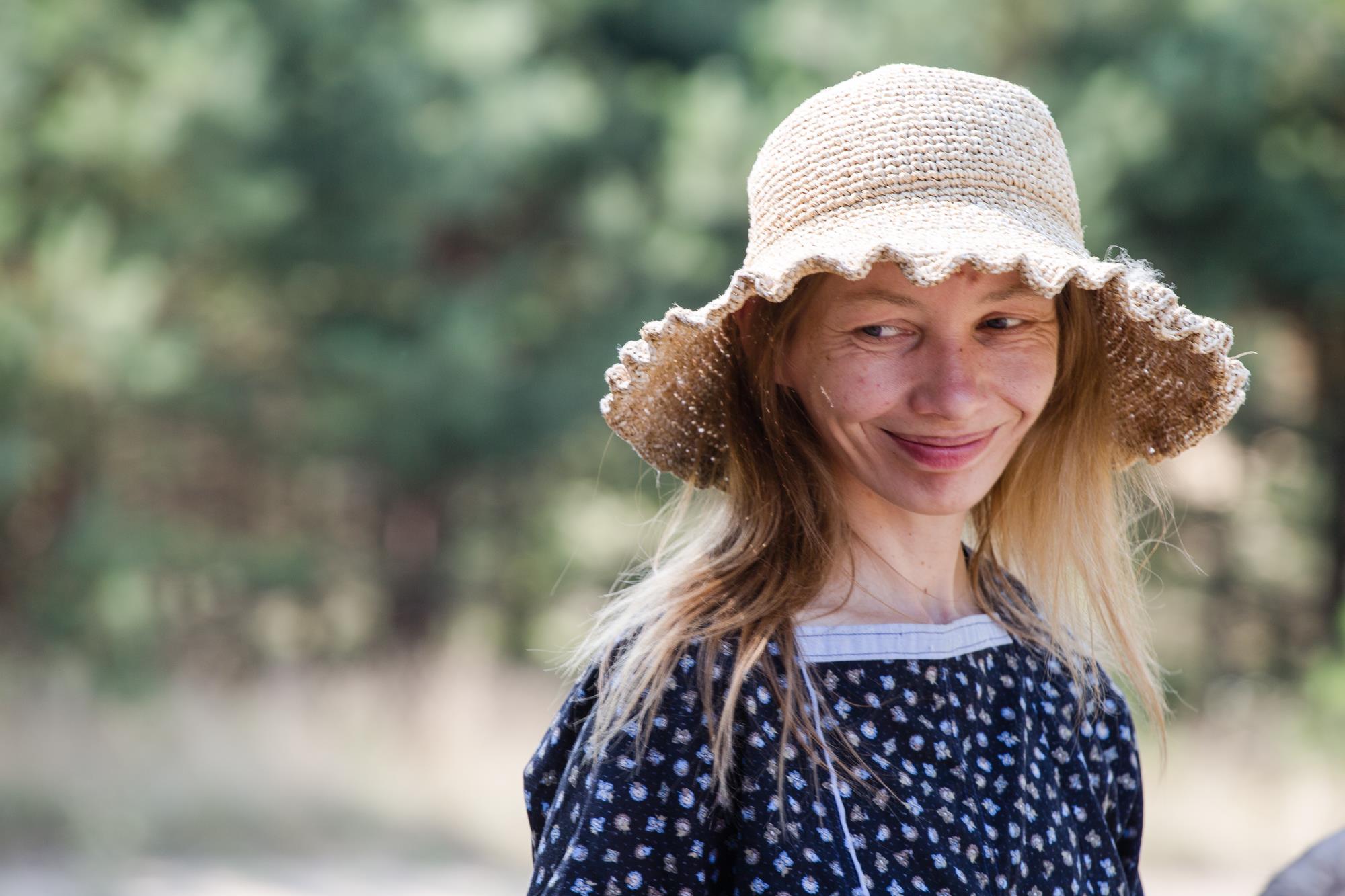 Laura Garbštienė (LT) is an interdisciplinary artist working in the field of conceptual art, exploring the traditional, rural and global processes of nature conservation. She is the founder of the artist-run initiative Verpėjos (The Spinners) and completed her MA in Textile Arts at the Vilnius Academy of Arts in 2000. Her solo exhibitions took place in Vilnius at Akademija Gallery (2009), Vartai Gallery (2012) and Atletika Gallery (2019). Garbštienė's work belongs to various collections in Lithuania and abroad.