a drop of cloud landing | Sound recording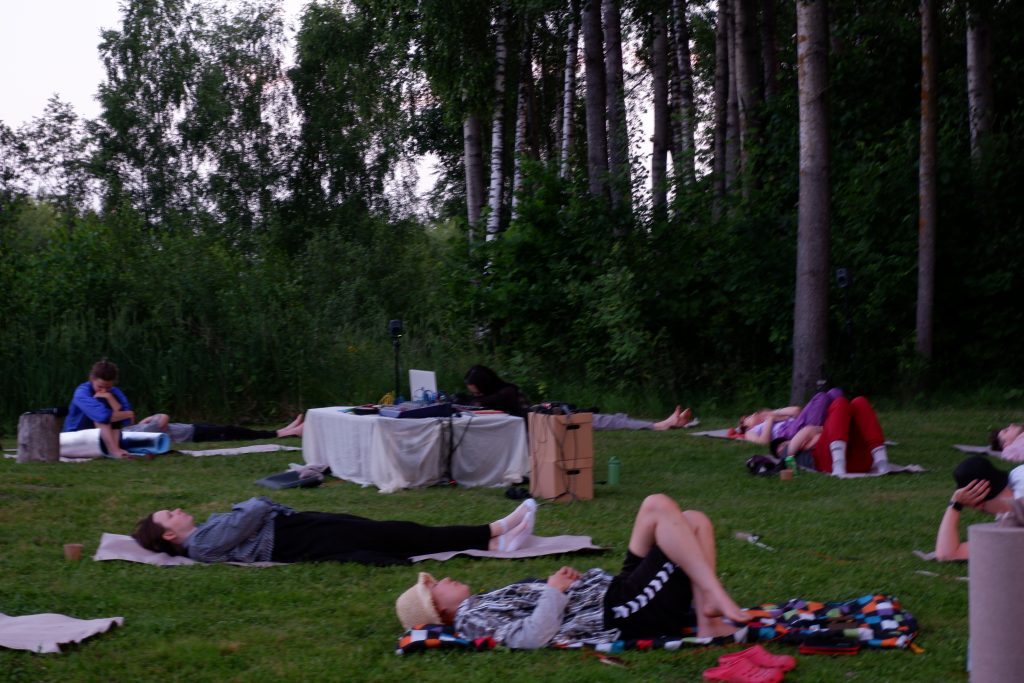 a drop of cloud landing
☁︎
We invite you to revisit a sonic listening and bedtime storytelling camping experience a drop of cloud landing. The experience took place overnight between 1 and 2 July and was organized by Rupert's May and June residents here, a nut falls twice.
☁︎ Listen here
(LRT klasika radio show 'Radijo menas' recording, show host: Gailė Griciūtė)
As a body of research, here, a nut falls twice primarily acts as a space holder for the meeting of different practices: collective falling and listening as potentials for care with all beings. A container for hosting ideas, thinking with each other and the vulnerable act of falling asleep. Through experiments with sound and atmosphere, here emphasises the potential of sensory alterations before sleep as ways into interconnectedness. It stems from Yen Chun Lin's interests in collective listening, soundust, hypnagogia, alter-realities, animism and is a vehicle to create contexts for shared experiences. Through its different iterations, here continuously reforms, responding to the contexts it appears in like an organic body in relation to its changing environment. During two months of research at Rupert, Yen invited friends to join her for the residency, experimenting with falling and holding together through sound, dreams, love, writing, walking and dancing. Each developed a piece to share at this event.
We were sleeping outside, falling together with the sound of the dream-walking moon and stars, whisperings of sleepy butterflies and stories received from the touches of raindrops. This mix is comprised of recordings from live performances by Marijn Degenaar, Oxi Peng, Yen Chun Lin, weaving contributions from Sara Sassanelli, Matilda Tjäder, Felix Riemann and Alois Yang with special guests from the surrounding environment: a choir of frogs, the wind whispering to leaves, the embodied performance of mosquitos tuning our bodies together, a rave from afar, and every participant who was and wasn't there.
The materials of this mix include Sara Sassanelli's listening instructions from the sleepy movement workshop and Yen's collaborations:
– With Matilda, they played piano over a recorded forest walk around the Sapieginė trail where they listened to signals, left pieces of creste di gallo (ear-shaped pasta) and traces of dreams that had happened and those not yet come true.
– With Felix, they blind-mixed a soundtrack, coming separately from left and right and meeting at some point. They only heard and revealed the result during the performance.
– The live performance of Marijn, Penny and Yen, where they explored the interconnectedness of sounding/reading and listening/receiving with echos. Then, through a feedback loop of sound, text and drawing samples, they reacted to their surroundings and the bug sounds by Alois, reinterpreting the material into a new bedtime story to put us to sleep.