Abri de Swardt & Yan Xing – The Difficulty of Saying I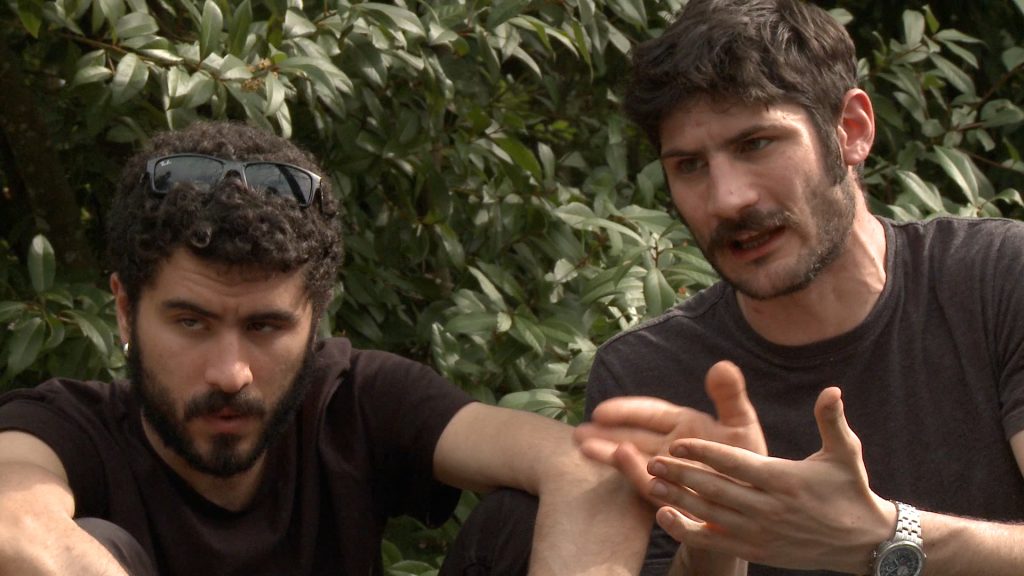 Yan Xing, still from Across the River and into the Trees (2016)
Rupert is pleased to invite all to The Difficulty of Saying I, a showcase of films by current Rupert residents, artists Abri de Swardt and Yan Xing. Rupert will be screening two selected works by the artists: Ridder Thirst (2015-2018) by Abri de Swardt and Across the River and into the Trees (2016) by Yan Xing. The showcase will take place from the 10th of May until 14th of May at Rupert (Pakrantė, Vaidilutės str. 79) at selected screening times listed below and by appointment. The showcase is part of the Rupert residency programme, video works will be screened in English or with English subtitles. Total runtime: 39 minutes. Entrance is free and open to public.
Screening times:
May 10th hourly from 10am to 5pm
May 11th hourly from 10am to 4pm
May 14th hourly from 10am to 5pm
For screenings by appointment, please contact us: info@rupert.lt or +370 6 8254930
The Difficulty of Saying I looks at how artists Abri de Swardt and Yan Xing employ narrative, fiction and malleability of the supposedly factual, neutral or natural through their video work to re-tell, or in Abri de Swardt's words 'unwrite', stories that have previously been told and seen in literature and historiography. For Yan Xing, his film documents a performance retelling Boccaccio's The Decameron & Pasolini's film adaptation of the story, while Abri de Swardt reworks the German-Namibian photographer Alice Mertens' ethnographic photo-books from 1960s and 70s. Both artists deploy diverging, distinct techniques that twist and complicate images in order to create fictive spaces truer than fact.
In Ridder Thirst the impartial and composed figure of the narrator and his tale of how the Shadow Prince and his Battalion of Shades 'rolls up' and 'buries' the First River, becomes more and more brutalised as the video progresses. This searing, exhaustive articulation – deemed by De Swardt as a 'sunstroke of voice' – is punctuated by motion-tracked collaged inserts, and eventually taken over by a flutist, a brown pied-piper figure looking down on the town and river softly playing 'Roxanne' by The Police. Abri de Swardt's 'wet' approach to the complexity of South Africa's political and sexual history amidst the continued actions of Fallism (the collective term for several social movements, such as #RhodesMustFall, #FeesMustFall and #OpenStellenbosch initiated at tertiary institutions in 2015), disrupts the canons of documentary photography and essay film which portray history through 'straight' teleological time – always progressing, converging into truth.
Yan Xing's work, on first glance, lends itself to be looked at as a candid documentation of a heated argument that 7 male Italian students had while unsuccessfully trying to collectively rework Pasolini's film interpretation of The Decameron. With no markings of post-factum editing apparent, Yan Xing habitually makes himself invisible as the director and narrator. In fact, this is a fiction and carefully set-up performance piece that melts layers upon layers of psychological drama, sexual tension, fluidity of personal identity and political incongruities to be found not only in Boccaccio's and Pasolini's The Decameron or Hemingway's Across The River and Into The Trees but also in the performers' own stories.
Riverbanks appear in both works as sites for collective activity and meaning-making (or story-telling), with both Yan Xing and Abri de Swardt enlisting art students as characters, displacing the procedures of the studio, and the university at large, elsewhere.
Details on each work and artist bios: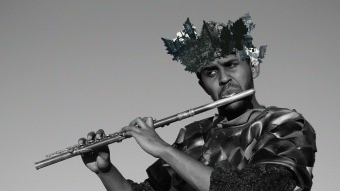 Abri de Swardt, still from Ridder Thirst (2015-2018)
Ridder Thirst explores the restorative agency and limits of queer youth, facing white supremacist denialism with an inventory of its continued effects. De Swardt fantasises the First River, a marker of settler colonial inhabitation in South Africa, into disappearance, perceiving that 'if the ocean is the space of coloniality, the river is that of settlement'. The work takes the span of the river as microcosm of extreme socio-political discrepancies: snaking from the mouth of the river at Macassar Beach, a former separate amenity, to Stellenbosch, the affluent university town central to the formulation of Apartheid. Throughout the work the indexical modalities of site and the archive is approached with desire and disassociation. As an elegy, Ridder Thirst raises questions of land ownership, and of landscape, in relation to the current decolonial turn.
Abri de Swardt (b. 1988, South Africa) works across video, photography, costume, sound, sculpture, and performance to address the difficult visibility and audibility of queer and Southern subjects. He holds a MFA in Fine Art with distinction from Goldsmiths, University of London (2014).  De Swardt has held solo exhibitions at White Cubicle, London (2015); MOTInternational Projects, London (2013); and blank projects, Cape Town (2011).  In 2018 De Swardt staged new performance work at The Centre for the Less Good Idea, Johannesburg, and is showing at 'Coded Encounters', Galeria Graça Brandāo, Lisbon.  He is currently presenting a major solo exhibition at POOL in Johannesburg.
HD Projection
13'36 min
Narrator: Wessel Pretorius
Darkroom: Hentie van der Merwe
Students: Pierre Vermeulen, Stephan Rheeder, Alana Blignaut, and Strauss Louw
Flutist: Myles Roberts
Screenplay, cinematography & editing: Abri de Swardt
Score & sound design: Ben Ludik
Jeweller: Mouroodah Darries
Assistant: Strauss Louw
For Across the River and into the Trees, Yan Xing led seven art students from Florence to spend a week at a villa in the mountains to the south of Lucca. In the midst of a communal life of drinking and having fun all day long, they created the following story:
'A scholar has arrived at a neighbouring art academy to teach some classes. One of the students has obtained the scholar's approval with a proposal for a play adapted from Pier Paolo Pasolini's The Decameron. This student will collaborate with other fellow students to conduct a performance at the end of the term. He shows that the inspiration for his proposal came from the Fourth Day, Fifth Tale of The Decameron, "Three Brothers take Revenge on their Sister's Lover." Seven students come together to start a collaboration. One day, they have come to the mountains to undertake rehearsals and discussion. Some of them question the assignment of roles; some demand that the entire team be given leadership authority; some begin to doubt the artistic nature of the script; some surreptitiously express their excellent taste and charisma; some begin to allege an illicit relationship between the scholar and a certain student; some not only are completely unconcerned with this particular collaboration, but instead engage in purely fictitious attacks on other students… The narrative threads hidden in the background of all this strife gradually come to the surface; one trivial story after another reveals the alliances, hatreds, betrayals, and suspicions among the students. At last one student in a fit of anger shouts out that one of the others, before coming to the mountains, has already murdered the scholar and blasphemed his corpse.'
Yan Xing (b. 1986, China) is known for his interdisciplinary projects which have built a complex, compelling body of work that reflects critically on how history is manufactured today. He graduated from Sichuan Fine Arts Institute in 2009, in 2012 won the Chinese Contemporary Art Award for Best Young Artist; that year, he also received a nomination for the Future Generation Art Prize from the Pinchuk Art Centre. Yan Xing has exhibited and performed extensively, at venues such as the Stedelijk Museum Amsterdam, Rubell Family Collection, Eli and Edythe Broad Art Museum, Ullens Center for Contemporary Art, Contemporary Arts Museum Houston, and Kadist Art Foundation. His latest solo exhibition opened last June at the Kunsthalle Basel.
Across the River and into the Trees (2016) was performed on April 2 and 3, 2016, at the Tenuta dello Scompiglio.
HD video (color, silent), 25′23″min.
Italian Caption and English Subtitle are available.
Performed on April 2 and 3, 2016, at the Tenuta dello Scompiglio, Capannori, Italy.
Commissioned by Associazione Culturale Dello Scompiglio, Capannori, Italy.
Performance contributed by the following participants: Matteo Coluccia, Paolo Cuppone, Gianluca Truss Forgia, Stefano Giuri, Stefano Macaone, Samuele De Santis, Francesco De Tommaso.
Courtesy of the artist.
This event and Rupert Residencies programme is kindly supported by Lithuanian Council for Culture and Pakrantė.