Alternative Education Programme's Public Lecture #2 Mary Maggic and Eglė Ambrasaitė: Re-appropriating Toxicity + Studio Warming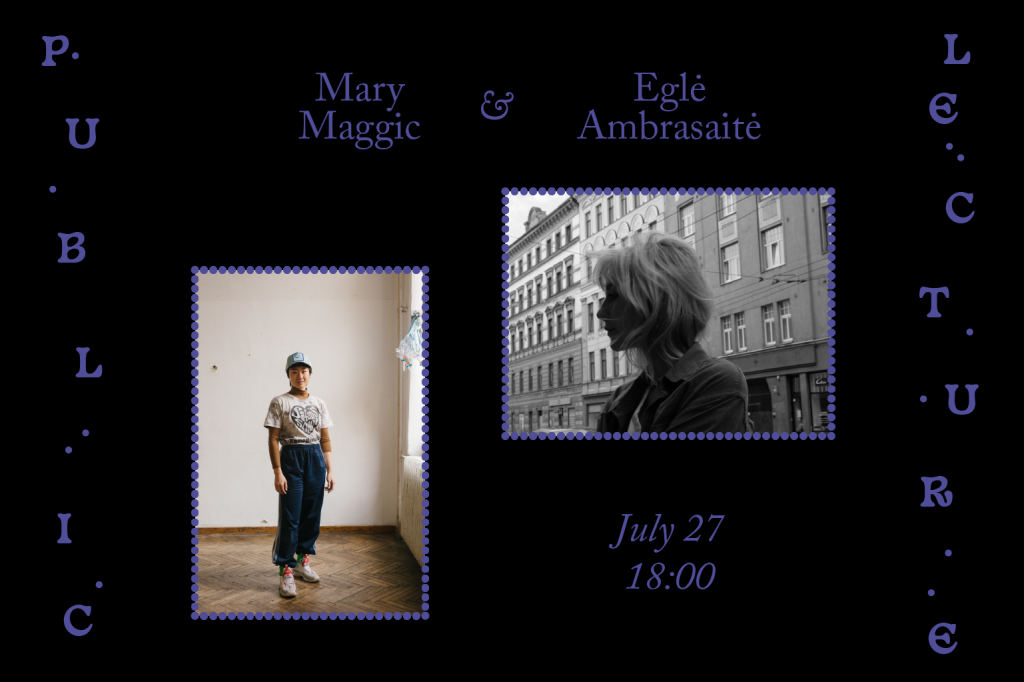 Date: 27 July
Time: 18:00
Location: sewing factory 'Lelija' (Paneriu st. 43, Vilnius)
Rupert's Alternative Education Programme presents a public conversation between Mary Maggic and Eglė Ambrasaitė in the context of the workshop 'Re-appropriating Toxicity' on 27 July at 18:00 in the sewing factory 'Lelija' (Paneriu st. 43, Vilnius). Thinking through the (im)possibility of futurity in relation to chemical infrastructures that fail but still transform everyday practices of labour, reproduction and intimacy, the discussion invites possibilities for new intergenerational social attunements to emerge following erupted human and non-human lives. In exploring a new collective embodied worlding exercise that draws on participatory experiments in biohacking, tactical intervention and performance, the discussion further aims to re-articulate waste and its relationalities by instead embracing co-mattering. 
Following this, we invite you to join us at the Alternative Education Programme's studio warming at the sewing factory 'Lelija'. Featuring visuals prepared by your generous hosts, a sound performance by TEAMS and the last chance to see the LILITH installation by Bianca Bondi. The event will weave a sonic and visual journey through the corridors and crevices of the former factory, leading to the passageways that have been closed for decades. During the evening, you will have the opportunity to become acquainted with the processes and practices of the participants, as well as the programme at large. 
We hope to have you join in the magic of this new space!
***
Mary Maggic is a non-binary artist working at the intersection of hormones, body and gender politics, and ecological alienations. They frequently use 'biohacking' as a xenofeminist practice of care that holds the potential to demystify invisible systems of molecular biopower. Maggic is a current member of the online network Hackteria—Open Source Biological Art, the tactical theatre collective Aliens in Green, and the Asian feminist association Mai Ling Vienna, as well as a contributor to the radical syllabus project Pirate Care and the online Cyberfeminism Index.
Eglė Ambrasaitė can be located in a spot reserved for interdisciplinary art: she is both an artist, a curator and a scholar. Her interdisciplinary studies—Bachelor in Film, Video and Interactive Arts (Middlesex University, London), Masters in Political Sciences (Vytautas Magnus University, Kaunas) and her ongoing PhD research in Gender Studies (Central European University, Budapest/Vienna)—have transformed her artistic work into a challenging, contemporary and critical medium that crystallises in the language of both visual arts (video/sculpture/installation), various forms of written material and her curatorial practice for Aikas Žado Laboratory's (Žeimiai Manor House) programmes. At the moment, her main artistic and curatorial practice circulates themes of love, tenderness, toxicity and bodies/embodiments. Her theoretic interests encapsulate gender, biopolitics, late socialism and post-socialism, affect theories and dark ecology.
TEAMS is Lynton Talbot, a curator and experimental musician based in London, currently on residency with Rupert. He works with an array of tones and samples to build dense audio environments that include drones, noise, elements of industrial music and dissonant compositional aspects. in his work, the source material is composted down beyond legibility into unapologetically lo-fi sonics.
More about the participants of the Alternative Education Programme. 
Rupert's activities are supported by the Lithuanian Council for Culture
Partners: Vilnius Academy of Arts, Vilnius Tech, Tech Zity