Chloe Cooper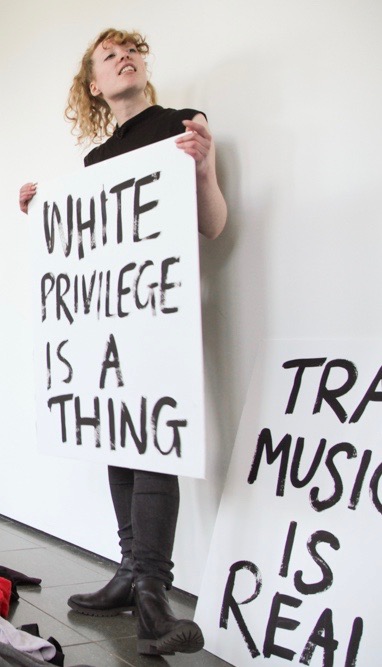 Chloe Cooper uses performative tours, lectures and instructional videos to propose something quite improbable to groups of people to be worked through together. This something quite improbable normally splashes about in the rocky waters of human relationships and acts as a way to rummage around in the processes of getting people on board, wading through scepticism and exploring the ways in which we locate ourselves in opposition to each other. Chloe has recently exhibited and performed works at Bedfellows: Sex Re-Education, Tate Modern, London (2016), Encounters, Galleri Mejan, Royal Institute of Art, Stockholm (2016), Art From Elsewhere: Walk and Talk, Arnolfini and Bristol Museum & Art Gallery, Bristol (2016), Chloe Cooper: Bronzin' (Totally Bronze), Tate Britain, London (2016), Bedfellows: Artist Talk, Serpentine, London (2016), 21st Century Fox in the Snow, Embassy, Edinburgh (2016) and Secret Reasons, AND Publishing, London (2016).
She worked with students at Užupis Gymnasium to conduct a series of experiments that sought to test whether context responsive performance art practice could create an alternative space within their corridors. Their teacher, Aušra Smaleckienė, said that it encouraged students to use their freedom to come together to be creative instead of just wasting it. Students said that it helped them to feel more relaxed and to live more freely and that it was much easier for them to change and get involved than it was for teachers.
C. C.: What do you think teachers thought?
Student: Teachers were confused and some not impressed. Maybe they hoped for something better…
C. C.: Why do you think teachers felt like that?
Student: Because they're not used to that.
C. C.: Do you think you could ever make experiments just for teachers?
Student: Of course.
Student: It would be more interesting I guess.
After the project, Aušra Smaleckienė and Vakarė Smaleckaite led a meeting with teachers where they discussed the project and after that meeting the school asked Vakarė to develop a series of sessions for teachers on creative learning. Thanks to everyone involved.