Colin Self: Winter Solstice Xoir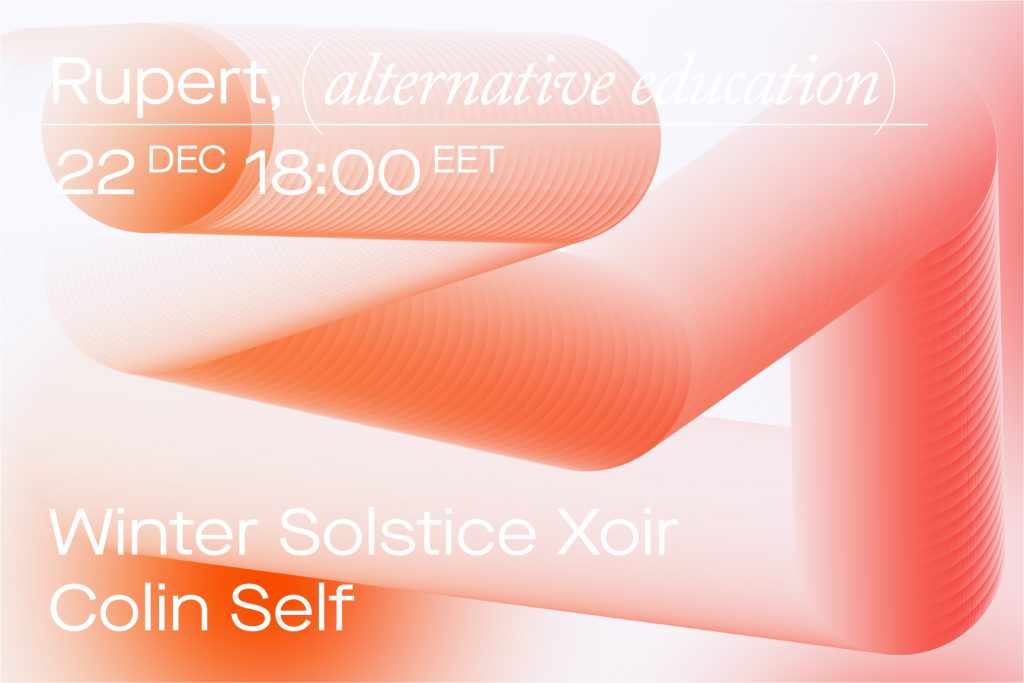 Rupert kindly invites to the final event of an alternative education programme that will take place on Zoom, 22 December, 18:00 EET. For the event Colin Self will be giving a brief artist talk, segueing into a presentation about their experimental group singing and collective organizing practice known as "XOIR." For the second half of the session together, attendees will participate in a brief XOIR session, sharing a group vocalizing experience together over Zoom. For this session, no previous experience in singing is required, but the presence of curiosity and willingness to engage with the voice is suggested. To participate you will need a laptop with headphones, and a calm space in which you could feel comfortable making sound. 
Xoir is a non-utilitarian vocal workshop led by Colin Self focused on alternative modalities of group singing. Rooted in somatic research and experimentation, the goal of Xoir is to foster a generative environment for individuals to connect with voice and vocality on an individual and collective level. Xoir is open to anyone interested in exploring their voice as a tool for learning or re-posturing a new relationship to singing and listening. Prior participation in choral or vocal practices is not required, but any prior experience with listening and engaging experimentally in a musical or studio practice is encouraged. Xoir works with a logic of being "autonomous together" and points into ancient and futuristic logics of ungovernable modalities of community organizing.
Bio
Colin Self is an artist, composer and choreographer based in New York and Berlin. Colin creates music and performance pieces designed to trouble binaries and play with the boundaries of perception. Self works with a broad range of communities using voices, bodies, and computers as tools to interface with biological and technological software.
Self is a teacher at NYU's Clive Davis Institute in Berlin, and has presented work at The Dutch National Opera, HAU Berlin, The New Museum, The Kitchen NYC and Issue Project Room, among many international festivals and venues. They are a Rhizome Commission Grant recipient and a Queer Art Mentorship Fellow. They served as an Eyebeam Resident in 2016 and a resident fellow at Etopia for FUGA in Zaragoza, Spain in 2018. They are a co-founder of the NYC queer performance collective Chez Deep and The Radical Diva Grant. Self received their MFA in music and sound from Bard.Self also works closely with Holly Herndon and has performed with her touring ensemble since 2015.They run XOIR, an international non-utilitarian vocal workshop focused on alternative modalities of group singing, and releases solo music on the record label RVNG Intl.
—
Rupert's activities are supported by the Lithuanian Council for Culture.
Programme's partners: Vilniaus miesto savivaldybė, Pakrantė, Gluk Media, Kintai Arts, Žeimiai Manor / Aikas Žado Laboratory
Special thanks to: Rupert's team, Rupert's board, Alumni board, Nida Art Colony, Kaunas Artist House, Galerija 101, SODAS 2123, Atletika, Autarkia, Techanariumas and amazing tutors of the programme.