1 September, 2019, 4 pm - 9 pm

Details Will Be Ours. Closing event of the 7th Rupert Alternative Education programme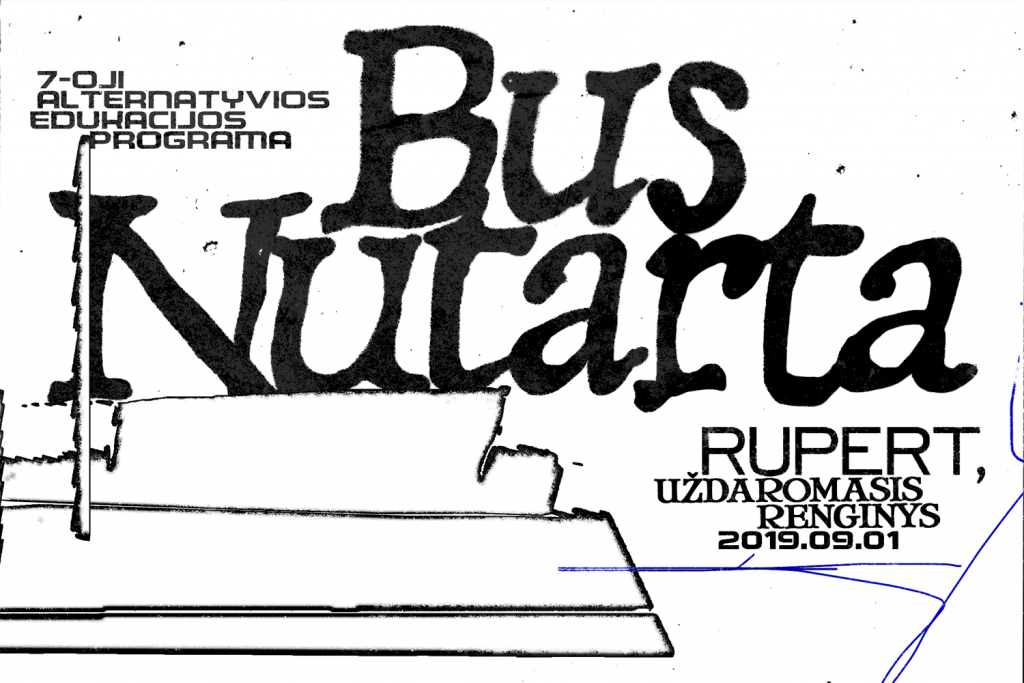 Rupert kindly invites you to 'Details Will Be Ours', the final event of 7th Rupert Alternative Education Programme, dedicated to the finished and, especially, unfinished participants' projects developed over the course of the programme. The event will take place on 1st of September, at Rupert (Vaidilutės str. 79), the doors open from 4 pm and the programme will run between 5-9pm. The event will include programme participants zine, performances, talks, sound installations and other informal conversations. The participants will also serve food and invite you for a drink. The event and the publication is completely open and free of charge. 
On 1 September, there will be a free shuttle bus operating between Vilnius city centre and Rupert. The bus departs from the main entrance to Bernardinai garden (Maironio street) at 3:30 pm, and returns at around 9 pm. Registration for the bus.
Participants' statement:
We present to you the closing event of the 7th Rupert Alternative Education programme.
We had prepared a multitude of excellent words: perception, discrepancy, identity, memory, institution, infrastructure and many others which feel more comfortable in dictionaries than they do in interpersonal speech. We would have gladly written them all down and finished everything smoothly, according to canon, but in that precise moment it turned out that the canon itself is incomplete.
We understand that such a position causes certain inconveniences. After all, this text was supposed to help You understand the theme of the event and outline concisely what you would see and hear here – or maybe even allow You to resolve why you came here, even though you could have stayed in at home or in another pleasant place of your choice. Well, nothing came out of that.
When this text had to be reviewed by the institution, the latter also presented a slightly different opinion, but that is always the case with opinions; they are eternally unfinished.
Nonetheless, that presents certain advantages: an unfinished conversation is always diplomatic. Nobody needs to vouch for it, defend every letter, write long explanatory texts, fume and justify themselves. It is enough to nod politely, smile and talk it over later.
Everything here is incomplete in one way or another. So is this text, and its main point is unclear and not summarised.
We invite You, as well, to throw aside all errands for at least an hour, and without completing them, spend some time together.
Participants of the 7th Rupert Alternative Education Program: Maarten Brijker, Milda Dainovskytė and Laurynas Skeisgiela, Viktorija Damerell, Elžbieta Jašinskaitė, Edvinas Grinkevičius, Ieva Sriebaliūtė, Dainius Vanagas.
Curators of the 7th Rupert Alternative Education Program: Kotryna Markevičiūtė, Adomas Narkevičius, Yates Norton. Coordinator: Adomas Narkevičius.
The activities of Rupert are partially funded by Lithuanian Council for Culture. Rupert Alternative Education Programme is supported by Vilnius City Municipality, Pakrantė, guests of Rupert benefit dinner and other sponsors.