In Dissolve: An Evening of Sound Performances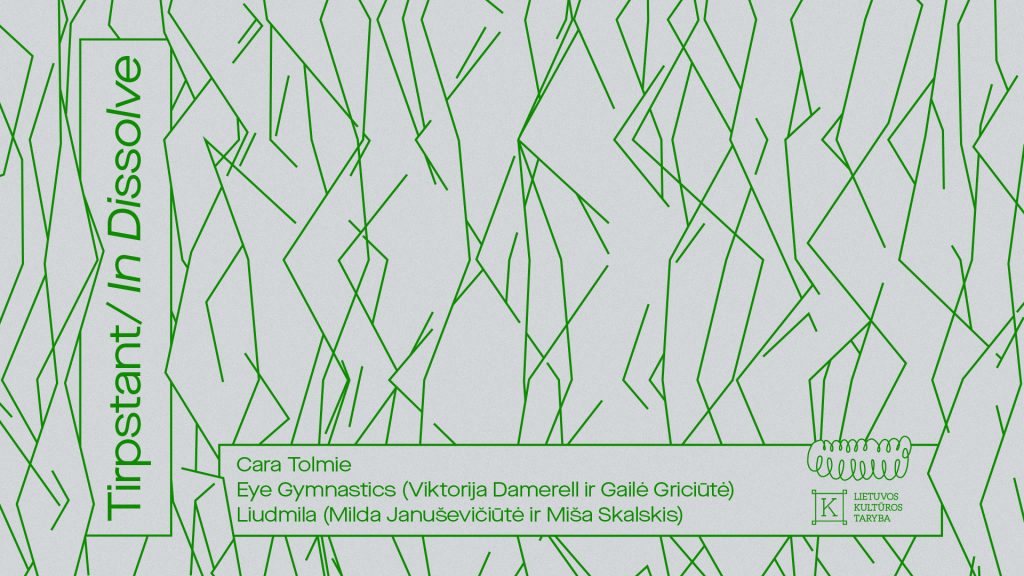 On 6 November Rupert kindly invites you to 'In Dissolve', an online evening of sound performances from 8pm via Rupert Facebook and YouTube account. Artist collectives 'Eye Gymnastics' (Viktorija Damerell & Gailė Griciūtė) and 'Liudmila' (Milda Januševičiūtė & Miša Skalskis) will premiere sound performances newly commissioned by Rupert. Artist Cara Tolmie, a former Rupert resident, will present a recorded version of her performance 'Cyacrual' due to the Covid-19 travel restrictions.
At the turn of 20th century impressionists had been gripped by the idea of sound as an ambiguous environment – ether or energy – lodged in-between the material things of the world. Debussy wrote compositions as if they were perfumes and clouds. Sensing sound as insubstantial simmers on and periodically resurfaces in a new guise, not least through acousmatic, ambient, noise and experimental dance music. Unruly, sonic energy finds its way through fissures and cracks, potentially entering spaces it was not supposed to. On their way, bouncing off and soaking in the furniture, floors, walls, ceilings and other organic bodies, melodies familiarise their physical markers, borders, measure distances between movements, glances. They drown out unnecessary blabber and give cover to crucial conversations. While it can be mapped – represented as language in notation, visualised in waveform – it is sound's invisible unfolding in duration that affects its setting and, equally so, us in it. 
In auspicious circumstances, the contact between bodies performing, voices singing and bodies listening, mutually sensed and sensing, engenders immaterial spaces of relation, those yet to materialise. This vaporous collective space asks for trust from all parties involved, ears, eyes, voices, elbows, hips, without naming its conditions. Encounters through sound, in turn, whisper suggestive ways of being together. They draw contours of that which could become material – the habitats of such contact. 
Liudmila (Milda Januševičiūtė & Miša Skalskis) will present a new performance that expands upon their previous sound experiments while playfully combining elements of pop and folk music to explore themes of melancholia and care. Milda Januševičiūtė  is a cultural sociologist and artist living between Vilnius and Rotterdam. Miša Skalskis is an artist based between Vilnius and Helsinki. Both in their individual and collective artistic practices, they draw on biographical and autobiographical stories to examine the existential manifestations of cooperation and how beliefs, forms of faith, hopes and bodies determine the distribution of power between oneself and the world. Invoking their dubious maturity, anxiety and fears, the artists attempt to rediscover the meaning of authenticity in today's cultural environment.
Eye Gymnastics' Album Launch is a 7-song live concert. Throughout their set, the artist duo will perform songs suitable for dancing to a varying degree. The setlist includes 'Bitter Night', 'Face to Face', 'Addicted to You', 'Boreades', 'Let the World Inside', 'Sadness and Joy' and 'You Destroy Me'. 'Eye Gymnastics' is the stage name of Viktorija Damerell and Gailė Griciūtė. The artists collaborate on creating performances of experimental music, vocal instructions and incantations. In their investigations, sensual timbres merge with mental voyages, hypnosis and echoes of pop. 
Cara Tolmie's Cyacrual is a circulating address to the rib bones of 'AL 288-1' or 'Dinkinesh', one of the oldest known bi-pedal females, also referred to as 'Lucy' – named after The Beatles song Lucy in the Sky with Diamonds. After exploring ASMR-like, folly brush strokes and sounds via tiny bursts of air blown into the mic, Cara embarks upon an incessant repetition of her own name 'Cara' and the name Lucy pronounced backwards – 'Ycul'. Her own name is vocalised on the out-breath whilst "Ycul" is pulled through her mouth ingressively on the in-breath. Cara's impulse is to tame, even drain (if she could) the sound of The Beatles from these bones. She wishes to soothe them with her brush, greeting them from within an alternative paradigm of sound-making to the one that they have previously been defined by. A kind of caressive music perhaps, one that seeps out from the tiny cracks within each of their bodies. A music able to explore the potential of sound and listening as a transformative rather than defining entity. A fabric version of this ribcage is sewn onto the shirt that Cara wears alongside two different interpretations of a pillar. This design is a scaled down version of Listening Curtain, a large fabric hanging made in collaboration with Susanna Jablonski as part of their ongoing project Gender of Sound.
Cara Tolmie works from within the intersections of performance, music and moving image. Her solo works explore performative techniques that disrupt the affective economies revolving around 'The Singer' through live uses of the defamiliarised, uncanny and sampled singing voice. Collaboration is a key aspect of her ongoing practice both in the making of works as well as more expanded research projects. She has recently worked with Stine Janvin, Zoë Poluch, Kim Coleman, Will Holder, Seymour Wright, Paul Abbott in group ULAAPARC, and on artistic research projects 'Gender of Sound' with Susanna Jablonski and 'The Glossary of the Event' with Frida Sandström and Aleksei Borisionok.  She has performed and exhibited widely at venues including Moderna Museet, Borealis Festival, KW, Cafe OTO, Edition Festival, Frieze Projects, Bonniers Konsthall, Counterflows Festival, Chisenhale Gallery, South London Gallery, Camden Arts Centre, Whitechapel Gallery, Index, Marres, OUTPOST, Spike Island, Tramway, Tate Modern and Block Universe Festival. She is also part of the editorial collective for Cesura//Acesso journal and was a recipient of the Paul Hamlyn Award 2016.           
The performance night is curated by Adomas Narkevičius. The event is organised by Rupert Centre for Art and Education. Special thanks to Sodas 2123 and Palanga Street Radio. 
Rupert's activities are supported by the Lithuanian Council for Culture.