14 October 2014
News
Educational Program 2014-2015: Participants announced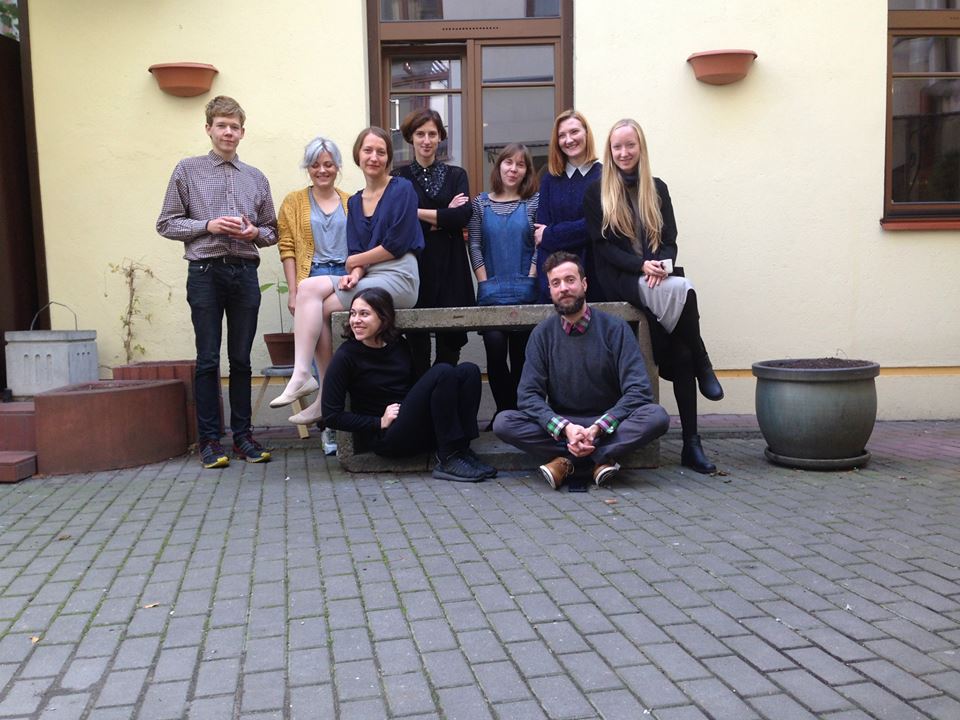 The selections committee, consisting of Lolita Jablonskienė (Director at the National Gallery of Art in Vilnius), Jonas Žakaitis (Rupert Board of Trustees), Augustas Serapinas (artist, Educational Program alumnus), Maya Tounta (Rupert Curator) and Justė Jonutytė (Rupert Artistic Director), selected six new participants for the 3rd edition of Rupert's Educational program. Julijus Balčikonis (LT), Jamie Kane (UK), Ieva Kraule (LV), Kristina Skaldina (LT), Jonas Vaitiekūnas (LT) and Lina Zaveckytė (LT) are taking part in the program, anticipating a year of lectures and workshops by Miroslaw Balka, Kasia Redzisz, Ieva Misevičiūtė, Michael Portnoy, Laure Prouvost, Nicolaus Schafhausen, Mårten Spångberg and Isla Leaver-Yap, among many more, as well as trips to Lithuanian regions together with artists Antanas Gerlikas, Juozas Laivys, Julijonas Urbonas and philosopher Kristupas Sabolius, and a series of film screenings by artists Liudvikas Buklys and Gintaras Didžiapetris. During the program participants will also receive personal mentorship and develop individual and group projects.
Julijus Balčikonis (b. 1981, Lithuania) has a BA and MA in Photography and Media Art from Vilnius Academy of Arts. His artistic practice is actively informed by historical themes and collective memory, and involves coincidences in space and time. For Rupert, Julijus will be developing a project called "Possibilities of time travel". It will involve the interpretation of a well-known narrative taken from world mythology, literature and cinema. He would like to change the narrative by adopting it to the local landscape and history so it could become the universal narrative that is migrating in space and time.
Jamie Kane (b. 1989, Inverness, UK) is currently living and working in Glasgow. He holds a BA in Sculpture and Environmental Art from Glasgow School of Art and a degree in Architectural Design from Mackintosh School of Architecture. While at Rupert he will be researching and developing a short film as a meditation on our relationships to time and artifactuality, taking the geological concept of deep time as a point of departure. Working across sculpture, video and photography he considers how momentary interactions can negate, recede or shift the potential for understanding.
Ieva Kraule (b. 1987, Riga, Latvia) is currently studying in her first year of MA Visual Communication at the Art Academy of Latvia, but previously studied painting and ceramics. Together with another Latvian artist Kaspars Groševs Ieva is running 427 – a non-commercial gallery in Riga. Ieva works in different media including photography, video, ceramics and painting. She references applied arts and architecture of the Soviet era in her work while tracing origins of both personal and collective aesthetic codes. At Rupert Ieva will work on a small collection of short stories with some illustrations that have escaped from the restricting rectangle of the page. Those runaways created in different sizes and techniques, being more of an abstract appendix than direct illustration of the written, will form an exhibition at the end.
Kristina Skaldina (b. 1989, Lithuania) practices contemporary dance and body-movement therapy, entailing body-mind centering, authentic movement, embodied anatomy and somatic psychology. For Rupert, she will be developing a "Relaxation CD" informed by sounds, verbal articulations and images that seek to evoke a state of meditative, active listening and seeing and a concentration in the present moment. She expects the project to be an audio and possibly also a performative visual project.
Jonas Vaitiekūnas (b. 1990, Lithuania) lives and works in Vilnius. In 2013, he graduated from the Sculpture Department of Vilnius Academy of Arts with a BA. He recently took part in 'The Unanswered Q' at the Contemporary Art Centre, Vilnius, a group show bringing together works by emerging Lithuanian artists. Jonas would describe his work as something flexible – based on experimentation and interaction with various environments. Jonas creates installation works constructed from materials found within or surounding the exhibition spaces where his work is shown. He is interested in the interface of imagination and reality, as felt and discovered through intuition and improvisation. For his project in Rupert, Jonas draws inspiration from Gaston Bachelard's text: Reflections on Daydreaming wherein Bachelard speaks about the meaning and significance of daydreaming. His aim is to use Rupert as a space for discussion and critical development, pursuing a better understanding of the phenomenon of daydreaming and its relation to artistic practice.
Lina Zaveckytė (b. 1988, Lithuania) has a BA and MA in Photography and Media Art from Vilnius Academy of Arts. She recently took part in "The Unanswered Q" at the Contemporary Art Centre, Vilnius, a group show bringing together works by emerging Lithuanian artists. Lina is interested in the concept of change, both physical and mental, and in how that can be experienced as a state of in-betweeness. For her project in Rupert, More no more she will explore the relationship between change and creation through meteors, metaphors, the sensitive outlines of the body, the sensation of touch and the desire for fulfilment of one's wishes.