Exhibition Closing Week Event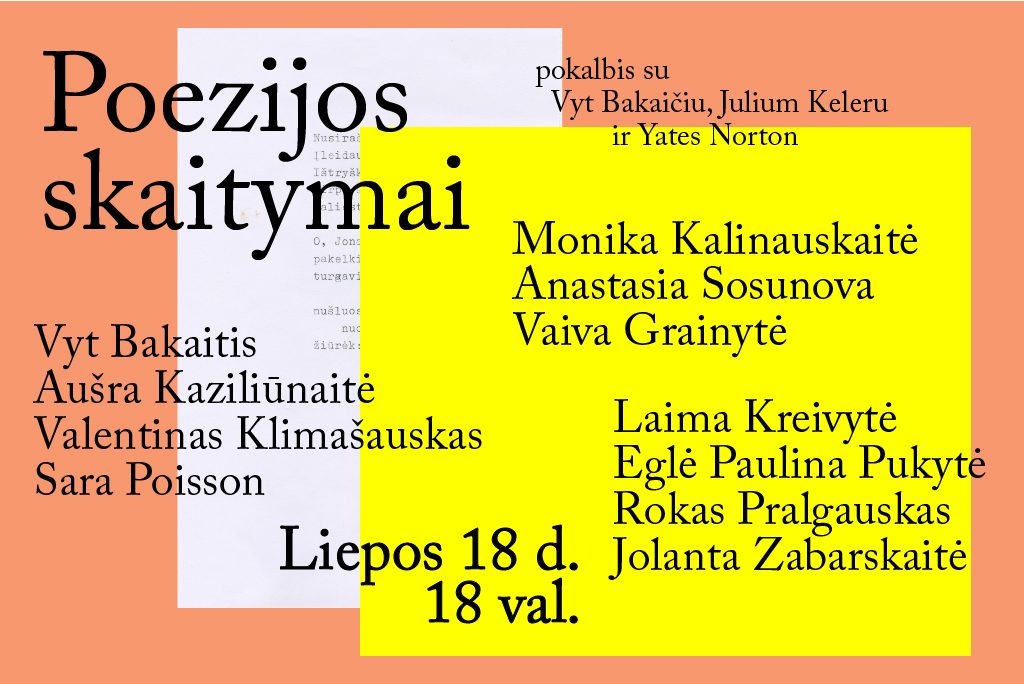 On Thursday, 18th of July at 6 pm RUPERT invites you to a special two-part event, for the  exhibition 'Jonas Mekas: let me dream utopias'. From 6pm, you can hear Vyt Bakaitis, poet and translator of Jonas Mekas, the Lithuanian writer, Julius Keleras, and curator, Yates Norton discussing the art and challenges of translating poetry and some of the major themes in Mekas' poetry featured in the exhibition. 
From 7 pm, there will be readings by writers who have been commissioned to write texts in response to Mekas' poetry, followed by an open mic session with local poets. There will be a free bus available from the city centre to Rupert on the night of the event. Registration for the bus is online.
Participants
Vyt Bakaitis (born 1940) is an American translator, editor, and poet born in Lithuania and living in New York City. His first collection of poetry 'City Country' (1991) was followed by 'Deliberate Proof' (2010).  He has translated Lithuanian poetry, including work by Jonas Mekas and Julius Keleras.
Vaiva Grainytė (b.1984) is a writer, playwright, and poet. Her writer's practice usually crosses the confines boundaries of deskwork and becomes an integral part of an interdisciplinary polylogue. Her handwriting exhibits the features typical of her oeuvre: personal and collective memory, daily routine and social issues are in harmony with poetic and ironic approach.
Monika Kalinauskaitė is a writer and curator currently based in Vilnius, Lithuania. She is the co-author of the graphic novel 'The Great Outdoors' (TLTRPreß, Berlin, 2017) and an independent curator and cultural producer, working mostly with young artists and authors.
Aušra Kaziliūnaitė – is an author of four books of poetry. Last year her selected poems, 'The Moon is a Pill' (Parthian Books, 2018) was published in English. The book was listed among the five best works of Baltic literature recently translated into English by literature expert Jayde Will. Several of Kaziliūnaitė's poems appeared in 'How the Earth Carries Us: New Lithuanian Poets' (Lithuanian Culture Institute, 2017) and 'New Baltic Poetry Anthology' (Parthian Books, 2018)
Julius Keleras (b. 1961) is a poet, photographer and translator, as well as a member of PEN International, Lithuanian Writers Union and the Union of Lithuanian Art Photographers. He makes photographs and also writes stage plays. He has published numerous collections of poems: "Žiemos valtys" (1988), "Baltas kalėdaitis" (1990), "Sauja medaus"  (1995), "XL eilėraščiai" (1998), "sniegas, benamis, krentantis" (2007). The poetry of Julius Keleras is baroque, meditative, reflective of global historical and cultural images. 
Valentinas Klimašauskas is a curator and writer.  
Laima Kreivytė – art historian, researcher, curator, writer and artist. In her practice, she investigates relationship between images and text. In 2013, she has published her first poetry book 'Sapfo skai(s)tykla", she has also published books on Lithuanian artists Kęstutis Zapkus and Marija Teresė Rožanskaitė. She is actively participating in exhibitions together with the artists collective "Cooltūristės". 
Paulina Eglė Pukytė is an artist, writer, and curator. She writes critical and satirical articles on art and cultural issues, as well as experimental literature, poetry and plays. She also makes site-specific interventions, still and moving image, and conceptual projects, working with found images and found texts, often employing coincidence, chance, and constraint. At the same time poetic, humorous and critical, Pukytė's work twists perspectives and meanings, deconstructing socio-ideological myths and socio-cultural clichés. She is also involved in the discourse of public space and commemoration and in 2017 curated the 11th Kaunas Biennial There And Not There: The (Im)Possibility Of A Monument.
Rokas Pralgauskas is a visual artist, poet and musician based in Vilnius, Lithuania. He is a member of the Lithuanian Photographers' Association. Artist takes part in group and solo exhibitions, is the author of two published books. The poet lives with a dog and a cat on the 7th floor and grows flowers on the balcony.
Anastasia Sosunova (b. 1993) is a visual artist living in Vilnius, Lithuania. Sosunova holds a BA in Graphic Art and a MA in Sculpture from the Vilnius Academy of Arts. Her work comprising of video, installation, sculpture and graphic art translates between scales, manipulating personal stories and subtle material gestures, following through their entanglements in vaster tales. These are tales about how communities and identities are formed, subsist and come undone. Sosunova has recently shown works at the Contemporary Art Center, Rupert, Editorial and the National Art Gallery (Vilnius); Cubitt (London); The Sunroom (Richmond); Survival Kit festival (Riga); I: project space (Beijing). 
Jolanta Zabarskaitė (1961) is a linguist. Her interests are semantics, sound symbolism, economic linguistics, and language technologies. Her contributions to the development of the information society were awarded the New Book Smuggler Award in 2016. Among her academic achievements she developed the method of language creativity training, and coauthored the academic "Dictionary of the Lithuanian Language".
Exhibition and event supporters: Lithuanian Council for Culture, Vilnius City Municipality, Pakrantė, Vilnius Tech Park, "Būkčia", UAB Biržų duona, Ekspobalta
Partners: Lithuanian Culture Institute
Media partner: 15min