Experiencing architecture differently; rethinking access and inclusion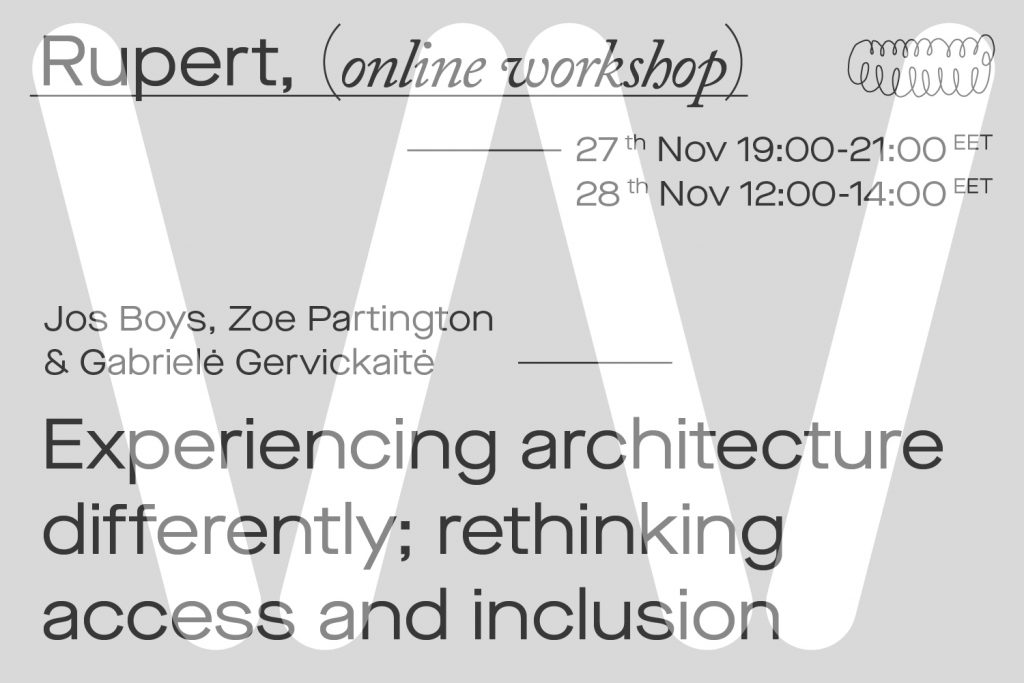 Rupert invites all to a two-part workshop by Jos Boys and Zoe Partington of the DisOrdinary Architecture Project and artist Gabrielė Gervickaitė on 27 November 19:00-21:00 EET and 28 November 12:00-14:00 EET. The talk will be held on Zoom and is by registration only with a maximum of 25 participants. If you have any accessibility requirements (such as live-captioning) please let us know in your registration or by email at info@rupert.lt by 24 November. We will do our best to meet them.  
This workshop will explore architectural inclusion differently to conventional access design 'solutions', so commonly used in our built environment.  By starting from the knowledge and experiences of disabled artists and by asking non-disabled cultural and design professionals to critically reflect on their own bodies, we will show how valuing the richness and diversity of our many different ways of being in the world becomes a creative generator rather than a 'problem' for designers.
This workshop is aimed at architects and other built environment professionals, educators and students, as well as those working in the cultural and arts sectors. It offers an opportunity to rethink our assumptions about disability, ability and the design of built space.
Details on the workshop 
Day 1 FRIDAY 27 November 19.00 – 21.00
19.00 – 19.30 Introductions/outline of workshop
 19.30 – 20.15 Session 1 (45 minutes) Talk by Gabrielė Gervickaitė on her work followed by discussion about what we mean by embodied creative practice and the valuing and caring for all our diverse human ways of being.
20.15 – 21.00 Session 2 (1 hour) Talk by Zoe Partington on her own practice and an introduction to her 'space explorers' activity where we will map the emotional, sensual, imaginative accessibility of a space (to be undertaken between sessions, individually and/or in groups). 
Day 2 SATURDAY 28 November 12.00 – 14.00 
12.00 – 13.00 Participants report back on experiences of activities, followed by a discussion on ways of starting from different bodyminds in design practice.
13.00 – 13.30 Session 3 Talk by Jos Boys on ideas and tools for rethinking access and inclusion.
13.30 – 14.00 Final discussion and recommendations for future steps.
Bios
Jos Boys studied architecture and has worked for many years in feminist and community-based design practices, as well as a researcher, educator, journalist and photographer. She is co-founder of The DisOrdinary Architecture Project, and currently works at the Bartlett Faculty of Built Environment, UCL, London. Jos is also author of Doing Disability Differently: an alternative handbook on architecture, dis/ability and designing for everyday life" (Routledge 2014) and editor of "Disability, Space, Architecture: A Reader (Routledge 2017). 
Zoe Partington is an artist who works with viscerally powerful audio, visual and tactile representations to explore disabled people's perceptions and experiences of space. Her practice is informed by her own experiences of sight loss that have taken her and her work on a journey as a tool for change.  Zoe also works as a consultant, auditor and creative equality trainer for the cultural sector; and is co-founder of The DisOrdinary Architecture Project whose mission is to "to promote activity that develops and captures models of new practice for the built environment, led by the creativity and experiences of disabled and Deaf artists."
Gabrielė Gervickaitė is a member of the Lithuanian Interdisciplinary Artists' Association and she is currently a doctoral candidate in Art at the Vilnius Academy of Arts. In addition to her own artistic practice, Gervickaitė works as curator and she works in socially-engaged arts education.  Gervickaitė has experience in working with people with disabilities and young people and implementing non-formal education methods. In her creative work, she studies the relations between bodies and the medical industry. She creates artworks using her body as archival material and studies the impact of the construction of normalcy, particularly in contemporary media, social and political situations.
Acknowledgements 
Rupert's activities are supported by the Lithuanian Council for Culture. This workshop is further supported by the project 'Who Cares?' co-funded by the Creative Europe Programme of the European Union.