Lars TCF Holdhus & Martin Kohout – DungeonTT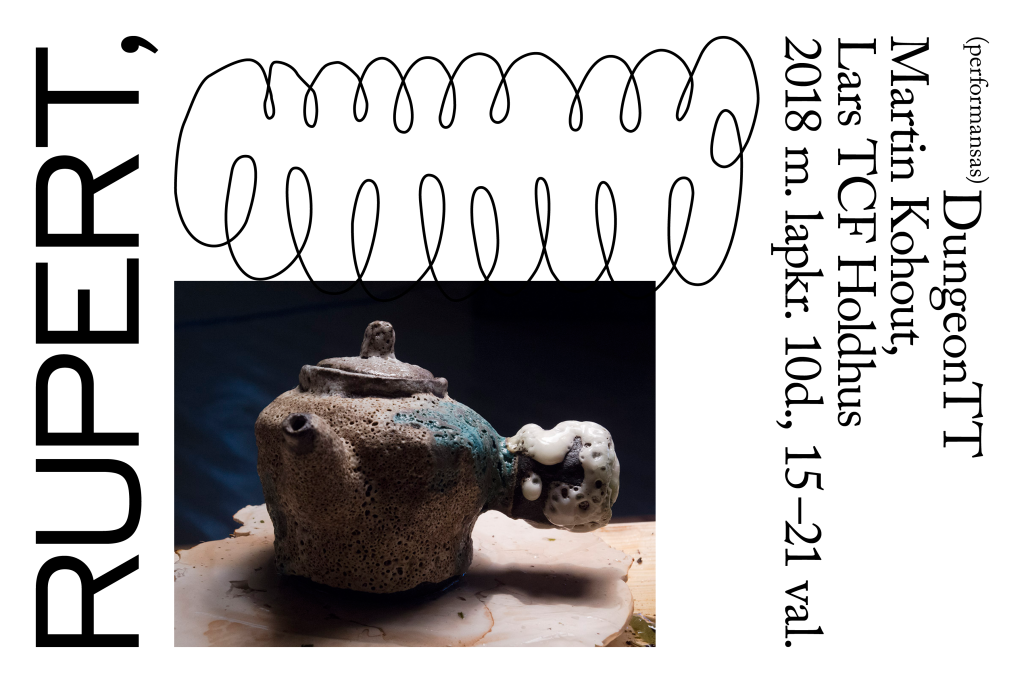 Rupert kindly invites you to DungeonTT, a modular performative installation by artists Lars TCF Holdhus (NO) and Martin Kohout (CZ/DE). The event will take place between 3pm and 9pm on Saturday, 10th of November, at Rupert gallery space (Vaidilutės str. 79). The event is free open to public, a variety of teas will be served.
DungeonTT is modular performative installation by Norwegian musician Lars Holdhus (releasing under TCF moniker) and Berlin-based Czech artist and publisher Martin Kohout (the director of TLTRPreß), created out of pottery, tea, and sound. DungeonTT is to be experienced as a platform for their take on Japanese, Chinese and Western tea ceremonies, offering something in between a conversation, a casual cup of tea and a different way of experiencing this 6000 year old drink.
Martin Kohout is a Berlin-based, Czech-born visual artist and publisher. He holds a MA from the Städelschule, Frankfurt, and a BA from the Film Academy FAMU, Prague. Kohout is represented by both Exile, Vienna, and Polansky Gallery, Prague. He mostly works in the medium of video, film, installation, and objects made of various materials from pottery to fabrics. He has presented in solo and groups shows in Berlin, London, Brussels, Paris, Prague, Warsaw, Tokyo, Beijing, New York, and more. In 2011 Kohout established TLTRPreß, a publishing house for selected authors and a space to present the breadth of his own research efforts in the form of edited collections such as Sleep Cures Sleepiness (2014) and Linear Manual (2012). He has also written a game book Puffy Logic Grip (2017). Kohout is the recipient of the Jindřich Chalupecký Award 2017, a prize in recognition and support of young Czech artists. Kohout is teaching at Prague's AAAD arts academy, co-running the Studio of Photography together with the artist Aleksandra Vajd.
Lars TCF Holdhus is a Norwegian born artist, musician and tea enthusiast. Shifting between art exhibitions and musical performance, TCF's work explores themes of code, cryptography, and musical composition through the use of visual, sonic, built, and written concepts. In his recent works, Holdhus has been addressing tendencies in machine learning, AI and human interaction. He is also a producer of electronic music and is releasing music under the moniker TCF.The ultra-modern compositions on his debut was released on the Berlin-based label YYAA. 

http://www.larsholdhus.com/
HOW TO REACH RUPERT
On 10 November, there will be a free shuttle bus operating between Vilnius centre and Rupert. The bus departs from the main entrance to Bernardinai garden (Maironio street) at 2:30 pm, and returns after the event at 9 pm. In the registration form, please mention if you're registering for the 2:30 ride to Rupert or for the 9 pm return.
Rupert can be also reached by bus no. 15, leaving from "Tverečiaus" bus stop at hourly intervals. The bus stops at "2-asis paplūdimys", right in front of Rupert. A full timetable can be found here.
The event is partly supported by Lithuanian Council for Culture.