-
Lecture and workshop
Markus Miessen: The Uninvited Outsider | Event Cancelled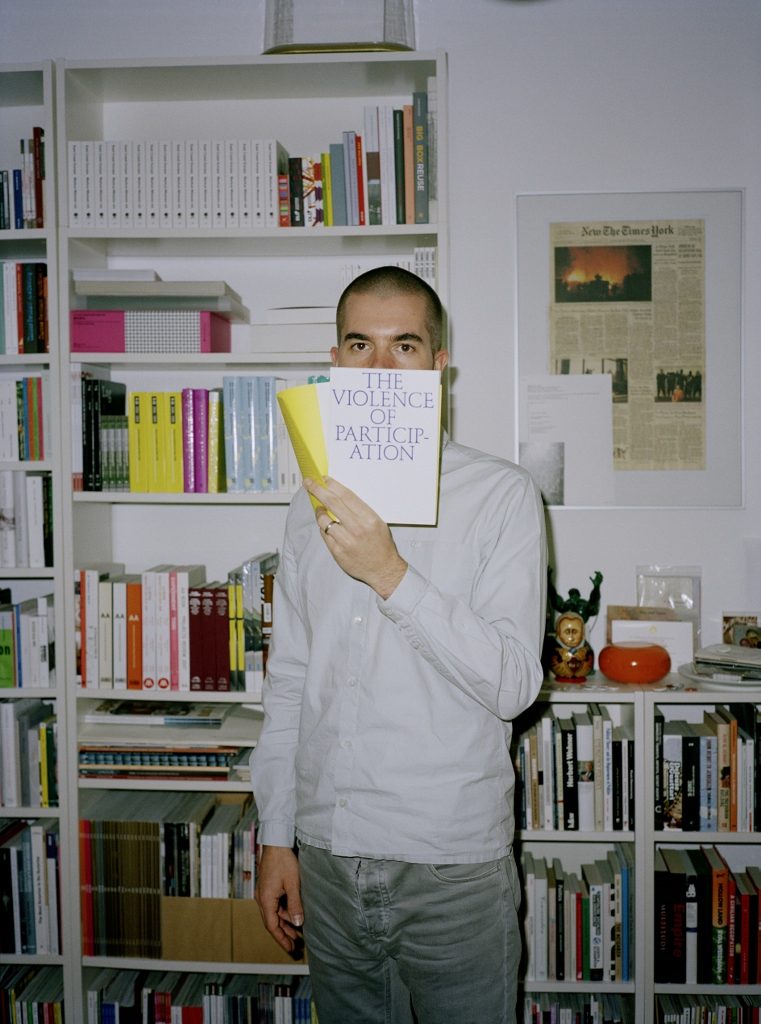 We regret to inform you that due to personal reasons Markus Miessen had to cancel his visit to Vilnius. The lecture and workshop will no longer take place on 9-10 December. Markus Miessen and the organisers of the visit apologize about any inconvenience.
–
On 9 – 10 December 2013 the acclaimed German-born architect, researcher, educator and writer Markus Miessen will be visiting Vilnius. During a public lecture and private workshop, Miessen will elaborate on the concept of  the"Uninvited Outsider".
Markus Miessen's original and unorthodox works are some of the most interesting phenomena not only in architectural, but also in a wider cultural context. Their exceptional feature is a synthesis of theory and practice which questions the Western dogmas of architectural and urban planning. During the past few decades the "progressive" tendency of involving various actors in architectural processes and spatial organization has lost its weight as a form of critical practice and instead become an empty depoliticized procedure. Markus Miessen invites us to rethink the architect's practice through the concept of "uninvited outsider". This way the practice could emerge not only as a narrow specialization, but also as an outsider's strong critical stance in an "alien" institutional, cultural and political field. In the time of consensus-creating practices ("Harmonistan") and "democracy in architecture", Markus Miessen invites us to rethink the meaning of personal responsibility, action and conflict in the field of space and politics.
Markus Miessen has lectured internationally in such institutions as the Architectural Association (AA, Great Britain), University of Colombia (USA) and Massachusetts Institute of  Technology (MIT, USA). He has worked as a consultant in the Slovenian consulate of New York during the time of Slovenia's presiding over European Commission, as well as in the European Kunsthalle, Serpentine Galleryand Swiss research institute W.I.R.E. In 2002 he founded Studio Miessen – a platform for spatial strategies and critical cultural analysis. In 2008 he initiated and still heads the AA Middle East Winter School in Dubai. Since 2011 he directs the program of Critical Spatial Practice at Städelschule in Frankfurt. Markus Miessen's authored and edited publications include: The Violence of Participation (2007), East Coast Europe (2008), The Nightmare of Participation (2010), What Is Critical Spatial Practice? (2012), The Space of Agonism (2012).
_
Program:
Public lecture – Monday, 9 December, 6.30 p. m at Vilnius Art Academy Design Innovation Centre, auditorium 112 (a.k.a Titanic, Maironio str. 3).
Creative lab (please register at www.archfondas.lt) – Tuesday, 10 December, 10 a.m. – 2 p.m. at Rupert (Meškeriotojų str. 33)
Both events are in English
Markus Miessen's visit is organized by Architecture Fund, Rupert and Goethe Institut Lithuania and supported by Ekspobalta.
Photo by Armin Linke