Online Presentation: Sick Time, Sleepy Time, Crip Time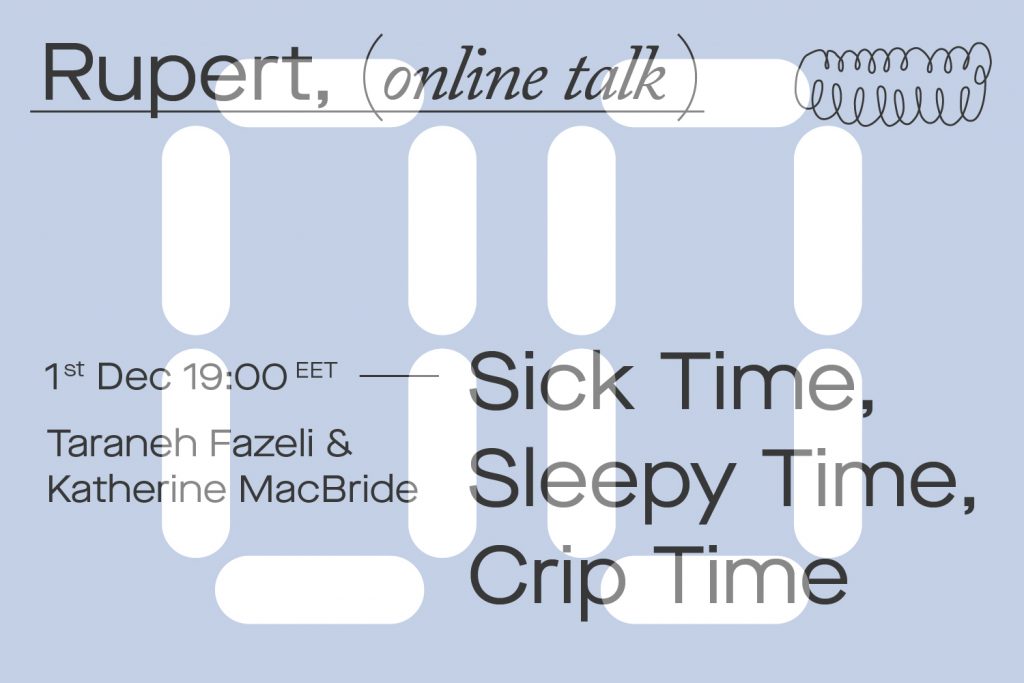 Rupert invites all to a presentation by curator Taraneh Fazeli, followed by conversation with artist Katherine MacBride and Q&A with the audience. The talk will take place on Zoom on 1 December 2020, 19 00 (EET) and is open by registration only. 
The talk and discussion will focus on the peripatetic exhibition, Sick Time, Sleepy Time, Crip Time: Against Capitalism's Temporal Bullying (please click on the link and see below for further information). This exhibition addresses the politics of health, disability and care. (Note: 'Crip' is a political reclaiming of the derogatory label 'cripple' by disability activists.) Based in an ethic of care emerging from disability justice that values interdependencies and dependencies, the exhibition and the artworks run counter to the over-valorization of independence in US- and Euro-centric society and examine how racialised global capitalism has produced debility in many populations while, at the same time, creating bureaucratic infrastructures that support very few people.
The exhibition and talk proposes that better incorporation into society of the states of debility, disability and rest, and particularly their associated temporalities, could resist forms of oppression and provide possibilities to rethink collectivity. 
Access information: The presentation and conversation will be held in English on Zoom, with speech-to-text captioning. Register here. An online Etherpad where the audience can add reactions, comments and questions for the Q&A will be shared with registered participants prior to the event. In addition, a full text of the presentation and image descriptions (written by multiple authors) will be available there for 24 hours either side of the event. Etherpad is compatible with screen readers and screen magnification. If you encounter any issues, please contact info@rupert.lt. Instructions for how to view and participate in the event, and optional advance reading, will be communicated via email after registration.
Subject to no technical difficulties, a recording of the event will be made available online on YouTube, together with our past talks. We emphasise that although the event is held in English, fluency in spoken or written production is not necessary for participation in the Q&A. Contributions supported by translation software are also very welcome.
BIOS
Taraneh Fazeli is an art curator and educator living between Brooklyn, NY and Detroit, MI, USA. Her mother is from New York and father is from Tehran. Her practice engages art as a site to interrogate the techniques of representation and dream more just ways of being together. After a decade at New York City-based arts organisations, such as e-flux, Artforum, Triple Canopy, and the New Museum of Contemporary Art, Fazeli has worked as an independent curator. Fazeli's recent peripatetic exhibition Sick Time, Sleepy Time, Crip Time: Against Capitalism's Temporal Bullying addresses the politics of health, care, and disability while I let them in. Conditional Hospitality and the Stranger. used hospitality as a lens to deconstruct how "white benevolence" operates.
Katherine MacBride is an artist. They work with performance, installation, writing, video, and event making, with and without institutions. Much of their practice focuses on relational entanglements, listening across and being attentive to difference, and working creatively towards an ethics of inseparability and interdependency. Collaboration and supportive practices are important to them: currently this often involves editing and writing; and until recently, doing admin, space-making, and queer collectivity with Tender Center. They have previously worked as an artist, care worker, and art therapist in a range of public and voluntary sector organisations. 
Rupert's activities are supported by the Lithuanian Council for Culture. This workshop is further supported by the project 'Who Cares?' co-funded by the Creative Europe Programme of the European Union.