Online talk: Brilliant Imperfection Amidst the Pandemic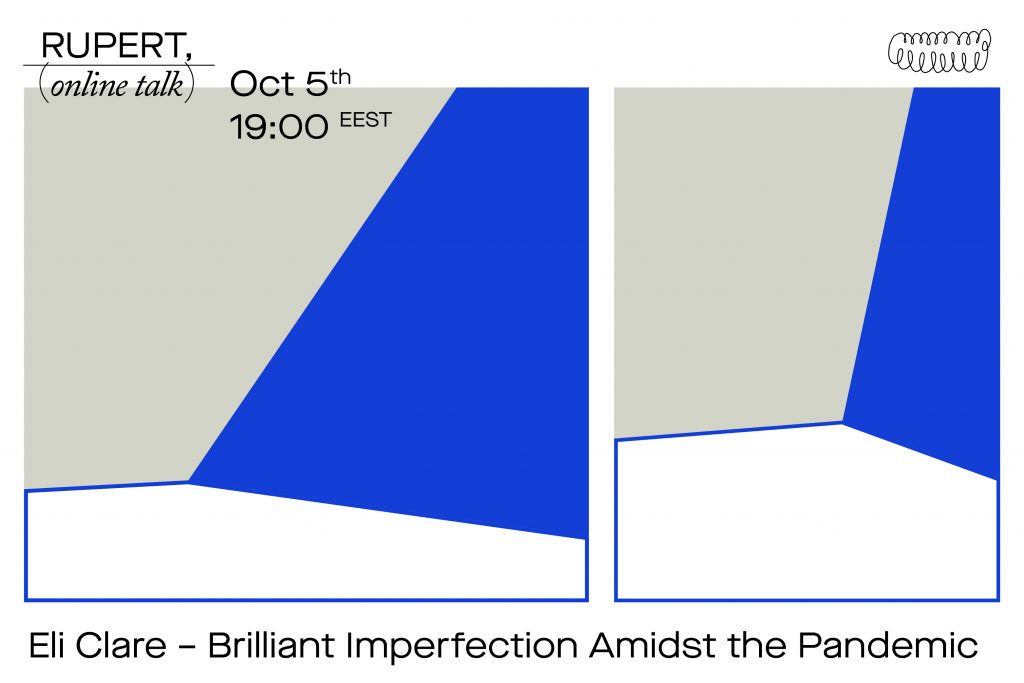 Rupert invites all to an online talk by Eli Clare as part of Rupert's 2020 exhibition, 'Other Rooms'. The talk will be streamed online on Rupert's YouTube channel, 5 October, 2020 at 19:00 (EEST).
Through poetry and storytelling, Eli Clare explores the brilliance of disabled and chronically ill people in a world that considers us disposable.
White, disabled, and genderqueer, Eli Clare lives in the U.S. in occupied Abenaki territory (also currently known as Vermont) where he writes and proudly claims a penchant for rabble-rousing. He has written two books of creative non-fiction, 'Brilliant Imperfection: Grappling with Cure' and 'Exile and Pride: Disability, Queerness, and Liberation', and a collection of poetry, 'The Marrow's Telling: Words in Motion', and has been published in many periodicals and anthologies. Eli speaks, teaches, and facilitates all over the U.S. and Canada at conferences, community events, and colleges about disability, queer and trans identities, and social justice. Among other pursuits, he has walked across the U.S. for peace, coordinated a rape prevention programme, and helped organize the first ever Queerness and Disability Conference.
Rupert's 2020 exhibition, 'Other Rooms' opens on 2 October and will run through to 31 October, 2020 at the Artists' Association Gallery, Vilnius.
Address: Vokiečių str. 2, Vilnius.
Monday-Friday 10:00 -18:00, Saturday 10:00-16:00, Sundays-closed.
Rupert's activities are supported by the Lithuanian Council for Culture.
The exhibition is further supported by Vilnius municipality, and is a part of the project 'Who Cares?' co-funded by the Creative Europe Programme of the European Union.
Partners: Artists' Association Gallery, Lithuanian Artists' Association, Pakrantė.