Online talk: Hope, Endurance, Time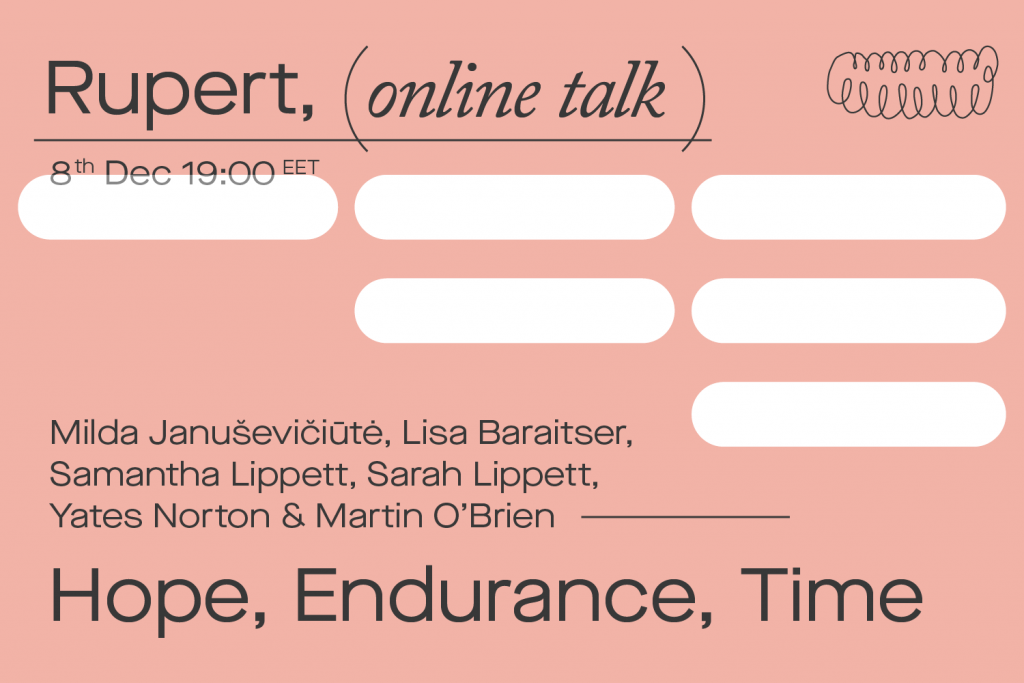 Rupert invites all to an evening of conversation hosted by curator-in-residence Samantha Lippett as part of Rupert's 2020 public programmes on care and interdependence. This event will draw upon the practices of five artists and researchers whose work intersect through themes of hope, endurance and time and often in connection to chronic illness. As the world moves in slower time, what can be learned from the experiences of those who have already endured rupture and lived through alternative experiences of time?
Online registration is mandatory and registration will be capped at 50 participants. Sign up here. Registered participants will receive reading and audio-visual material to explore in advance and a Zoom link.  
Accessibility information: the conversation will include speech-to-text captioning. It will be held in English and on Zoom. An online document will be shared with registered participants. This document will include images and image descriptions, as well as links and resources.  While the event is in English, we emphasise that fluency in written or spoken English is not necessary to participate in the discussion. If you have any accessibility requirements, please email us at info@rupert.lt and we will do our best to meet them. 
// Samantha will present with friend, sister and collaborator Sarah Lippett. As Sarah endures the daily uncertainty of relapse, they have remotely developed new writing on the radical potential of documenting the impact of treatment in real-time, as well as the importance of holding on to small hopes and the liberation of 'letting go'. In general, their collaborative work considers the role of creative practice in breaking down boundaries between patient and medic and often from the perspective of the unique kinship they have formed from living through illness together in adolescence and the candidness this offers to discuss these topics in a human light.
// Martin O'Brien will open a dialogue with psychoanalyst and researcher Lisa Baraitser, who work together as part of 'Waiting Times', a five-year interdisciplinary project led by Lisa (Birkbeck) and Laura Salisbury (University of Exeter). This project aims to reconsider the temporalities of healthcare through a critical analysis of waiting in the modern period. Martin lives with Cystic Fibrosis which he explores through a performance practice rooted in physical endurance, hardship and pain in order to challenge common representations of illness. With Lisa he will discuss the notion of Zombie Time, which he conceived as a way of exploring the temporal experience of living on when death was supposed to happen.
// Milda Januševičiūtė will enter a discussion with Yates Norton about her film practice that explores concepts of hope and care both cross-culturally and autobiographically through personal experiences of enduring treatment and living with chronic illness. They will pay reference to the films: hope it finds you well (2018), that discusses themes of hope, resilience, faith and the relationship between body and mind, as well as traditions of Western and ayurvedic healthcare; and helpless cure (2019), made in collaboration with Miša Skalskis, that explores the parallels between the legitimisation of healthcare systems and of creative work. Through a fictional world, the artists consider the boundaries between conventional and alternative medical practice.
Biographies
Milda Januševičiūtė is a young-generation artist and cultural sociologist living and working in Vilnius. Her area of interest covers interdisciplinary projects exploring topics of care, health care, hope, and resilience. The artist's autobiography, sociological observations, and everyday life experiences blend into her reflections on the differences across the cultural concepts of hope and care, conveyed through her films.
https://player.vimeo.com/video/411355336
https://6x6project.com/artwork/hope-it-finds-you-well-by-milda-januseviciute/
Martin O'Brien is an artist, thinker, and zombie. He works across performance, writing and video art in order to examine what it means to be born with a life shortening disease. His writing also reflects on the experience of illness and the ways in which other artists have addressed it. A book of writings about Martin, Survival of the Sickest: The Art of Martin O'Brien was published in 2018 by the Live Art Development Agency. His performance work has been shown throughout the UK, Europe, US, and Canada. His writing has been published in books and journals on performance, art, and the medical humanities. Martin is currently lecturer in Performance at Queen Mary University of London.
https://wellcomeopenresearch.org/articles/5-135
https://www.martinobrienart.com/zombie-time.html
Samantha Lippett is a London based curator and lecturer whose practice is rooted in alternative approaches to education and community building. She is interested in the radical potential of interdisciplinary collaboration and especially in relation to themes of health, housing and ethics of care. For the last four years she has coordinated a programme of residencies and outreach projects with emerging and international artists for South London Gallery on three local housing estates and lectures in Cultural & Contextual Studies at Middlesex University. Currently she is working with Kamilė Krasauskaitė and Palanga Street Radio (LT) to establish the cross-cultural research platform COMMON GROUND that brings together friends and colleagues working in community practice and often in the context of contemporary art.
https://rupert.lt/samantha-lippett/
Sarah Lippett is a UK based artist and writer. Her first graphic novel Stan and Nan won the Quentin Blake Prize for best narrative at the Royal College of Art and was published in 2016 by Jonathan Cape and became a Guardian bestseller and 2016 book of the year. Her most recent autobiographical work A Puff Of Smoke was published in 2019 by Jonathan Cape and supported by an Arts Council England Literary Grant, to high critical acclaim becoming a Guardian graphic novel of 2019, featured on BBC Radio 4's Woman's Hour and earning accolades from The Herald, The Observer and the Rare Disease medical community. Alongside her long form works, Lippett has also created socio-political reportage works that focus on the stories of diverse communities living in locations across the UK and overseas. She lectures and participates in talks and discussions on drawing, narrative and non-fiction writing both in the UK and abroad.
https://www.penguin.co.uk/books/111/1113654/a-puff-of-smoke/9781911214861.html
Lisa Baraitser is Professor of Psychosocial Theory in the Department of Psychosocial Studies at Birkbeck, University of London. She was awarded a collaborative award (with Laura Salisbury) from the Wellcome Trust for 'Waiting Times', a five-year cycle of research on temporality and care in health contexts (mental health treatment, the GP encounter, and end of life care). She is the author of an award-winning monograph, Maternal Encounters: The Ethics of Interruption (2009) and Enduring Time (2017), and the editor of A Feeling for Things, a collection of essays on the work of Jane Bennett (forthcoming). She is co-editor of the online, peer-reviewed journal Studies in the Maternal. She is co-convener of 'Mapping Maternal Subjectivities, Identities and Ethics' (MAMSIE), an international interdisciplinary research network on motherhood. Lisa is a psychoanalyst in practice in London.
.
http://www.bbk.ac.uk/psychosocial/our-staff/academic/lisa-baraitser
https://wellcomeopenresearch.org/articles/5-128
Yates Norton is curator of public programmes at Rupert. 
Rupert's activities are supported by the Lithuanian Council for Culture. This talk is part of the project 'Who Cares?' co-funded by the Creative Europe Programme of the European Union.