Open Call for 9th Rupert Alternative Education Programme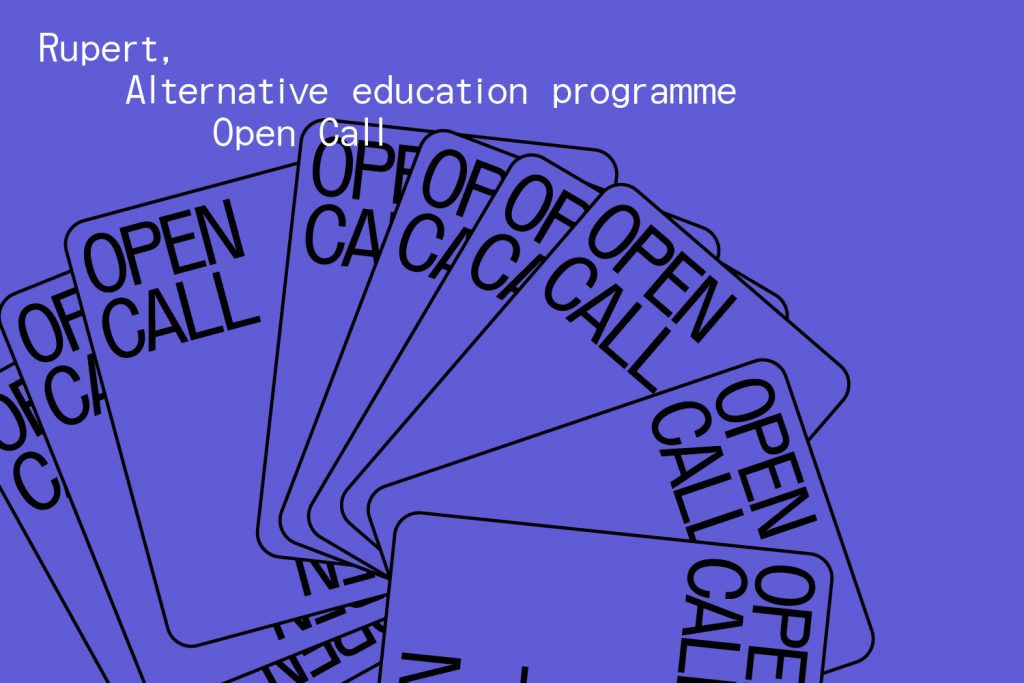 Rupert kindly invites you to apply for the 9th edition of the alternative education programme, which will take place between May and December 2021. The deadline for applications is Sunday, 18 April (midnight EET). 
This edition of the programme will develop a dialogue between magic, rituals and artistic practices while continuously exploring the creative potential of self-organisation and care. By acknowledging the complexities and anxieties of the current world, the programme will seek to foster affirming and long-lasting networks between participants, curators and the institution. The juxtaposition of critical inquiry and magical thinking will function as a malleable framework that will provide participants with tools to develop their practice and allow for thinking along more-than-human worlds.
MORE ABOUT THE PROGRAMME
Rupert's alternative education programme questions existing modes of education and forms new ways of sharing knowledge. It explores the interactions of different practices in pursuit of a more sustainable and resilient future. The programme maintains a close and nurturing relationship between theory and practice while recognising the importance of the ineffable, intuitive and numinous. Additionally, Rupert acknowledges the intricate position of art institutions in the contemporary world, constantly engaging in critical self-reflection. 
One of the programme's main aims is to help emerging artists, curators, writers, thinkers, researchers and critics to develop their practice within the framework of formal and informal exchanges between themselves, tutors and the public. While the programme should be the participants' priority, it is conceived in such a way that participants can make it compatible with their other artistic activities, studies or work.
9TH EDITION
This year's programme will be developed through a series of lectures, workshops and field trips over five months. The programme will be divided into two parts: May–August and September–December, with a one-month research break. The final event will take place in Vilnius and Oslo (Norway). Each tutor will offer a different methodological approach and provide curatorial support for the participants. The programme will be actively shaped by close interaction between participants and tutors. As part of the curriculum, the participants will be asked to propose tutors and workshops for the second part of the programme. Furthermore, participants will have access to  Rupert's network, joining our vibrant creative community, which includes residents, speakers and guests. 
The 9th edition of the alternative education programme is curated by Tautvydas Urbelis.
This year's lecturers and tutors will be Agency Agency (Roel van Herpt and Victoria Meniakina), Arts of Working Class, Diana Policarpo, Dylan Spencer-Davidson, Karolina Rybačiauskaitė, Laura Wilson, Marija Nemčenko, New Scenario (Paul Barsch and Tilman Hornig), Sophie Seita (more tutors will be announced soon). 
Partners: Žeimiai Manor / Aikas Žado Laboratory, Podium. 
HOW TO APPLY
Please send the completed application form (available here), your CV and portfolio (no more than 5 works) in one PDF to aep@rupert.lt by midnight EET, Sunday 18 April 2021. We will confirm receipt of applications by email. Applicants selected for in-person or online interviews will be notified separately. Final selections will be announced on April 30.
Each applicant is required to propose a project that they will develop during the programme. Projects' thematic relation to rituals and magic will be considered as an advantage during the selection process, albeit not a decisive one. The programme's priority is the development of individual practices and alternative ways of sharing knowledge. Each participant is expected to present their work during or/and at the end of the programme. Unrestricted by formats, these presentations will be developed throughout the programme.
ELIGIBILITY AND CRITERIA
Applicants must have a good command of English (no formal language qualifications required).
Applicants must commit to attending 80% of all programme activities. International applicants must be from the EU or have a visa that allows them to stay in Lithuania for the duration of the programme. Rupert cannot support visa applications. Secondary and university education as well as previous work experience are not required but taken into consideration. Applicants do not need to have previous experience in the field of contemporary art to apply.
Participants are expected to reside in Vilnius or be able to visit at least twice a month during the time of the programme. Rupert does not provide accommodations or scholarships but can issue a letter of support. 
Due to the ongoing pandemic and depending on regulations, part of the programme might happen online. 
Rupert's alternative education programme is free and open for all regardless of their background or current practice.
DATES AND COMMITMENT
May 10, 2021 – December 5, 2021 (attending at least 80% of the programme's activities is compulsory and activities can take up 20–40 hours/month).
APPLICATION DEADLINE
Sunday, April 18, 2021 (midnight EET).
Rupert's alternative education programme is free for participants. Rupert is funded by the Lithuanian Council for Culture and Vilnius Municipality. 
If you have any additional questions, do not hesitate to contact us at info@rupert.lt.