Participants Announced for Rupert's 7th Alternative Education Programme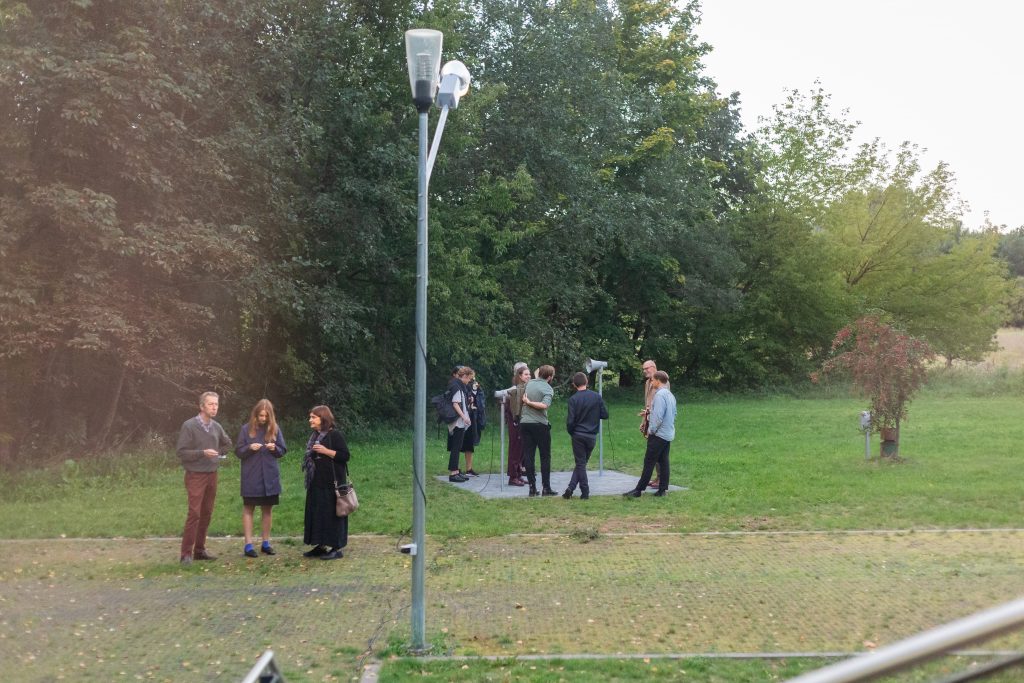 We are excited to announce the participants of the 7th edition of Rupert's Alternative Education Programme which will run between the 12th March and the 9th September 2019. They were selected by a jury consisting of Kotryna Markevičiūtė, Adomas Narkevičius and Yates Norton (Rupert Curatorial Team), Justė Jonutytė (Rupert Director), Darius Žakaitis (Rupert Board of Trustees), Lolita Jablonskienė (Rupert Board of Trustees) and Deividas Rafanavičius (Rupert Board of Trustees).
This year, we are exploring the role of artistic initiatives and institutions in a time of global political and ecological instability. This year the programme is aimed specifically at young curators and those working in creative and interdisciplinary fields, such as writers, art critics, theorists, journalists, art managers, founders of artistic initiatives and platforms, as well as artists and researchers from other fields. We are happy to invite Maarten Brijker (NL), Milda Dainovskytė and Laurynas Skeisgiela (LT), Viktorija Damerell (LT), Edvinas Grinkevičius (LT), Elžbieta Jašinskaitė (LT), Ieva Sriebaliūtė (LT), Dainius Vanagas (LT) to the programme, anticipating half a year of lectures, reading groups, trips and workshops that will be led by Kate Cooper, Povilas Dikavičius, Victoria Ivanova, Candace Goodrich, Ana Teixeira Pinto, Àngels Miralda Tena, Monika Kalinauskaitė, Maria Sarycheva and other local and international tutors. During the programme participants will also receive mentorship and develop their individual and/or group projects.
Maarten Brijker (b. 1993, NL) makes artworks dealing with dreams, anxiety and constructed identity. These themes are explored by the use of various mediums such as dance performances, installations, video-works, DJ performances, social media accounts, club nights and music releases. Maarten holds a MA in ArtScience obtained at the Royal Academy of Art, the Hague, and a BA in Economics from the University of Amsterdam. During the Alternative Education programme Maarten will research the mechanics behind his music label Devorm – a platform for collaboration that challenges the form of music releases. His research will be an active one and question how a label can be more than just a curator or distributor, but also a framework for creation and a producer of art.
Milda Dainovskytė (b. 1989, LT) and Laurynas Skeisgiela (b. 1994, LT) are a Vilnius based artist duo. Milda is also a curator. In working through her practice, Milda usually chooses spaces that are personally important to her, many of which are peripheral. For her research she uses local history, specific locations, scents, and rethinks narratives. Laurynas works in the field of video art, installations, photography and cinema. In his practice, he responds and shapes specific spaces and links their contexts to photography theories and the anxiety of the present. Currently, the duo works and complements each other in the curatorial field. They started this dialogue by setting up a studio and meeting room at the train station in the city of Lentvaris.  They are currently exploring the role of artistic initiatives in negotiating the precarity and changing identity of this particular place. During the Rupert Alternative Educational programme, the duo plans to further develop their project at Lentvaris Central Station.
Viktorija Damerell (b. 1992, LT) is an artist and a curator working mainly in fields of sculpture, sound and text. In 2017 she graduated with an MA in Contemporary Sculpture at the Vilnius Art Academy. She is currently living and working in Vilnius. In her art practice, Viktorija is interested in the observation of everyday life and the potential of turning the mundane into intense, slightly extraordinary experiences. Her work combines various cultural references and storytelling techniques enacted through objects, while focusing on subtle shifts in our perception. At Rupert. she is planning to continue working on her novel The Synchroniser, and to explore the possible links between this text and performance, visual and sound installations.
Edvinas Grinkevičius (b. 1988, LT) is a curator, cultural manager and cultural journalist, currently based in Kaunas. Grinkevičius has worked as a curator of Kaunas Artists' House residency programme from 2017. Since 2016 Grinkevičius has been one of the initiators and co-curators of WE ARE PROPAGANDA, the counter-culture queer movement, also an active member of the social centre 'Emma', a space of left political thought and alternative culture. The same year marked the beginning of performing terrorist drag DJ performances under the name of Querelle. The broad spectre of his practice consists of curatorial and artistic activities, all connected through an active interest in leftist and queer ideas and practices, which aim to provide artistic practices with a transformative potential especially within institutionalised structures. 'Confessions on a Dance Floor' is an alternative archive of non-heterosexual sex practices enacted within the framework of WE ARE PROPAGANDA, a counter-culture queer movement consciously rejecting the clear framework of an exhibition or a directed piece.  Grinkevičius is interested in creating a safe space for the queer community to share their experiences and stories, using non-heterosexual sex practices as a tool for activism and a weapon against the boredom of heteronormative society. This project is a suggestion for the LGBTQ community to reclaim its sexuality and use it as a tool to gather together, while also reclaiming it against the tendency of heteronormative society to use sexuality as a tool of fear-mongering. In a way, the project serves as a homage to the historical reclaiming of queerness as a whole.
Elžbieta Jašinskaitė (b. 1992, LT) has an MA in Philosophy at the KU Leuven University, Belgium and is currently based in Vilnius. Currently she is working in a private political analysis institute, conducting social research. During her philosophy studies, Elžbieta has been interested in the tradition of phenomenology, aesthetics, the problem of perception and culture philosophy. At the moment, she is focused on researching effects of political tools on different social groups, while observing their surrounding institutional culture. Elžbieta is looking for new ways to understand our socio-cultural reality and individual experiences within the current cultural landscape, considering the ways in which such experiences both constitute and are in conflict with such a landscape. The concept of the project she is developing during the programme stems from her experience in working with governmental organisations. The project, At your service, is an artistic research centering around the figures of governmental institutions employees. Short fiction texts will present a 'case study' of each employee emphasising the paradoxes between the institution which they represent and their own personality. The texts will look into how the individual affects institutional surroundings and how this setting influences the engaged individual. This relationship in the context of the project is understood as a tension between the objective, 'representative' face of the institution and the subjective experience, although it is not limited to animosity between opposites.
Ieva Sriebaliūtė (b. 1993, LT) is a political scientist, holding a BA in Political Science at Vilnius University Institute of International Relations and Political Science and an MA in European Politics at Lund University, Sweden. Her field of research includes the study of memory and identity, the relation between politics and art. As part of artist collective Money Haven, Ieva has been awarded the jury's special mention in the Lithuanian Young Artist 'JCDecaux Prize' in 2018 at the Contemporary Art Centre, Vilnius. During the Programme, she will research a case study of civil cooperation, which occurred during the Nagorno-Karabakh conflict during which the ethnic minorities persecuted by opposite warring sides swapped their villages, houses and lives. In the course of the artistic research, Ieva will explore the theme of frozen wars and conflicts, looking at post-conflict everyday life and human longing.
Dainius Vanagas (b. 1989, LT) is a writer and art critic currently living and working in Vilnius. He holds a BA in Cultural History and Anthropology and an MA in Semiotics at Vilnius University. He publishes experimental literature critique and short fiction texts in important Lithuanian cultural weekly and monthly newspapers. In 2018 he began writing a dystopian novel titled Progress. During the programme, Dainius plans to experiment with various forms of critical writing within a group as well as to finish his debut novel. Progress focuses on the current affairs of the near future world – streams of immigrants, the emergence of a class of inutile, functionless people, a rapid increase of the world's population and climate change which renders a part of the planet into uninhabitable desert wastelands. Humanism takes on the shape of functionalism. Meanwhile, the transformation of what a city is manifests itself democratically – there is no Big Brother or any other totalitarian forms of control.  Instead, it is the citizens who decide for themselves who has the right to existence and consumption in a world of goods.
Rupert's Alternative Education programme is FREE for participants. Rupert is partly funded by the Lithuanian Council for Culture. Rupert's Alternative Education programme is supported by Vilnius Municipality, guests of Rupert's charity dinner and other sponsors.
Image: Opening of the exhibition The insider outside, 6th edition of Rupert's Alternative Education programme.  Exhibition view. Photo: Andrej Vasilenko.