Real and imaginary flights – a video lecture by Marija Nemčenko and Prof. Barbara Helm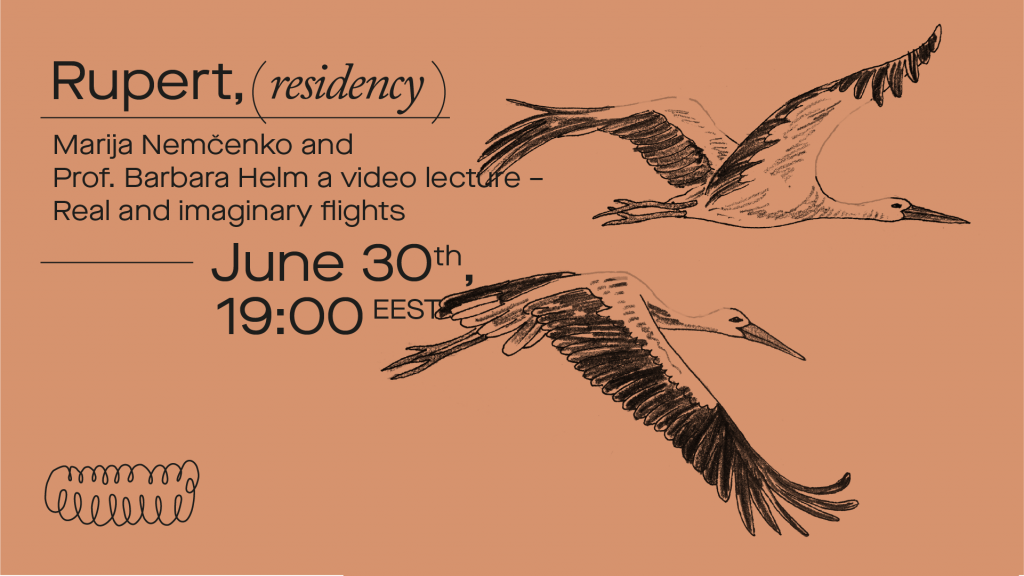 Rupert invites to a video lecture by artist, current resident at Rupert Marija Nemčenko and Prof. Barbara Helm. The talk will be live streamed on the Rupert's Facebook page on 30th of June, 19 00 (EEST). In this performative video lecture Marija will be in conversation with Prof. Barbara Helm to discuss ideas surrounding her on-going project LAK, where Marija traces migratory routes of the white storks as well as their role in cultural, political and environmental contexts across the globe.
With the symbol of a white stork being widely used from nature NGOs' logos to tattoos symbolising the flight of freedom, it is becoming further and further removed from a living bird, whose living conditions and movement paths are intricately woven with political, economic and therefore environmental circumstances of our planet. During the lecture, the two women will discuss how fictionalising bird migration affects the realities that they face. 
The talk will last about 45-60 minutes with 20 minutes to address questions raised during the talk. The conversation will be held in English. 
Barbara Helm is professor for Biological Rhythms of Natural Organisms, Groningen Institute for Evolutionary Life Sciences (GELIFES), University of Groningen. She is also a visiting professor at Institute of Biodiversity, Animal Health and Comparative Medicine (IBAHCM), University of Glasgow, UK. From her childhood Barbara has been fascinated by birds, and in particular their migrations. During her studies in Germany and the USA, she picked up similar fascination with biological rhythms, i.e., the ways organisms from unicells to humans have embodied clocks. Her current research has a focus on migration and time-keeping, with heavy focus on birds, which Barbara studies in the wild and captivity. The expert timekeeping of migratory birds, which works over daunting spatial and temporal scales, makes them particularly vulnerable to global change, and Prof. Helm worries how birds can respond to rapidly altered environmental conditions. 
Marija Nemčenko (www.marijanemcenko.com) is a Lithuanian artist, writer and creative learning facilitator working between Kaunas, Lithuania and Glasgow, Scotland. Marija received her MFA from Glasgow School of Art in 2016 and Ba(Hons) in Sculpture from Camberwell College of Arts in 2013. Recent activities include: In the eyes of LISA solo exhibition and accompanying events with Civic Room gallery, Glasgow (2019) www.intheeyesoflisa.org ; BRUT Boredom. High-rises, emptiness and play. Self published book http://www.bruteurope2018.eu/ and E-flux residency at Al Qattan Foundation, Ramallah (2019).
Rupert's programmes are supported by the Lithuanian Culture Council