Rupert's 10th anniversary! | Wheel Of Fortune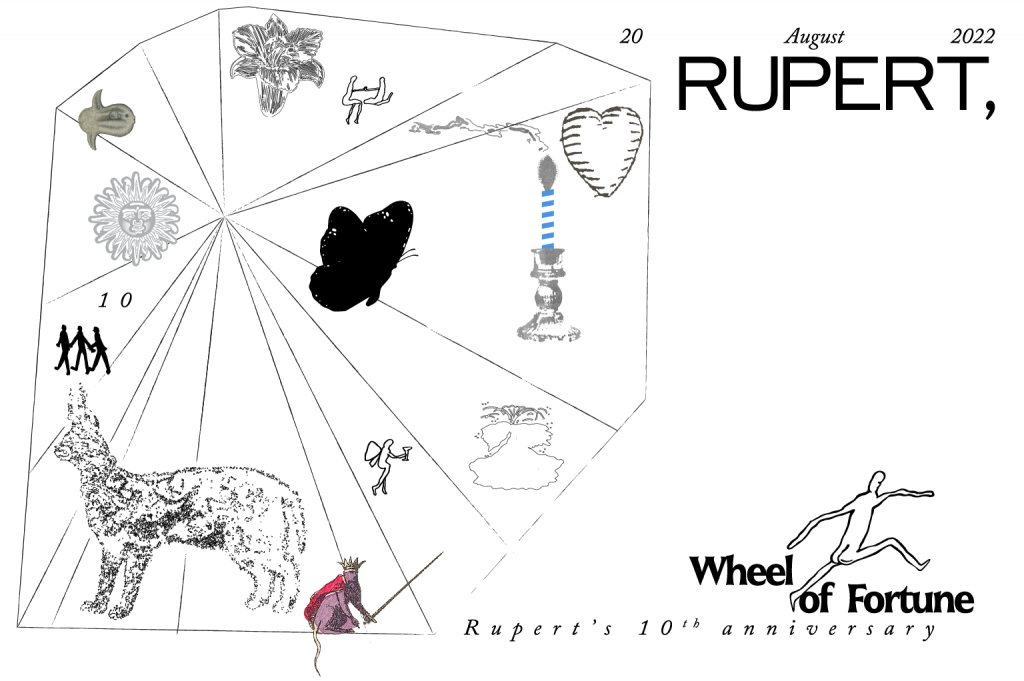 Date: August 20, 2022; 16:00–00:00
Location: Vaidilutes st. 79, Vilnius, Lithuania
Thinking about Rupert's past and how we might write about it, we imagined a Wheel of Fortune that keeps landing on random moments from our life, snippets of important periods in our history and encounters in both the past and future. The Wheel of Fortune, a rotating range of possibilities, was originally conceived as a kind of conceptual algorithmic apparatus, a sequencer, a tool for simultaneously writing and mixing up history.
It would be curious to see how such a device might look physically or virtually (perhaps rotating like the Rupert logo?) but the more we thought about Rupert's birthday, the more the Wheel of Fortune seemed to echo Rupert's theme for the past two years: Magic and Rituals. On tarot cards, used for games and later fortune telling, the Wheel of Fortune appeared in the 13th century as a medieval symbol representing the four seasons of life, guarded by the Goddess of Destiny. The Middle Ages, especially the Dark Ages, is one of the most controversial historical concepts, while tarot cards could be considered one of the earliest forms of psychoanalysis. As we kept oscillating between ideas and history, the Wheel of Fortune brought back many memories of people, some of whom we have not seen since Rupert's 'middle ages' and while we certainly could not fit everyone we have missed in a single birthday programme (we even began considering an annual Rupert Festival), we are delighted to invite everyone to join us for a birthday gathering and spin the Wheel of Fortune in their own minds, eyes and ears together.
20 AUGUST FROM 16:00, we will travel in non-linear time. Depending on when you arrive, you will see an installation, performance, painting, or exhibition, or perhaps might bump into a colleague whom you have not seen for ages and go on to miss the entire thing. No worries!
You will see Ieva Rojūtė's scenography, specially designed for this event and Mako Ishizuka's naming altar. In studio 4, where residents usually live and work, you will have a chance to visit a one-day exhibition: here, you will see paintings by Monika Radžiūnaitė, a sculpture work by Delphine Lejeune, a video installation by Simona Žemaitytė and drawings by Philip Coyne. Different sound and musical performances will take place in the gallery, presented by Andrius Arutiunian, Eye Gymnastics, Gediminas Žygus, and Holly Childs together with Antanas Lučiūnas and Essi Kausalainen's performance, which will be performed by opera singers Renata Dubinskaitė and Nerijus Masevičius in the meadow under the tree. Dodomundo – early in the day will weave a musical narrative outdoors, while towards the end of the evening, she will invite everybody for a high-energy dance. In the forest near the Rupert Center, Tomas Daukša's fountains will gurgle all day and night, and the wooden stove-rockets, designed by Vladas Suncovas and staged around the building, will be waiting to be lit at the climax of the event.
PROGRAMME
16:00 Dodomundo sounds start spinning  the Wheel of Fortune (outside)
17:00 Andrius Arutiunian sound performance KAYĪB (gallery)
18:00 Essi Kausalainen performance COSMOS GARDEN with Renata Dubinskaitė and Nerijus Masevičius (under the tree)
20:00 Eye Gymnastics performance GOLDEN HOUR (gallery)
21:30 Gediminas Žygus and Holly Childs performance GNARLED ROOTS OF A CREATION THEORY (gallery)
22:30 Dodomundo DJ set
***
Event curator: Monika Lipšic
Event coordinators: Rugilė Miliukaitė and Medeina Usinavičiūtė
Set designer: Ieva Rojūtė
Lighting artist: Eugenijus Sabaliauskas
Sound engineers: Ignas Juzokas, Antanas Dombrovskij
Design: Jonė Miškinytė
Communication: Gabrielė Marija Vasiliauskaitė
Translator: Paulius Balčytis
Copy editors: Dangė Vitkienė, Dovydas Laurinaitis, Isabel Kuh
Technical assistants: Bernardas Maršalka, Manvydas Vilys
The event is sponsored by Lithuanian Council for Culture, Vilnius City Municipality, Nordic Culture Point  and Tech Zity 
ACKNOWLEDGEMENTS
Milda Batakytė, Anna Chostegian, Laura Fernández Antolín for helping to create Rupert bags, Certo (Artūras Čertovas) for music in between performances, Antiqbaldai.lt for furniture in Eye Gymnastics performance.
The Rupert team: Julija Reklaitė, Tautvydas Urbelis
Those who have contributed: Aurimė Aleksandravičiūtė, Ignė Aleksandravičiūtė, Audrius Ambrasas, laura fernández antolín, Rūta Bilkštytė, Inesa Brašiškė, Lukas Brašiškis, Goda Budvytytė, Liudvikas Buklys, Romuald Demidenko, Antanas Dombrovskij, Krist Gruijthuijsen, Petras Išora-Lozuraitis and Ona Lozuraitytė-Išorė, Lolita Jablonskienė, Virginija Januškevičiūtė, Vitalija Jasaitė, Justė Jonutytė, Tadas Karpavičius, Nerijus Keblys, Miglė Kolinytė, Kęstutis Kuizinas, Daiva Lialytė, Raimundas Malašauskas, Kotryna Markevičiūtė, Adomas Narkevičius, Deimantas Narkevičius, Yates Norton, Deividas Rafanavičius, Mantas Rimkus, Kristupas Sabolius, Augustas Serapinas, Anastasia Sosunova, Mårten Spångberg, Maya Tounta, Julijonas Urbonas, Kazys Varnelis, Darius Žakaitis, Jonas Žakaitis