Rupert online talk: Class Relations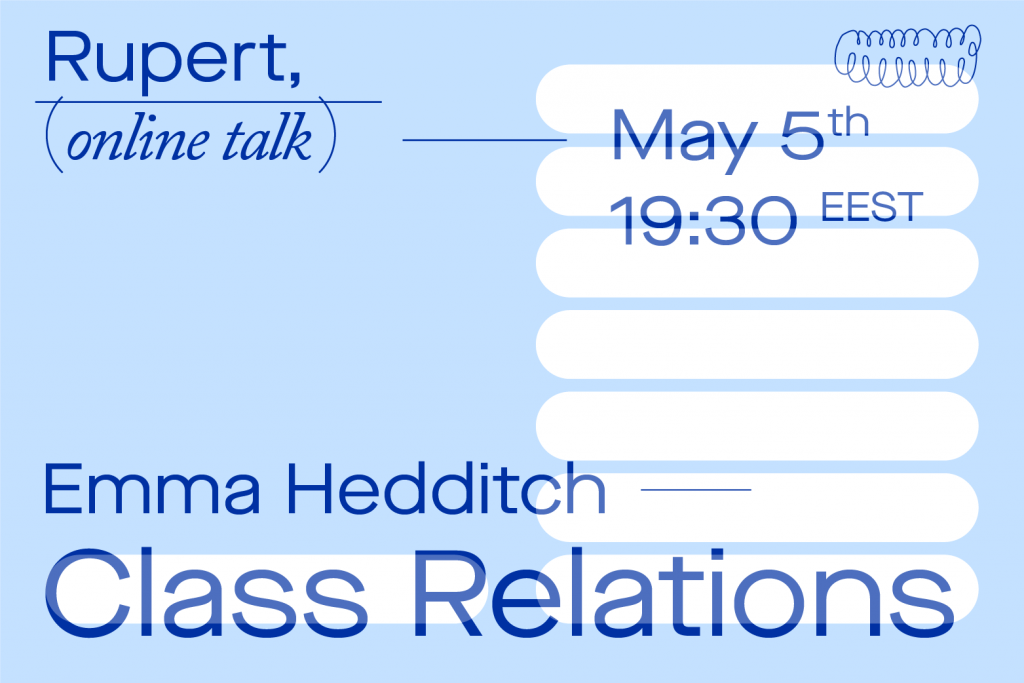 Rupert is pleased to announce an online talk given by artist Emma Hedditch as part of Rupert's 2020 public programmes on care and interdependence. The talk will be streamed online on the Rupert Facebook page, May 5th, 19 30 (EEST).
In this talk, Hedditch will discuss the legacies of rotating savings and credit associations (ROSCAs) and cooperatives as a radical form of organisation around wealth distribution and self-determination. Hedditch has been involved in an organisation called Coop Fund for the past three years, in which the members try to uphold these legacies. For working-class people, these forms of organising are a method by which to pool resources alongside the oppressive, competitive and violent conditions of capitalism that we are exposed to and part of. Artists, alongside other workers, can involve themselves in these forms of organising, as part of their practice.
The talk will be live streamed on the Rupert Facebook page. It will last about 45-60 minutes with 20 minutes to address questions raised during the talk.
Emma Hedditch is an artist and educator living in New York. Their work focuses on daily practice, materiality, and distribution of knowledge as political action. They have been a member of the Cinenova Working Group (1999 – present) The Copenhagen Free University (2001 – 2008), No Total, a site for performance (2012 – 2017), and Coop Fund (2018 – present). Their exhibition projects include +49 30 243459-53, KW Institute for Contemporary Art (2019), Finesse, Wallach Art Gallery, (2017), and Claim a hand in the field that makes this form foam, Outpost, (2016). Their video work has screened at the Oberhausen Film Festival, The Elizabeth Foundation, Goethe Institute, MACBA, Galería Macchina, Artists Space, and Haus der Kunst. Hedditch teaches video production and post-production at The College of Staten Island and Cooper Union.
Rupert's programmes are supported by the Lithuanian Council for Culture.