Rupert Reading (Listening) Session #16 Judith Hamann: Some Notes on Anecdotal Music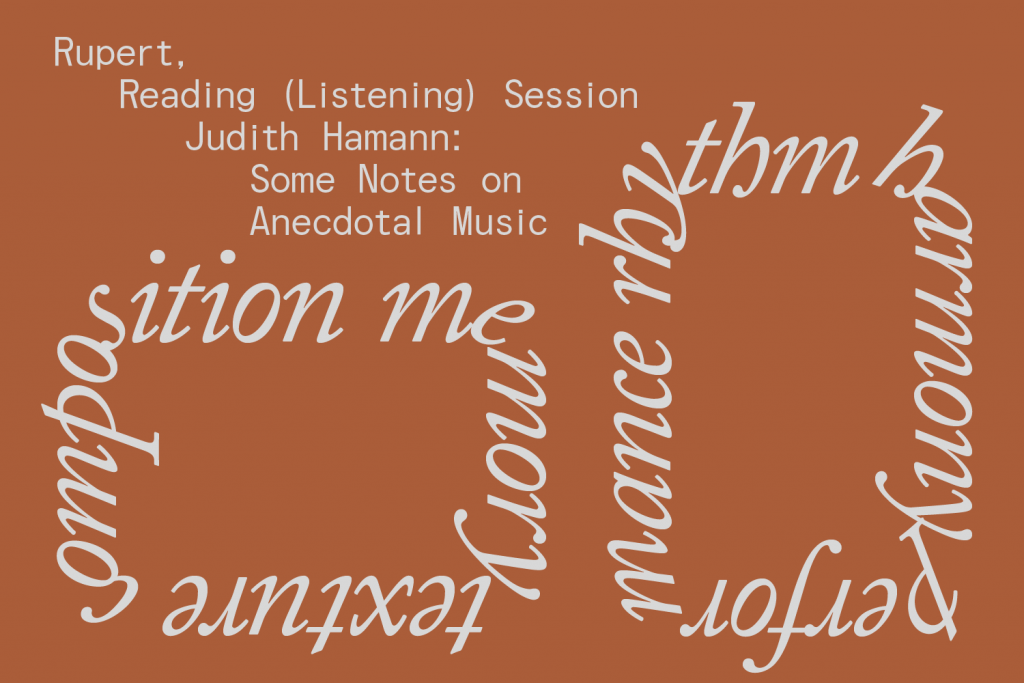 Rupert continues its monthly Reading (Listening) Sessions! Every month, a member of Rupert's team or an invited guest selects material on a particular subject and leads a presentation and group discussion. This time the lead is Rupert's former resident Judith Hamann.
Registration until 7 October. 8 October all registered participants will receive reading and listening materials. 
HOW DOES IT WORK:
– Registered participants receive a text and audio track by Judith Hamann after their registration;
– We listen and read in different spaces, places, alone or with others. The materials are meant to share knowledge, to guide and be guided.

ABOUT THE SESSION
Rupert's former resident Judith Hamann (August 2021) presents a reading/listening session of collected compositions and notes that relate to the notion of sound recording as a potential compositional surface embedded in the everyday, domestic, quotidian and amatuer. Departing from French composer Luc Ferrari's concept 'anecdotal music'—that became somewhat of a footnote in the history of sound and canon—this reading/listening session considers this practice as a lens from which to view recording. By employing this approach, recording can be considered as a performative biography, fiction, predilection of settler-colonial listening positionality and the intimate potentiality of recordist/recording.