Rupert Reading Session #11 Hydrocapsules.love: Cypher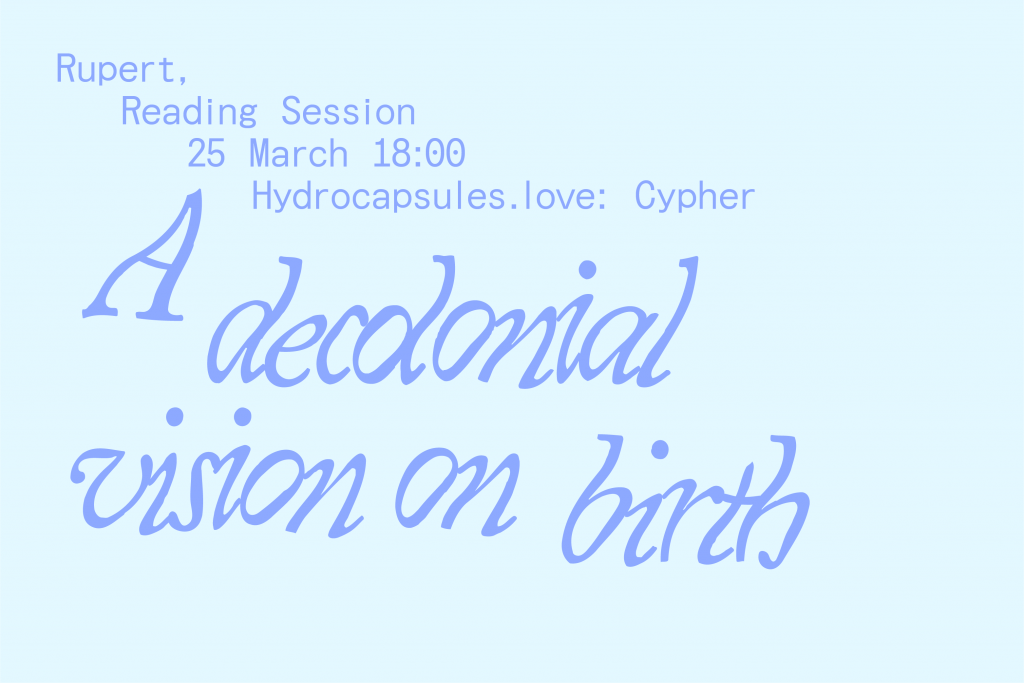 Rupert continues its monthly reading sessions! Every month, a member of Rupert's team or an invited guest selects material to discuss. The Reading Sessions are open to anyone by registration. The 11th Rupert's online reading session 'Hydrocapsules.love: Cypher' with Dina El Kaisy Friemuth will take place March 25th, 18:00 EET.
Registration link: bit.ly/RupertReadingSessions
Dina El Kaisy Friemuth, both member of FCNN and D.N.A will lead a 1h reading session. 
The reading takes as its starting point their latest work: hydocapsules.love and Dina will read a work of their archive. The text will be revealed the day of the reading. 
D.N.A. brings FCNN's (Feminist Collective wiht no name) members Anita Beikpour and Dina El Kaisy Friemuth with the artist and music producer Neda Sanai. Together they have started a new project Hydrocapsules.love which proposes a digital and physical space. This project functions as an ecofeminist organism of different collaborations and conversations about an ecological time space in crisis. Resisting imperatives of rejection, tokenisation and encroachment, the project organises, takes ownership, and creates communal agency. In this case, the collective is a feminist strategy that cancels the singular artist model as a producer of finished art commodities. Hydrocapsules.love has been created in collaboration with the 11th Berlin Biennale 2020 curated by Maria Berrios, Renata Cervetto, Lisette Lagnado, and Agustín Pérez Rubio. The project is in continuous flow and is ever-changing. 
https://www.instagram.com/nedalot/?hl=de
https://www.instagram.com/fcnn__/?hl=de
Text by Amelia Bande edited by D.N.A