Rupert residents announced for December-July 2021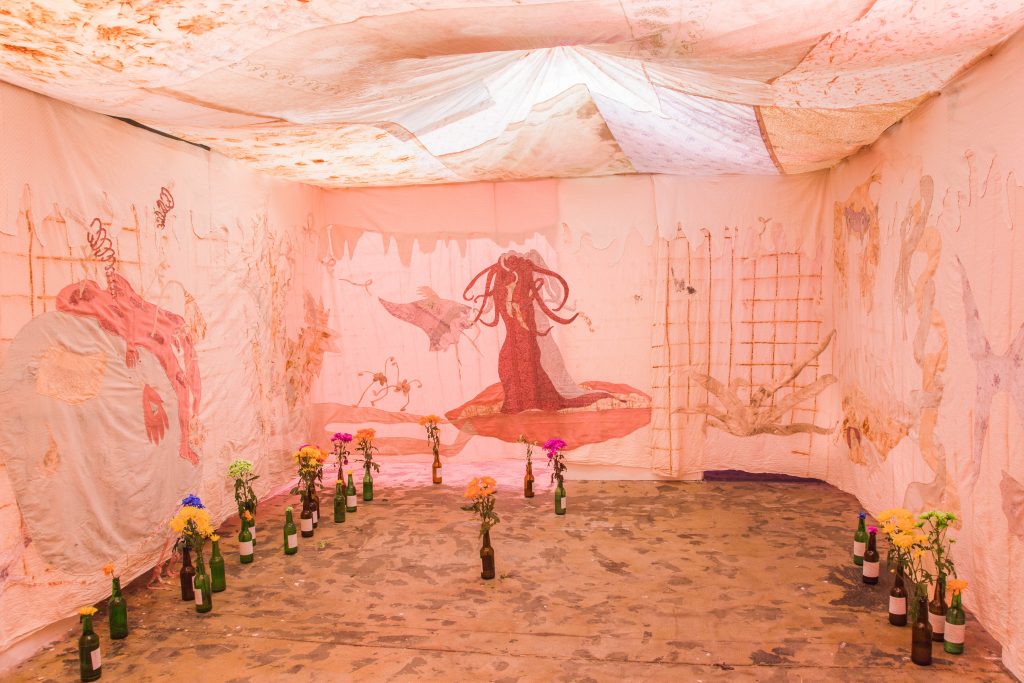 We are pleased to announce the selection of the following group of artists, curators and researchers who will take part in the 2021 Rupert residency programme, which will run from January to July 2021 (in alphabetical order):
Alice Bucknell (UK/USA), Anna Reutinger (USA/Germany), Ariana Dongus (Germany), Daniella Sanader (Canada), Inside Job (duo) (Poland), Ittah Yoda (duo) (Germany/France/Japan), Judith Hamann (Australia/Germany), Julie Favreau (Canada/Germany), Katja Aufleger (Germany), Lily Tonge (UK), Tom K Kemp (UK/the Netherlands), Tyler Matthew Oyer (USA).
At Rupert, these artists, writers, curators, educators and thinkers will develop their artistic projects and research and present them for the local audience in the format of artist presentations, open studios, educational and creative workshops, screenings, publications, as well as walks and reading sessions. Their work will offer perspectives on Rupert's 2021 focus on ritual, magic and fantasy and what these concepts mean for today's artistic practice and for what today we take to be natural and real. Some of the selected residents will work closely with Rupert's Alternative education programme, also take part in research, exchange and production trips to the Lithuanian regions. 
Alice Bucknell (UK/USA) is an artist and writer based in London. She studied Anthropology at the University of Chicago and Critical Practice at the Royal College of Art. She participates in international exhibitions, symposiums, and residencies, most recently at White Cube, Annka Kultys Gallery, the Canadian Center for Architecture, Serpentine Galleries, and the London Design Museum. Her writing appears in publications like Flash Art, frieze, Mousse, PIN-UP, and the Architectural Review. She is a staff writer at Elephant Magazine and the Harvard Design Magazine and a member of the artist-run interdisciplinary collective Headquarters International. At Rupert, she will continue to develop an ongoing research project "The New Mystics", which explores, through an intimate series of experimental short-form writing, a new vanguard of artists whose expanded practices combine mysticism and magical thinking with emergent technologies like artificial intelligence and machine learning.
Anna Reutinger (USA/Germany) is a sculpture and installation artist based between Brussels and Berlin. Reutinger's work proposes a return to craft in defiance of capitalist production cycles and as seed for social, material and environmental empathy. Oscillating between incidental and intentional gestures, she uses found material and participatory input to expose the transitory nature of things and beings, and their interconnection. At Rupert, she will conduct research into apotropaic symbology in the ornamentation of medieval Lithuanian vernacular objects and contemporary "evils" and their depiction. With textual and sculptural output, she will investigate how traditional craft can carry symbology to transmit mythopoetic ideas of the past, and how this method is and can be implemented today to promote collective visions of the present and future.
Ariana Dongus (Germany) is a media scholar and researcher based in Berlin and Karlsruhe. After graduating from European Media Science at the University of Potsdam, she worked as a freelance journalist and filmmaker and studied directing with a focus on documentary forms at the self-organised film school filmArche in Berlin. In exploring new forms of labour in relation to machine "intelligence", she contributes to a critique of today's digital economies. Since 2018 she is a PhD candidate at the University of Arts and Design at Karlsruhe where she teaches in the media theory department. She also coordinates KIM, Artificial Intelligence and Media Philosophy, a research group for critical studies in artificial intelligence.
Daniella Sanader (Canada) is a writer and reader who lives in Toronto, Canada. In her work, she explores oblique and "incorrect" ways of embodying one's research: through speculation, meandering, overidentification, misunderstanding, reading too closely, and admitting to what you don't know. Her writing about contemporary art has appeared in Canadian Art, Artforum, C Magazine, BlackFlash Magazine, Border Crossings Magazine, Peripheral Review, esse magazine, and others. Her texts have also been published by a number of galleries and artist-run spaces across Canada. She holds an MA in Art History and Gender Studies from McGill University, and she has curated projects for Vtape, Oakville Galleries, Open Studio, LOMAA, and Gallery TPW. During her time at Rupert, she will work on a long form research and writing project about citation, indigestion, and the history of "eating your words."  
Ula Lucińska and Michał Knychaus (Poland) are visual artists based in Poznań, Poland, working together as the Inside Job duo. Their joint practice is based on the use of different mediums and materials, which often leads to the creation of specific, multi-layered environments. They focus on the processes of how identities are constructed, including the identities of places, within the context of dynamic changes such as the climate crisis, technological acceleration, political shifts and growing anxiety about the unknown future. Many of their projects refer to xeno futuristic and post-catastrophic scenarios. Combining experiences from various fields, they develop their practice also from research-based positions. At Rupert, Inside Job will develop their new series of works inspired by the phenomenon of transforming matter. They tend to focus on recycled objects that could depict the imagined abundance of the afterlife. Using the possibility of reprocessing certain materials, they will implement fantastic aspects into the structure of the primary utilitarian function. For them, materials that seem particularly interesting are: recycled leather and burnt wood.
Ittah Yoda (Germany/France/Japan) is a duo formed by Kai Yoda and Virgile Ittah, based between Berlin, Paris and Tokyo. The artists come from diverse backgrounds, and they have developed their artistic identity through digitally enabled cross-cultural creative collaborations. Focused on a strong interest in the unconscious, insecurity, and anxiety, the therapeutic relation between Ittah and Yoda leads to a potential new understanding of the self through re-enactment of trauma and repetitive behaviour patterns. They raise questions such as: is it possible to fuse multiple unconsciousness in order to create new collective experiences and forms, regardless of their origins? During their residency, they will collaborate with a writer for a new text piece related to the theme of rituals, magic, and fantasy, as well as undertake "Chronos", a research and practice project. Exploring the performative dimension of their VR and sculpture installation through workshops, contemplating nature, and collaborations, they will attempt to create a new reality, bridging the virtual and physical realities, forming new landscapes and the world to come.
Judith Hamann (Australia/Germany) is an artist working primarily in music and sound, and one of 'Australia's foremost contemporary-music cellists' (RealTime Arts). Her current work focuses on an examination of 'shaking' in her solo performance practice, the creation of new works for cello and humming, and 'Materialities of Realisation' discourse project (with Charles Curtis). Hamann has worked with artists and ensembles including Dennis Cooper, Joshua Bonnetta, Sarah Hennies, Áine O'Dwyer, Yvette Janine Jackson, Alvin Lucier, and Eliane Radigue. She has performed widely at festivals including Unsound (NYC), Sonic Acts (Amsterdam), and AURAL (Mexico City)She has presented installation work in Melbourne, San Diego, the Noosa Hinterlands, and at the Venice Biennale of Architecture. Judith has performed or composed music released on labels including Saltern, Blank Forms, Black Truffle, Another Timbre, Takuroku and Marginal Frequency and holds a Doctor of Musical Arts from the University of California, San Diego. Her residency project seeks to continue to develop a body of work focused on collapse: work which takes place through palimpsests, collisions, fictions, and cumulative processes. At Rupert, Judith will interrogate this conception of collapse further through two strands of interconnected research: scholarly research and written work into prior theorisation of the term across critical discourse, and practice based work using the concept of 'recording' applied across sound and object based media as a means of creating new work driven by this reframing of collapse. 
Julie Favreau (Canada/Germany) is a Canadian artist living in Berlin and Montreal who explores the erotic texture of the world, the way animate and inanimate things touch and affect one another. Favreau's current projects look at how spiritual and sexual power have a role to play as vital forces in the imminent encounter with the reality of the augmented human. Her short films are choreography based stories meant to induce a state of heightened sensory awareness in the viewer. They are invitations for a return to intuition, tactility and an embodied form of knowledge. In "This Thing" (2019), she staged a woman engaged in a deep negotiation with an object of an indefinable nature. A thing, coming from the macro landscape of her inner body, or maybe, coming from the forest surrounding her. The wood clearance, acting as a symbol of a place in between the civilization and the natural world. At Rupert, she will research the surrounding forest and work on a new short film of this series.
Katja Aufleger (Germany) is an artist, who completed her master's degree at the University of Fine Arts in Hamburg in 2013 and lives and works in Berlin. In her creative practice she attempts to open up new spaces of thought with her surprising combinations of form and content. Similar to the legend of the Trojan horse, the North German seduces at first glance with her art, both sculptural and cinematic. With her seductive aesthetics, she often surprises with an unexpected, profound twist. The potential destruction and danger inherent in the works remains pure theory or visual experience, yet is within reach. The viewer becomes aware of how quickly stable, familiar systems could theoretically crack if one makes small changes. During the residency at Rupert, Aufleger will work on a film piece about swarms, adaptation, and deception through imitation of an opponent and a dangerous following.
Lily Tonge (UK) is a curator and producer based in London. She completed an MA in Contemporary Art Theory at Goldsmiths University of London in 2017, and the residency programme Curatorial Curriculum at Grand Union in 2018. Recent projects she has curated focus on the local, and idleness as strategies to counter individualisation and hyper-productivity. She is currently Programme Coordinator at the South London Gallery (SLG) for exhibitions, displays and public programme. At Rupert, Lily will develop the project "A Wilder Sort of Walk", which considers the wild as a useful critical term, and as a strategy adopted throughout history to resist civilisational, normative narratives. Fieldwork conducted around the River Neris will culminate in the production of a new resource for use by future residents.
Tom K Kemp (United Kingdom/Netherlands) uses roleplaying game design, improvised filmmaking and animation to construct semi-autonomous Weird fictions, where knowledge sharing and collaborative storytelling are combined into a deviated method of complexity modelling. At Rupert, he will be running a prototype tabletop RPG, "After the Maestro". Players take on the role of cellular workers living in an anthropomorphised depiction of human anatomy. The game's narrative takes place during the aftermath of a successful labour emancipation within the inner body, and players must devise new structures of anatomical organisation and interdependence in the sudden absence of established biological hierarchies. Played with a series of different participants from the fields of somatics, biology and decentralised computing, each of these sessions at Rupert will generate a distinct narrative with its own "body-politic" metaphor, worldbuilding and political challenges. 
Tyler Matthew Oyer (USA) is an artist, writer, organizer, and educator based in Los Angeles. His work reconsiders the past as something not gone, but as material and ideas that live in and through us, shaping how we see ourselves and our world. His multimedia performance works theatricalize historical problems and social struggles as ways of staging social relations and politics in order to create the opportunity for critical reflection and to imagine new futures. His work has been presented at MoMA PS1, REDCAT, The Getty Museum, dOCUMENTA (13), Hammer Museum, Kunsthal Charlottenborg, Kunstnernes Hus Oslo, Munch Museum, Art Basel Miami Beach, Bergen Kunsthall, Rogaland Kunstsenter, The Royal Vauxhall Tavern, High Desert Test Sites, Highways Performance Space, Human Resources LA, Silencio Paris, MIX NYC, Ekebergparken Oslo, Surge Festival Madrid, and the Orange County Museum of Art. While in residence at Rupert he will continue developing his large-scale multimedia performance adaptation of "Salomé".
Due to the pandemic, few residencies scheduled in spring-summer 2020 have been moved to the first half of 2021.
Eva Vaslamatzi (Greece/France) is an independent curator and writer currently working between Athens and Paris. Most recently, she has been the co-curator for visual arts at DOC!, a non-profit space in northeastern Paris (2017-2019), and worked as an assistant curator at Palais de Tokyo for the group show City Prince/sses (2018-2019). Since 2013 she has been collaborating with various public and private art institutions and held exhibitions in Greece and abroad (Athens Concert Hall, Fondation d'Entreprise Ricard – Paris, Villa Belleville residency – Paris, Musée d'Art Contemporain et d'Art Moderne – Nice, Istanbul Biennial, Folklore Museum of Serifos Island, Athens School of Fine Arts amongst others). Currently, Eva Vaslamatzi is a guest curator at the Orange Rouge association (Paris), which brings together adolescents with disabilities and artists towards the production of collective pieces. She is a recipient of the ARTWORKS SNF Artist Fellowship Program (Curating) 2019/2020. During her residency at Rupert, Eva Vaslamatzi will work on a research-based project aiming to capture historical and contemporary echoes of Lithuanian occult groups. Through archive material, non-official narratives and lingering rumors, she will endeavor to blur the divide between experimental and scientific methods as well as the distinction between fiction and reality.
Lauryn Youden (Canada/Germany) is a performance and installation artist, poet and independent curator based in Berlin. Her practice derives from her research and navigation of modern Western medicine, the medical-industrial complex, 'alternative' healing practices and traditional medicine for the treatment of her chronic illnesses and invisible disabilities. By publicly presenting her personal experiences and re-evaluations of the history of medicine through a feminist, Crip queer lens, her work illuminates and advocates for repressed, marginalized and forgotten practices of care and knowledge. Youden is the winner of the Berlin Art Prize (2016), an organizing member of Sickness Affinity Group (SAG) and is co-director and founder of Ashley Berlin. She has recently exhibited and performed internationally at the Stedelijk Museum, Amsterdam (NE); 11th Berlin Biennale, Berlin (DE); Frye Art Museum, Seattle; Manifesta 12, Palmero (IT) and the Württembergischer Kunstverein, Stuttgart (DE) with upcoming exhibitions and performances at the Aargauer Kunsthaus, Aarau (CH); Emma Kunz Zentrum, Würenlos (CH); Künstlerhaus Bethanien, Berlin (DE) and the Volksbühne, Berlin (DE). During the Rupert Residency, she will be working on a new body of performances including her collected writings and research. 
Rob Crosse (Germany) lives and works in Berlin. Through the use of video, performance and photography, his work focuses on forms of intergenerational care, public intimacy, vulnerability and desire. He engages with communities of older men that convene around activities which operate as mechanisms of support, modes of communication and recreation. During his residency at Rupert, he will continue developing a new project that focuses on care and responsibility, combining methods of restoration in classic cars with practices of care in ageing. As part of this project, he will research local LGBTQ+ support groups, tracing their history of visibility through different generations.
The final selection jury consisted of Rupert team members: Julija Reklaitė, Vitalija Jasaitė, Kotryna Markevičiūtė, Tautvydas Urbelis, and an external jury member Neringa Černiauskaitę, art critic, editor-in-chief of Lithuanian contemporary art magazine Artnews.lt. and artist at Pakui Hardware duo also Michael Müller-Verweyen, director of Goethe-Institut Litauen and Akvilė Eglinskaitė, coordinator of cultural programmes at Goethe-Institut Litauen. 
All the residencies are free of charge in 2021, thanks to Pakrantė and Lithuanian Culture Council. In addition, some selected participants will receive additional support, thanks to our partners. 
We would like to thank Rupert Residency programme partners and sponsors:
Lithuanian Culture Council
Pakrantė
Goethe-Institut Litauen
Photo: Anna Reutinger, Morte liiiiiiiiifffeeee, still naaaattuuuree in collaboration with Garance Wullschleger. Bed sheets, coffee, beets, onion skins, rust, beer, dahlias, soundtrack. Jedna Dva Tři Gallery, Petrohradská Kolektiv, Prague, CZ, 2019