10 December, 2016, 6 pm
Screening
Shama Khanna – An experiment in cinema in reverse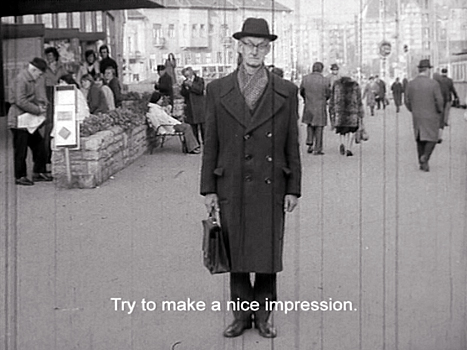 Rupert together with a curator Shama Khanna invites all to a screening of short films: "Öndivatbemutató" ("Self Fashion Show") (1976) by Tibor Hajas, "Cilaos" (2016) by Camilo Restrepo and "Bunker Drama" (2015), by Mike Crane on December 10, from 6 pm in film theatre SKALVIJA.
Curator has invited a small group of artists whom she met through her Rupert residency in Vilnius in 2015 to make a response to these films throughout the screening. Public will have the chance to watch the films and join the artists" discussion.
"Öndivatbemutató" ("Self Fashion Show"), 1976, 14 min. 30 sec. by Tibor Hajas (1946–1980, Hungary) was made for the Balázs Béla Stúdió in 1976. It captures passers-by on a busy square in the heart of Budapest. They are asked to assume a pose of their own choice for a minute and to present themselves as "models of their own destiny". The voiceover in Hajas's' film is a dystopic twist on Andy Warhol's Screen Tests filmed 10 years earlier.
"Cilaos", 2016, 12 min. by Camilo Restrepo (b. 1975, Columbia)
To keep a promise made to her dying mother, a young woman goes off in search of her father, a womanizer she has never met. Along the way, she soon learns that he is dead. But that doesn't change her plans, she still intends to find him. Carried by the spell-binding rhythm of the maloya, a ritual chant from Reunion Island, Cilaos explores the deep and murky ties that bind the dead and the living.
"Bunker Drama", 2015, 30 min. by Mike Crane (b. 1982, Miami)
In a forest on the outskirts of Vilnius, Lithuania lie buried the remains of a Soviet audiovisual archive. The underground complex was intended to broadcast the resilience of the USSR following a possible nuclear war. Currently the site is used by a film and television actor from the region who stages military training regiments for tourists there. Casting himself in the role of a Soviet General, the actor subjects his visitors to hours of verbal and physical abuse during the course of a history lesson on the fifty-year Soviet occupation of Lithuania.
Shama Khanna is a curator, educator and writer based in London where she curates "Flatness" a multi-format research and commissioning project. Khanna has presented screening and discussion events relating to 'Flatness' at international venues including Oberhausen Film Festival, Germany, Chisenhale Gallery and The Showroom in London, Palais de Tokyo in Paris, Western Front, Vancouver, Microscope Gallery, NYC, Rupert, Vilnius and Moderna Museet, Malmö.
Eglė Budvytytė (with Goda Budvytytė, Ieva Misevičiūtė and Bart Groenendaal)
Mike Crane
Lina Lapelytė
Deimantas Narkevičius
Ulijona Odišarija
Camilo Restrepo
Maya Tounta
With a kind support by Lithuanian council for culture