The Foggiest Notion — Film, Nature, Nation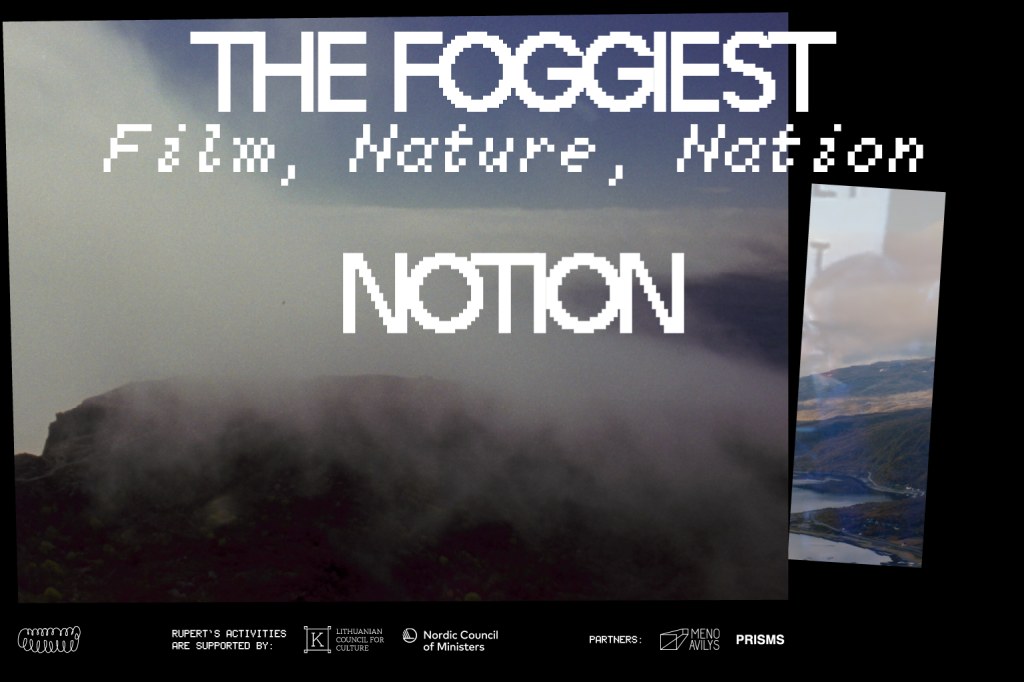 Date: 20 October
Time: 19:00
Location: Meno Avilys Cinemateque (A. Goštauto st. 2, Vilnius)
Rupert, in collaboration with Meno Avilys and PRISMS, presents The foggiest notion — film, nature, nation: a screening of five short films about the changing Scandinavian and Baltic relationships to nature. The event will take place on 20 October, 19:00 at Meno Avilys Cinemateque (A. Goštauto st. 2, Vilnius) and is open to the public, free of charge.
These films take poetic or experimental approaches to their very different landscapes, but in ways that undercut any national romanticism; the fog drifting over the mountains always seems to conceal impending disaster. The focus of the films shifts throughout the programme, from evocative and wordless vistas to landscapes overlaid by oral history, ending up in the narrow confines of a courtroom where Norway's constitutional relationship to its natural environment is to be decided.
Rupert invited PRISMS (www.prisms.no), an organisation for alternative film culture in Norway and beyond, to curate this programme. It will be introduced by PRISMS director Mike Sperlinger, who in February 2022 was a resident at Rupert.
FILMS
Inger Lise Hansen
Tåke (Norway, 2019, 15 mins)
Tåke (Fog) observes the spectacle of fog through several different film and video formats. The imagery is recorded on location in Oslo, Azores, Beijing and Newfoundland, revealing how fog, as a phenomenon, behaves differently on Super-8, 16mm and digital video.
Erik Borge
Fallout (Norway, 1964, 10 mins)
'Erik Borge's Fallout from 1964 was the very first "free artistic short film" in Norway. Fallout is a quiet and careful film. It is atmospheric, with beautiful images in a green, shimmering colour scheme, and a suggestive and secretive soundtrack. [The film] is loosely structured around one day, and takes place from morning to morning. This was a common way of structuring many documentaries in the inter- and post-war periods, and such a 24-hour structure was also common in many Norwegian information films. The dominant before-and-now or before-and-after rhetoric in information films, however, has been turned upside down. In Fallout, before is more positive than after, and in an indirect and careful way, the film represents a critique of the information film's belief in the future and technological optimism. Fallout is a gloomy poetic allegory, a condensed image of a mood or a state of mind.' — Gunnar Iversen
Reet Kasesalu
Forest and Man (Estonia, 1966, 15 mins)
The documentary Forest and Man observes a ranger doing his work. Answering Fred Jüssi's questions, he talks about a man's responsibility to the environment. Among other things, it shows the felling and digging of drainage ditches before the outbreak of the Bog War, alongside the harvesting of pine resin and wood carving. Made as early as 1966, the documentary already reflects the opposition of the so-called old foresters to modern mechanised forest work. 
Elina Waage Mikalsen & Magnus Holmen
Geaidnoearus [At the Crossroads] (Norway, 2021, 15 mins)
Geaidnoearus [At the Crossroads] tells the story of a recent activist movement against the Norwegian government's plan to use Repparfjord as a landfill for mining waste. In the film, the Repparfjord case echoes the historical protests of 1981 against the construction of a hydroelectric power plant on the Guovdageainnu-Álttá (Kautokeino-Alta) river. These two political conflicts align environmental protection and the experiences of the Sámi people against two major Norwegian touchstones. Repparfjorden and the Kautokeino-Alta river were and still are important spawning grounds for coastal cod and salmon, at the same time remaining an important resource for Sámi reindeer husbandry and Sea Sámi fisheries.
Thomas Østbye
The Play of Everyman (Norway, 2021, 40 mins)
This film gives a unique insight into Norway's first climate lawsuit, in which the environmentalist organisations Nature & Youth and Greenpeace sued the Norwegian government for awarding licences to drill for oil in the Barents Sea. The environmentalist organisations argued that the government's decision to allow oil drilling violated the Norwegian Constitution's environmental article § 112, which is intended to ensure the right to a viable climate in which we ourselves and future generations can live. Described as 'the court case of the century', the lawsuit created much public debate.
Rupert's activities are supported by the Lithuanian Council for Culture and Nordic Culture Point
Partners: Meno Avilys, PRISMS