24 November, 2016, 6:30 pm
Performance
"This time the rabbit looks down: Chocolate scrying"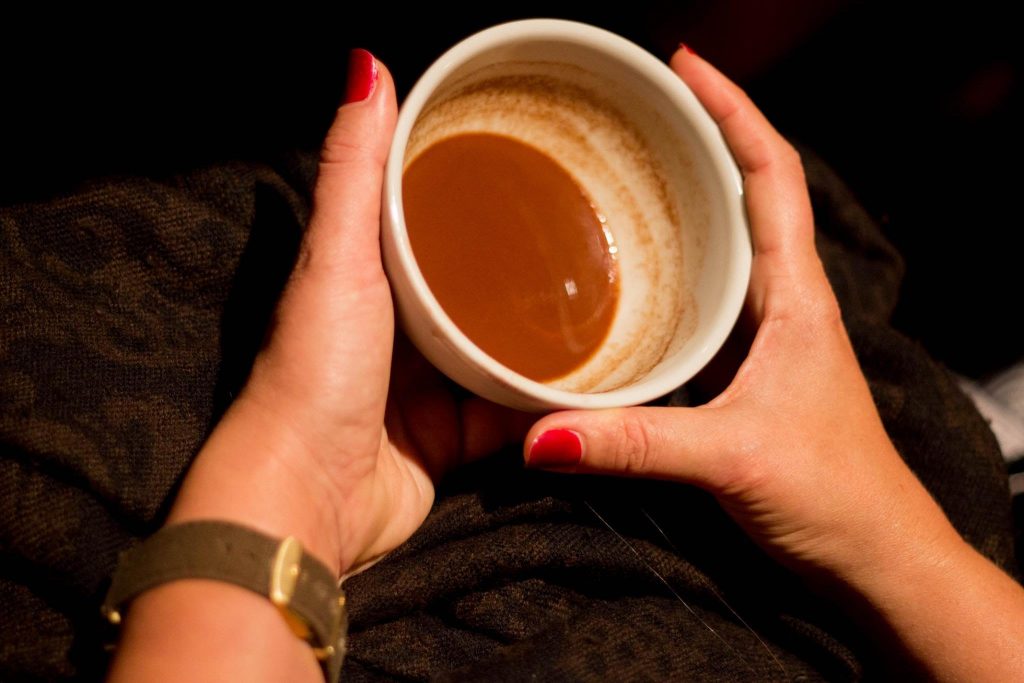 Rupert invites you to a delicious performance "This time the rabbit looks down: Chocolate scrying" by artist duo AnaSusana, proposed by Natalia Valencia on November 24, from 6:30 pm at the newly opened artist day care centre"Autarkia", Naugarduko str. 41. Public is invited to take part in the performance by immersing themselves into a chocolate ritual. There is a limited amount of places for the workshop. Please register at info@rupert.lt until November 23.
Every expression of life can be conceived as a kind of language: drink the chocolate and wait for the voice to give you clues about the traces. The marks left by the drink on the cup may become stories or actions: an interdimensional language that opens playful historical encounters.
After drinking, while moving the cup counter clockwise, you form seven circles around a question. The liquid is shaping itself: after leaving the cup upside down, chocolate leftovers start to occupy their place, spirals of meaning show up and hide; their inapprehensible character plays around fears, affections and expectations, or with the idea that there is a future and there was a past.
Hot chocolate will leave the necessary stains for images to turn into visions and conversation.
If the Cacao Allows it***
The artist duo AnaSusana (Milena Bonilla and Luisa Ungar) met in Bogotá some years ago while researching on ways of communicating with plants and animals. They collaborate since 2014, exploring relationships between historical narratives and control structures applied to nature. In Amsterdam they managed to talk with a cacao plant (what do you hear when you eat chocolate 2013). Their work has been shown in various museums and institutions such as 44 Salón Nacional de artistas (Pereira, Colombia 2016) CA2M – Centro de Arte Dos de Mayo (Madrid, 2015); Spring Workshop (Hong Kong, 2015); Rongwrong (Amsterdam, 2014); Bonneffanten Museum (Maastricht, 2014), and the paralel project Within the Sound of your Voice at the Marrakech Biennial (2014) among others.
Natalia Valencia (b. 1984, Bogotá) is an independent curator based in Mexico City. She has collaborated with the Museo de Arte Moderno MAMM in Medellín, CAPC Museum of Contemporary Art Bordeaux, Palais de Tokyo in Paris, Sala de Arte Público Siqueiros in Mexico City, L'appartement 22 in Rabat, Morocco, among others. She was fellow researcher of Latin American art at the Centre Pompidou in Paris.
The event is organised by Rupert. Event partner Autarkia. The project is kindly supported by Lithuanian culture council.